printer friendly version
Thirty surveillance minutes in seconds
April 2014
CCTV, Surveillance & Remote Monitoring
Hi-Tech Security Solutions spoke to Laurence Smith about the benefits of video synopsis and Briefcam's latest software.
One of the downsides of video surveillance is having to find specific events when you don't know the exact time they took place. Traditionally, dealing with scenarios like this would require an operator to sit through hours of video, perhaps fast-forwarding it, in the hopes of catching a specific incident.
Take a normal office scenario as an example. If someone's laptop is stolen in the middle of a working day with no witnesses, the individual concerned may be able to refine the time of the theft to a 30-minute window of opportunity when the device was left unattended. If the area in which the laptop was left was under video surveillance, the company could comb through the video files and find the event and identify the perpetrator.
If the window of opportunity was longer – overnight for instance – there would be an even longer period of video to scour to find the incident. Briefcam, distributed in South Africa by Graphic Image Technologies (GIT), solves the time problem with its video synopsis software.
According to Laurence Smith, director at GIT, Briefcam's video synopsis software takes the video footage over a long period of time and condenses it to a few minutes, while still incorporating all the activity that happened over the full period. It does this by presenting multiple objects and activities simultaneously, time-stamping each according to the time they occurred – basically creating an Index of the full period under observation (see Figure 1).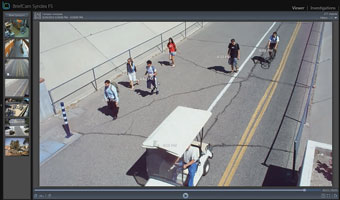 Figure 1.
When an event of interest is found, the user simply selects it and is taken back to the original video when the incident occurred (Figure 2). This allows the company in our example, to view everyone who walked past the laptop during the window of opportunity and quickly identify the thief.
Figure 2.
Filtering the index
The latest version of Briefcam's software goes further. Smith says the new software also allows users to filter their synopsis to focus in on certain details, attributes such as size, colour, speed, direction and location within the video frame. It also allows users to search according to a 'similar to this' function. The company says this allows one to search by hard-to-define issues for those 'I'll know it when I see it' events.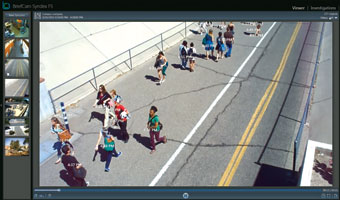 Figure 3.
Figure 3 is a view of a condensed video. In Figure 4, we see the user searching with the red filter; in other words, the software only shows items of interest that are red. In Figure 5, we see the blue filter on the same video.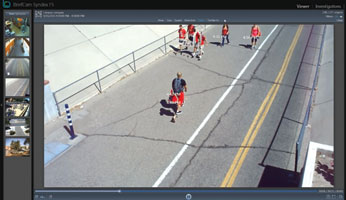 Figure 4.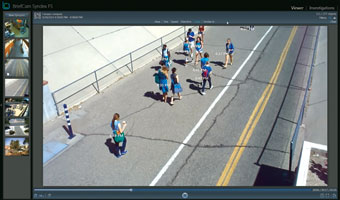 Figure 5.
A real-world example of video synopsis in action was seen after the Boston Marathon bomb attack in April 2013. The authorities collected all the video footage of the event they could find, both CCTV footage as well as cellphone footage witnesses captured. They then condensed four hours of video into a 12-minute synopsis and were able to quickly identify the perpetrators.
Most uses of the Briefcam software would not be as traumatic, but the ability to condense large amounts of video into a short synopses cuts the time wasted searching for specific events dramatically, allowing operators to focus on the events that matter instead of staring blankly at a screen.
For more information contact Graphic Image Technologies, +27 (0)11 483 0333, laurence@git.co.za, www.git.co.za
Credit(s)
Further reading:
Milestone partners prove their skills
August 2019, Milestone Systems , News, CCTV, Surveillance & Remote Monitoring, Training & Education
Within the span of one week in mid-May, the Milestone Learning & Performance group celebrated important benchmarks: 200 000 course registrations and tutorial views, and 10 000 certifications.
Read more...
---
ONVIF Hosts 20th Developers' Plugfest
August 2019 , News, CCTV, Surveillance & Remote Monitoring
ONVIF, the global standardisation initiative for IP-based physical security products, hosted its twentieth ONVIF Developers' Plugfest in early June in Tokyo.
Read more...
---
Licence plate recognition camera
August 2019 , Products, CCTV, Surveillance & Remote Monitoring
VIVOTEK has introduced a new licence plate recognition camera featuring built-in licence plate recognition software and edge-computing capability.
Read more...
---
Securing Savannah Hills Estate
August 2019, Rhyco Risk Projects , CCTV, Surveillance & Remote Monitoring, Perimeter Security, Alarms & Intruder Detection
Savannah Hills Estate in Midrand planned a security upgrade which was awarded to Rhyco Risk Projects. The project started in March 2019 and was completed in May 2019.
Read more...
---
10 things to consider when shopping for a VMS
August 2019, Genetec , CCTV, Surveillance & Remote Monitoring, Integrated Solutions
Today's video management systems (VMS) provide a wide range of tools and capabilities that help make security personnel more efficient by allowing them to focus on what really matters.
Read more...
---
How far are we really at with artificial intelligence?
August 2019, Axis Communications SA , Editor's Choice, CCTV, Surveillance & Remote Monitoring, IT infrastructure, Residential Estate (Industry)
Justin Ludik unpacks exactly how far AI has come and what it potentially can do for society and more importantly, surveillance.
Read more...
---
Enhancing security with AI
August 2019, Hikvision South Africa , CCTV, Surveillance & Remote Monitoring
Hikvision explains how residential estates can revolutionise their security strategies and outcomes with artificial intelligence.
Read more...
---
More than simply a camera
August 2019, Forbatt SA, Secutel Technologies , CCTV, Surveillance & Remote Monitoring, Residential Estate (Industry)
With the human element being the weakest link in all security solutions, Hi-Tech Security Solutions looks at the pros and cons of using body-worn cameras in estates.
Read more...
---
The importance of effective perimeter security
August 2019, Elf Rentals - Electronic Security Solutions, Stafix , Editor's Choice, CCTV, Surveillance & Remote Monitoring, Residential Estate (Industry)
Protecting the perimeter is critical for any residential estate; how does one go about making sure your perimeter is as secure as possible?
Read more...
---
Security playing speedcop
August 2019, Axis Communications SA, Hikvision South Africa , CCTV, Surveillance & Remote Monitoring, Residential Estate (Industry)
Estates now have a legal precedent to manage their traffic and fine people in the estate for violations of the rules; all they need do is find solutions that will support them.
Read more...
---