printer friendly version
Image quality counts
April 2014
CCTV, Surveillance & Remote Monitoring
Hi-Tech Security Solutions spoke to Martin Gren, one of the founders of Axis Communications and asked him about the state of the IP surveillance market and where Axis sees itself going over the next year.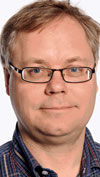 Martin Gren
As one of the founders of Axis Communications, Martin Gren has been involved in the IP surveillance business since the beginning. Over the years he has seen the uptake of IP surveillance systems growing as well as advances in the technology itself.
As we head into 2014, Gren says the market has matured to the stage where IP is now a mature market and, in fact, the only solution with a future in the larger installations. The small market still has scope for analogue solutions, but this is an opportunity with a limited lifespan.
Already we're seeing IP system manufacturers targeting the low-end of the market with lower-cost cameras as well as software that makes the installation and configuration as easy as possible. From the Axis perspective, the Axis Camera Companion software is aimed at installations of 16 cameras or less. It focuses on making it simple to install and maintain cameras with edge storage. Not only does it simplify the installation, but also the management, such as adding UPS devices and backup solutions.
Video analytics
One of the constants we've found in preparing the CCTV Handbook this year is the expectation that video analytics will play a far more important role in the coming year as the technologies involved have improved tremendously. Gren agrees with this, but says Axis does not plan to become an analytics player.
"We partner with companies that provide analytics and that model will hold going forward," Gren explains. "We do, however, include rudimentary analytics on our cameras, such as motion detection and anti-tampering solutions. It's strange how few VMS providers offer anti-tampering; we consider this an important part of any surveillance solution."
Megapixels and more
In the competition for better IP surveillance solutions, Axis provides multi-megapixel cameras, but Gren says the goal is not to add more megapixels at any cost. The focus for Axis is image quality – the better the quality of the image, the more you can do with it.
In this effort, Axis develops its own processors in order to ensure features like WDR and its LightFinder technology deliver the optimal results for clients. It's currently on its fifth generation of chips and this in-house development is one of the advantages it has that keeps it ahead of cheaper brands that try to emulate its technology.
And on the topic of megapixels, Gren believes that 4K, or Ultra HD will makes its mark in the surveillance world this year, but there is still much to be done before we see a broad rollout of these cameras as manufactures need to look at the entire environment if 4K is to deliver the improvements users require. Image quality is critical if Ultra HD is to deliver the benefits it promises and this will include issues such as bandwidth, storage, the compression used and VMS systems.
H.265 is also another new technology that promises fantastic results, but is some way away from delivery. Looking at the time it took for previous compression codecs to become market standards, Gren thinks it will be a while before H.265 makes it, again because it's not simply about the technology, but about the environment being able to support the new technology.
Finally, Africa and the Middle East are healthy prospects for Axis. Gren says there are more opportunities in Africa than ever before and Axis is addressing these opportunities. Currently it will retain its regional HQ in Johannesburg, but is open to establishing a presence in other countries as and when the opportunities arise.
Credit(s)
Further reading:
Milestone partners prove their skills
August 2019, Milestone Systems , News, CCTV, Surveillance & Remote Monitoring, Training & Education
Within the span of one week in mid-May, the Milestone Learning & Performance group celebrated important benchmarks: 200 000 course registrations and tutorial views, and 10 000 certifications.
Read more...
---
ONVIF Hosts 20th Developers' Plugfest
August 2019 , News, CCTV, Surveillance & Remote Monitoring
ONVIF, the global standardisation initiative for IP-based physical security products, hosted its twentieth ONVIF Developers' Plugfest in early June in Tokyo.
Read more...
---
Licence plate recognition camera
August 2019 , Products, CCTV, Surveillance & Remote Monitoring
VIVOTEK has introduced a new licence plate recognition camera featuring built-in licence plate recognition software and edge-computing capability.
Read more...
---
Securing Savannah Hills Estate
August 2019, Rhyco Risk Projects , CCTV, Surveillance & Remote Monitoring, Perimeter Security, Alarms & Intruder Detection
Savannah Hills Estate in Midrand planned a security upgrade which was awarded to Rhyco Risk Projects. The project started in March 2019 and was completed in May 2019.
Read more...
---
10 things to consider when shopping for a VMS
August 2019, Genetec , CCTV, Surveillance & Remote Monitoring, Integrated Solutions
Today's video management systems (VMS) provide a wide range of tools and capabilities that help make security personnel more efficient by allowing them to focus on what really matters.
Read more...
---
How far are we really at with artificial intelligence?
August 2019, Axis Communications SA , Editor's Choice, CCTV, Surveillance & Remote Monitoring, IT infrastructure, Residential Estate (Industry)
Justin Ludik unpacks exactly how far AI has come and what it potentially can do for society and more importantly, surveillance.
Read more...
---
Enhancing security with AI
August 2019, Hikvision South Africa , CCTV, Surveillance & Remote Monitoring
Hikvision explains how residential estates can revolutionise their security strategies and outcomes with artificial intelligence.
Read more...
---
More than simply a camera
August 2019, Forbatt SA, Secutel Technologies , CCTV, Surveillance & Remote Monitoring, Residential Estate (Industry)
With the human element being the weakest link in all security solutions, Hi-Tech Security Solutions looks at the pros and cons of using body-worn cameras in estates.
Read more...
---
The importance of effective perimeter security
August 2019, Elf Rentals - Electronic Security Solutions, Stafix , Editor's Choice, CCTV, Surveillance & Remote Monitoring, Residential Estate (Industry)
Protecting the perimeter is critical for any residential estate; how does one go about making sure your perimeter is as secure as possible?
Read more...
---
Multiple methods for motion detection
August 2019, Axis Communications SA , Perimeter Security, Alarms & Intruder Detection
There are strengths and weaknesses with all motion detection solutions, and their effectiveness will be dictated by the environment and the components they are being used with.
Read more...
---