printer friendly version
The new black in surveillance
April 2014
CCTV, Surveillance & Remote Monitoring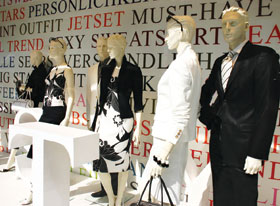 So what are the trends in surveillance we need to look out for in 2014? The CCTV Handbook 2014 gives you an insight into different thinking on this question. One thing is clear, however, there is a definite move to simplicity from IP camera manufacturers and software developers across the board as they attack the last holdout of analogue.
This is the new black and it is made up of three components:
1. Simplicity of installation
2. Low cost
3. Ease of use
These are the components we generally associate with analogue installations because they are so simple. Perhaps this idea of simplicity comes from the fact that analogue has been installed in businesses of all sizes for many years, or perhaps it's because analogue's setup is much simpler than the hoops one has to jump through when installing IP – or some would say, the hoops one used to have to jump through.
Whatever the reason, IP is playing catch-up in the simplicity and cost game, especially in the small to medium installations. Hi-Tech Security Solutions asked a couple of industry leaders for their opinions on the new black. Is it a real issue or are we just inventing problems?
We first address the issue of cost. It's commonly held that analogue installations are cheaper than IP.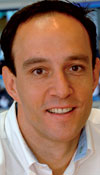 Roy Alves
Disagreeing with this blanket statement, Roy Alves, regional business development manager at Axis Communications, says that like all consumer electronics, the cost of an IP network camera is becoming more affordable. In 2007, a study showed that the break-even point when comparing the return on investment (ROI) between analogue and IP cameras was at around 32 cameras. In other words, in installations of 32 cameras and up, IP was more cost effective.
Today this has changed, Alves says an IP-based system can now be said to exhibit a lower cost than analogue in a system in an installation with only 14 cameras. "In an IP based system, you derive your savings from IT and server equipment as well as installation and labour charges."
He notes that the small-end of the market is growing and IP vendors are looking to gain a share of the growth. "Surveillance systems in homes, small retail outlets and offices are on the increase and we are manufacturing products to align ourselves with this market. Our M-range offers small and smart cameras, ideal for securing these locations and our new software solution, AXIS Camera Companion, is the market's easiest video surveillance solution for small systems up to 16 cameras. The system consists of standard Axis cameras, SD cards, software clients for PC and smartphones, and is available for download free of charge."

Mel Labuschagne
Reditron's MD, Mel Labuschagne, says that while analogue currently has the lead when cost is considered, the research and development currently spent on IP systems will eventually lead to these products becoming cheaper as the technology evolves. "IP manufacturers will offer more higher definition cameras at a lower cost."
He also points out the trend among IP manufacturers to cater to the low-end of the market. For example, Dahua Technology recently released the new Eco-Savvy network camera series. The series features low consumption and low streaming and power efficiency.
Simplicity
When it comes to simplicity, analogue is simple to install, while IP is traditionally not. In fact, most people would say that an IP network is not as simple and fast to install, set up and maintain as an analogue one as there are a bunch of new skills you need – IT skills which are in short supply in the physical security world.
Alves tells us that IP surveillance systems are in fact becoming fast and easy to install. Axis network cameras and encoders offer Power over Ethernet (PoE) support, which simplifies installation since only one cable is needed for power and video. The products also have features such as auto discovery to easily identify a camera on the network and auto focus which will adjust the lens automatically to focus on the subject. "Our outdoor model cameras ship with housings to further speed installation and ensure excellent video even in harsh conditions."
Labuschagne agrees, noting that IP camera systems are much easier to install in medium to large projects. "The installer can use the client's existing network infrastructure, thus saving the cost of cables and time."
To further simplify things, he says most IP surveillance systems have setup wizards and a number of other tools that make installations and configuration much simpler. "In fact, some IP manufactures are looking into what they call a one-touch setup, which means by pressing one button you can set up a complete IP system.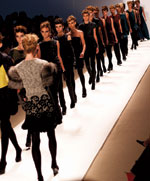 Attribution: Some rights reserved by Art Comments via Flickr Creative Commons (www.flickr.com/photos/artcomments).
"There are also new options such as plug-and-play kits which make installations easier for technicians in the field. These solutions included embedded NVRs with PoE making it simple to install."
It's not all that simple, however. Alves notes that using advanced functionality in an IP camera does require some level of skill. "Having said this, Axis offers a 2-day training course that covers everything from video surveillance basics to in-depth technical knowledge. We also offer tools such as the Axis Design Tool that helps you estimate bandwidth and storage needs for your surveillance project."
Analogue camera systems are generally easier to maintain, but can pose some maintenance issues that IP systems do not. For example, Labuschagne says it is easier to trace the power and video feed on an IP camera as it runs on PoE, however, it can be harder to trace the route of a problem on an analogue camera as the power supply unit can be based at various locations on a site.
He adds, "While IP camera systems can be more time consuming to set up (especially for a large installation), we must consider the additional functionality (such as LNPR, Trip Wire and other types of analytics) that you can obtain as compared to a traditional analogue system."
Due to the complexity, Labuschagne advises a separate network should be created for the video security system. Video is very demanding on network. Suppliers of IP products are making tools available to assist installers maintain and diagnose their systems."
Other benefits make the sale
But as in any technology installation, looking only at the cost is not an effective way to judge success or applicability to a situation. Spending more money on the right technology with the right skills means better returns and value from the IP installation.
The fact is one can get much more from an IP video surveillance system. Alves says IP provides a host of benefits and advanced functionalities that cannot be provided by an analogue video surveillance system. "These benefits include advanced image quality, future proof systems as well as scalability and flexibility. Network video products can also be placed and networked from virtually any location, and the system can be as open or as closed as desired.
"Although the cost of the physical camera itself is more, the benefits and total cost of ownership (TCO) make an IP-based surveillance system the logical choice."
Labuschagne adds that the benefits of IP and paying more depends on the information the client needs to obtain from their system. "IP systems are generally deemed to be more expensive than analogue, but it is worth spending the additional capital if you require more worthwhile and in-depth reporting and analytics out of your system. Hiring the correctly skilled people will save money in terms of having the system properly and optimally installed, thus preventing costly complications from occurring in the future and getting the proper return on investment."
The last frontier
The smaller market is definitely a target for the IP manufacturers. Labuschagne makes the point that the 'bakkie brigade' customers are, in essence, the bread and butter of the CCTV industry. "They do small but vast quantities of installations, thus making them a key target market for IP manufacturers. These types of clients are causing IP manufacturers to develop cheaper plug-and-play IP systems that can be set up and maintained as easily as analogue systems."
He continues that these types of small, less complicated systems open the door to the bakkie brigade market, generating more sales for IP manufacturers. "There is no doubt that IP camera systems will in the not so distant future replace the traditional analogue CCTV systems as price is driven lower and the technology becomes more user friendly," Labuschagne notes. "All installers need to up skill themselves to take on this new technology that will shortly become the norm."
The fashion conscious among us will realise that the new black is a reality in the surveillance market as more IP manufacturers have released lower-level products to address the simpler, cost effective and easy-to-use market. As noted, IP systems have already proven their worth in smaller installations, but still need to conquer the final frontier of the smallest installations that still capture the analogue market, as well as those people who choose analogue because it's what they've always done.
There can be no doubt that IP will be the surveillance technology of choice in the near future for all types of installations. This doesn't mean that analogue will vanish quickly, of course, there are still many installations that will be upgraded and expanded, many sites that will stay with older technology because it does all they require, many add-ons that will extend the useful life of these older installations, and many decision makers will not make the change to IP because they don't understand it. Nevertheless, over time, analogue will see a continued decline in all markets, even with high-definition analogue now available, and there won't be a question of which technology is fashionable, but perhaps a question of which delivers the better results, the right flexibility and scalability, and the right return on investment.
Credit(s)
Further reading:
TAPA: The role of an effective treasury function in business risk management
June 2019, Technews Publishing , News
Neil Le Roux, the Founder of Diligent Advisors will speak at the TAPA SA (Transported Asset Protection Association) annual conference on 26 July 2019.
Read more...
---
iLegal 2019: Putting a face on surveillance services
August 2019, Technews Publishing , News, Conferences & Events
iLegal 2019 will be held on 12 September 2019 at The Rosebank Crowne Plaza in Johannesburg. iLegal is the surveillance industry's premier one-day conference hosted jointly by Hi-Tech Security Solutions and Dr Craig Donald.
Read more...
---
Residential Estate Security Conference 2019: Making AI work for you
August 2019, Technews Publishing , News, Conferences & Events
Gerhard Furter will deliver the keynote at the Residential Estate Security Conference 2019, providing a brief introduction into what AI really is and its application in estates.
Read more...
---
From the editor's desk: The difference between potential and skills
August 2019, Technews Publishing , News
This issue of Hi-Tech Security Solutions includes our annual Local Manufacturing feature and it's great to know that local security manufacturers are still going strong, even if the general manufacturing ...
Read more...
---
Why rehearsals and drills for crises and evacuation are so important
August 2019, Leaderware , CCTV, Surveillance & Remote Monitoring, Security Services & Risk Management
The rehearsal of concept (ROC) drill has been used extensively in the military, but is just as important when facing risks in organisations and institutions to protect people on the ground.
Read more...
---
Milestone partners prove their skills
August 2019, Milestone Systems , News, CCTV, Surveillance & Remote Monitoring, Training & Education
Within the span of one week in mid-May, the Milestone Learning & Performance group celebrated important benchmarks: 200 000 course registrations and tutorial views, and 10 000 certifications.
Read more...
---
ONVIF Hosts 20th Developers' Plugfest
August 2019 , News, CCTV, Surveillance & Remote Monitoring
ONVIF, the global standardisation initiative for IP-based physical security products, hosted its twentieth ONVIF Developers' Plugfest in early June in Tokyo.
Read more...
---
Licence plate recognition camera
August 2019 , Products, CCTV, Surveillance & Remote Monitoring
VIVOTEK has introduced a new licence plate recognition camera featuring built-in licence plate recognition software and edge-computing capability.
Read more...
---
iLegal 2019: Enhancing and empowering your control rooms
July 2019, Technews Publishing , News, Conferences & Events
iLegal 2019 will be held on 12 September 2019 at The Rosebank Crowne Plaza in Johannesburg. iLegal is the surveillance industry's premier one-day conference hosted jointly by Hi-Tech Security Solutions and Dr Craig Donald.
Read more...
---
Residential Estate Security Conference 2019: Managing for efficiency
July 2019, Technews Publishing , News, Conferences & Events
The Residential Estate Security Conference 2019 will be held on 20 August 2019, once again at the Indaba Hotel in Fourways, Johannesburg.
Read more...
---