printer friendly version
From the editor's desk: The more things change?
April 2014
News
Welcome to the 2014 edition of the CCTV Handbook, Hi-Tech Security Solutions' annual round-up of the latest in trends, opinions and case studies (and more) from the surveillance world. In this issue we have also included the Camera Selection Guide, the DVR/NVR Round-up and a listing of companies operating in the surveillance world, making it the only annual reference for the surveillance industry on the continent.
While we try to cover the industry and what's making it tick in the handbook, there are always some people thinking the surveillance industry doesn't change and the new technology we see is simply more of the same. Reading through this issue, however, will leave you with the impression that things are changing, perhaps not to the extent that some vendors would like us to believe, but the surveillance industry is an exciting place to be.
There are two aspects to the change we're seeing. One is the continued advances in technology that are bringing us new technologies like Ultra HD and video analytics that actually works. The other, perhaps the more important area of change is seen in what surveillance solutions are able to deliver apart from video.
The idea of recording video and having someone watch it in the hopes of noticing an event or having someone scouring over hours of footage to identify a historical event is old hat. Today's business wants the security footage, but also wants an automated system that alerts them when something is happening to allow the responsible people to act in real time.
And they want even more. They want to see their mountains of surveillance footage being used for what the IT industry refers to as business intelligence. They want information that will impact their business, whether by making it more efficient or by increasing revenues. The easiest example of this intelligence at work can be seen in the retail industry where systems like heat maps and people counting, among others, are taking security video way beyond security.
Safe to say, everyone says that video analytics is going to make its mark this year, which would be nice given its less than sterling performance in the past. However, we should also be on the lookout for other star performers, such as thermal cameras. Not only will the current players keep the market humming, but new entrants will drive the price even further down. And it would be remiss not to expect some very cool stuff to appear in the low-light segment as well.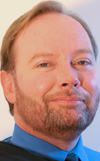 The biggest and oldest news is that we've seen the tipping point at which more IP cameras are being sold than analogue. Not that analogue is going anywhere for a long time. We're seeing many vendors gearing up for a good fight as they bring new systems to market to help customers extend the lives of their analogue systems. Nevertheless, it seems the world has eventually understood the additional benefits of IP over analogue.
There's a bunch of information in the handbook and we hope we've covered a reasonable amount of the surveillance market. Unfortunately, we don't have space to cover everything. As always, please let me have any comments and criticisms at andrew@technews.co.za.
You can also view/download the entire handbook in PDF or Flash formats.
Credit(s)
Further reading:
TAPA: The role of an effective treasury function in business risk management
June 2019, Technews Publishing , News
Neil Le Roux, the Founder of Diligent Advisors will speak at the TAPA SA (Transported Asset Protection Association) annual conference on 26 July 2019.
Read more...
---
iLegal 2019: Putting a face on surveillance services
August 2019, Technews Publishing , News, Conferences & Events
iLegal 2019 will be held on 12 September 2019 at The Rosebank Crowne Plaza in Johannesburg. iLegal is the surveillance industry's premier one-day conference hosted jointly by Hi-Tech Security Solutions and Dr Craig Donald.
Read more...
---
Residential Estate Security Conference 2019: Making AI work for you
August 2019, Technews Publishing , News, Conferences & Events
Gerhard Furter will deliver the keynote at the Residential Estate Security Conference 2019, providing a brief introduction into what AI really is and its application in estates.
Read more...
---
From the editor's desk: The difference between potential and skills
August 2019, Technews Publishing , News
This issue of Hi-Tech Security Solutions includes our annual Local Manufacturing feature and it's great to know that local security manufacturers are still going strong, even if the general manufacturing ...
Read more...
---
A customised solution for backup power
August 2019, Specialised Battery Systems , News, Integrated Solutions
Specialised Battery Systems designed and implemented a bespoke solution for Stallion Security Electronics to deploy at almost any site.
Read more...
---
Patient critical – healthcare's cybersecurity pulse
August 2019, Wolfpack Information Risk , News, Cyber Security, Healthcare (Industry)
The healthcare industry has become one of the leading cybersecurity attack vectors worldwide for several reasons.
Read more...
---
Is security broken?
August 2019 , News
New VMware research reveals how South African businesses continue to try to battle sophisticated security threats in a digital age, with the same old tools.
Read more...
---
Milestone partners prove their skills
August 2019, Milestone Systems , News, CCTV, Surveillance & Remote Monitoring, Training & Education
Within the span of one week in mid-May, the Milestone Learning & Performance group celebrated important benchmarks: 200 000 course registrations and tutorial views, and 10 000 certifications.
Read more...
---
ONVIF Hosts 20th Developers' Plugfest
August 2019 , News, CCTV, Surveillance & Remote Monitoring
ONVIF, the global standardisation initiative for IP-based physical security products, hosted its twentieth ONVIF Developers' Plugfest in early June in Tokyo.
Read more...
---
24-hour emergency response for staff
August 2019 , News, Security Services & Risk Management
The FirstRand Group has partnered with PanicGuard to create a 24-hour emergency response programme for staff.
Read more...
---