printer friendly version
The importance of body-worn cameras in the workplace
October 2019 CCTV, Surveillance & Remote Monitoring, News, Security Services & Risk Management
South Africa has recently seen a huge spike in criminal behaviour. This has particularly been evidenced by the recent gender-based violence incidents, xenophobic attacks, looting and rioting.
Many local communities within Johannesburg and other surrounding areas have started taking matters into their own hands by creating safety awareness groups. This stance of citizens taking responsibility for their own safety has trickled into various other areas of protection, both at the individual and at the organisational levels. More people are asking "how can we fight back against crime and what are the best methods available to us to protect ourselves and/or our companies?"
"Today, South Africans have far more agency over their security than they have realised in the past. There are certainly ways to secure yourself against these threats and to ensure that perpetrators are caught," explains Jacki Condon, MD of Apache Security Services.
More South Africans are hiring security guards as an additional form of security to protect their homes, businesses and industrial/agricultural properties. However, the perception exists that the security guard may be in on the job or poses a risk of colluding with criminals. One of the methods to overcome this, as highlighted by Condon, is having security guards wear body-worn cameras.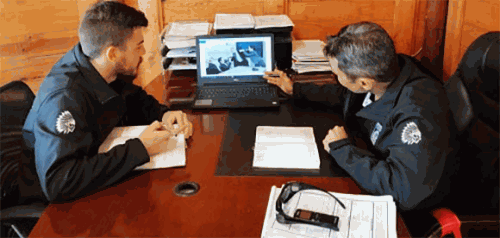 These cameras allow criminal culprits to be caught red handed, and recorded, which in turn aids in the process of apprehending and convicting the wrongdoers. While criminal activity can be caught on camera, these surveillance devices offer an added benefit; security guards wearing body-worn cameras are aware that their conduct is being monitored, increasing productivity and limiting unsavoury behaviour.
At an organisational level, security guards with body-worn cameras help to reduce the threat of both external and internal threats. Internal theft and fraud are huge contributors to losses across the continent. Body-worn cameras serve multiple purposes within this sphere such as eliminating the 'he said, she said' and thereby equipping employers to take appropriate action. This, in turn, helps to improve health and safety compliance and maintenance.
Body-worn cameras also aid in employee time tracking as employers can monitor if employees are sleeping on duty, while more closely evaluating when employees clock in and out. The reliability of incident reports is also improved.
There are a wide range of options and features of body-worn cameras available. Condon advises that choosing the correct device for the correct function will further increase the efficacy of security service. "Knowing which devices to use and how to use them are vital for effective security management. For instance, while our officers are on duty, they are equipped with Infrared night vision, 110-degree lenses, PTT radio integration, 16GB of memory and 1080P video. This ensures that they are able to effectively keep an eye on everything – even in the dark," continues Condon.
"Body-worn cameras have a wide range of benefits both for individuals and for businesses. To us, the greatest benefit is that body-worn cameras helps to prevent collusion while maintaining the safety and security of the business, its assets and its staff," concluded Condon.
For more information, visit http://apachesecurity.co.za.
Further reading:
Olarm launches the Olarm LINK
Olarm Perimeter Security, Alarms & Intruder Detection News Products
Building on the success of smart-enabling, monitoring and controlling alarm panels and electric fences, Olarm has a new solution for customers to integrate gates, garage doors, pumps and other electrical products with the Olarm APP and Olarm PRO communicator.
Read more...
---
Ultimate smart monitoring and reliability
Olarm Perimeter Security, Alarms & Intruder Detection News Products
Olarm is gearing up to unveil its latest product, the Olarm MAX, set to be available in late 2023, which will redefine smart monitoring by offering unparalleled connectivity options and functionality.
Read more...
---
Convergence of cyber and physical security
Integrated Solutions Security Services & Risk Management
The overlap between cybersecurity and physical security will necessitate the integration of cyber and physical security in order to enable the sharing of events to the same security operations centre.
Read more...
---
New algorithm for OT cybersecurity risk management
Industrial (Industry) Cyber Security News Commercial (Industry)
OTORIO's new risk management model and attack graph analysis algorithm technology, calculates OT cybersecurity threats and provides risk mitigation actions, prioritised according to actual exposure and potential impact on operations.
Read more...
---
Robots: a security opportunity or a threat?
Editor's Choice News Conferences & Events
Professor Martin Gill, Director of Perpetuity Research & Consultancy International and the School of Criminal Justice at the University of South Africa (UNISA), will be holding a Global Thought Leadership Security webinar on 22 June 2023 to discuss the contentious issue of robots operating in the security industry.
Read more...
---
UNISA sponsors Securex seminars
Editor's Choice News Conferences & Events
As part of UNISA's 150-year birthday celebrations, UNISA has sponsored the Securex Theatre Seminar Programme, which will include a number of prominent industry specialists, academics and security practitioners focusing on a number of themes.
Read more...
---
AI technology to empower vertical markets
Dahua Technology South Africa Mining (Industry) CCTV, Surveillance & Remote Monitoring Products
Dahua WizMind is a full portfolio of solutions comprising project-oriented products that use deep learning algorithms to provide more business value to its global customers and deliver reliable and comprehensive AI solutions for vertical markets.
Read more...
---
Sustainability School opens for enrolment
Education (Industry) News Security Services & Risk Management
Three-part programme, first developed for Schneider Electric employees, is now available for free for companies worldwide. Attendees learn how to future-proof their businesses and accelerate their decarbonisation journeys.
Read more...
---
Elvey partners with HALO
Elvey Security Technologies News CCTV, Surveillance & Remote Monitoring
Elvey Group has partnered with HALO Europe to provide Africa's first body-worn solution with zero upfront costs. This includes an IP68-certified body camera and a 4G-connected device.
Read more...
---
Accenture Technology Vision 2023
Editor's Choice News
New report states that generative AI is expected to usher in a 'bold new future' for business, merging physical and digital worlds, transforming the way people work and live.
Read more...
---