printer friendly version
Who is your ­competition?
February 2014
News
As you recovered from your December break and adjusted to your first days back in the slave galley, you may have noticed a news article about Google buying a company called Nest Labs for just over $3 billion. So what? you may ask.
Nest is described as "a maker of Internet-connected fire alarms and thermostats". The idea is you can control your home and save energy with its clever thermostats (in countries where they have things like that). It also offers clever fire/smoke/gas alarms (in countries where they have things like that). Naturally you can control these products from your phone, or they manage themselves. Apparently the smart thermostat manages the environment according to your activity.
Not only is Google getting into people's homes with this buy, but it has just set its sights on the traditional fire industry. Of course, it is very early days so I wouldn't reach for the anti-depressants just yet, but it reflects a growing move of 'other' companies into the traditional security space.
We've seen a few traditional IT companies buying security operations in SA over the past year or so as IT wants to start expanding its area of influence to boost its marginal profits – excluding services in the concept of marginal profits – and knows the security market still makes a nice margin. Last year also saw some industry stalwarts getting a big surprise as their long-term partners dumped their exclusive agreements in the chase for an extra buck (which they will get in the short term).
Other international game-changing players are also sticking their noses into the security market, such as IBM and Microsoft, who are making software do awesome things in managing cities, highways and so on. Fortunately for us, they are focused on the enormous projects that we don't see in Africa – but for how much longer?
Once the big projects, or big money projects are over, their technology will be scaled down to meet other needs, eventually ending up at the consumer level. With Google's expertise at dealing with huge volumes of data, for example, it would be a doddle to manage video surveillance.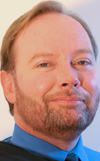 And when we look at handling big chunks of data, all the hype in IT today about 'Big Data' really makes one sit up and take notice when it comes to video surveillance. Data doesn't get much bigger and the ability to analyse terabytes of video data quickly for security and business intelligence reasons is going to become essential.
Let's be honest: how many local security companies have what it takes to compete with guys who can spend $3 billion in cash on a thermostat and smoke detector?
So enjoy the nice friendly security industry while you can over the next few years, there are some unpleasant changes in store in the future – hopefully far in the future. Maybe it's a stroke of luck that we're at the bottom of Africa in a country as attractive to foreign investors as appendicitis.
Andrew Seldon
Editor
Credit(s)
Further reading:
Leaders in risk and security: As long as there are people, there will be risk
Issue 5 2020, iFacts, Technews Publishing , Editor's Choice
Jenny Reid is a self-made success, focusing on people, the risks they create and the potential they have.
Read more...
---
Mitigating the human risk
Issue 5 2020, Managed Integrity Evaluation, Technews Publishing, iFacts , CCTV, Surveillance & Remote Monitoring
Hi-Tech Security Solutions asked Jennifer Barkhuizen and Jenny Reid for some information around background screening and vetting of potential new hires.
Read more...
---
SABRIC annual crime stats 2019
Issue 5 2020 , News
SABRIC, the South African Banking Risk Information Centre, has released its annual crime stats for 2019
Read more...
---
XProtect available on AWS
Issue 5 2020, Milestone Systems, Technews Publishing , Editor's Choice
Milestone recently announced the availability of XProtect on Amazon Web Services. Hi-Tech Security Solutions asked Keven Marier for more information.
Read more...
---
Adjusting to a new reality
Issue 5 2020, Technews Publishing , Integrated Solutions
COVID-19 to accelerate adoption of technology-enabled smart city resilience approaches: robotics, digital twins, and autonomous freight.
Read more...
---
From the editor's desk: We're back!
Issue 5 2020, Technews Publishing , News
Welcome to the fifth issue of 2020. If years were people, 2020 would have been hung, drawn and quartered...
Read more...
---
XtraVision moves to new premises
Issue 5 2020, XtraVision , News
Hot on the heels of the company changing hands, XtraVision, a distributor of electronic security and fire solutions in Africa and South America, has relocated.
Read more...
---
20 years of innovation in security and biometrics
Issue 5 2020, Suprema , News
Founded in 2000, Suprema has built a sales network in over 140 countries and has over 1 billion users.
Read more...
---
Fidelity ADT and Vumacam join forces
Issue 5 2020, Fidelity ADT , News
Fidelity-ADT recently partnered with Vumacam to roll out a surveillance network of cameras across a number of southern suburbs in Johannesburg.
Read more...
---
Dahua launches ECO Partner Programme
Issue 5 2020, Dahua Technology South Africa , News
Dahua Technology has launched its new technology partner programme, the Dahua ECO Partner Programme.
Read more...
---