printer friendly version
Into its fourth decade
November 2013
News
Saflec has been involved in the design and manufacture of metal detectors since its inception in 1980. In this time Saflec has produced a variety of metal detectors for industry, security, mining and many other applications.
Over the years Saflec has produced a range of metal detectors each with a specific task in mind to suit a particular industry.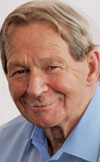 Bill Young, Saflec CEO
Industrial
There are very few mines on the African continent which do not have a Saflec industrial metal detector scanning their product for unwanted metals, protecting expensive crushers and processing equipment. This popularity of the Saflec Metasearch industrial metal detector has been driven by its reliability and cost effectiveness.
Security
Saflec is involved in the security market and produces a variety of walk-through metal detectors. Due to the unrest experienced in South Africa during the 1980s and early 1990s, Saflec developed the first South African produced walk-through detector that could not only reliably detect guns and knives, but could also detect the magnetic field emanating from limpet mines – a world first. Saflec detectors were installed in airports, shopping centres, restaurants, train stations and many other places around South Africa.
That dangerous era has thankfully passed, but unfortunately, due to the crime reality in South Africa, walk-through detectors are still very necessary and as a result you will find Saflec metal detectors protecting premises all over the country!
Loss control
Today, a large proportion of metal detectors are employed in loss control situations to protect the client's property from theft. Saflec has designed both walk-through and handheld metal detectors which can be used for loss-control or entrance security. Theft of valuable materials like gold, platinum, or tungsten carbide results in losses in the order of millions per year, so for situations like that, Saflec has produced the well-known Goldfinger metal detector, able to analyse the metallic profile of a person and therefore find extremely small quantities of valuable materials on the person's body.
Multi-zone
A European manufacturer designed the first multi-zone metal detector in an effort to speed up the traffic through airports and minimise delay. The theory behind this multi-zone metal detector was that it would indicate on which area on the body metal was located, which would mean a time saving as the security personnel would be able to search only the area where the metal was located.
In practice the security personnel still tend to manually search the complete body once metal has been detected, however multi-zone detectors are an extremely popular form of walk-through detector, despite being significantly more expensive than single zone detectors.
Saflec engaged in a long and extensive research and development cycle to design a detector that would fit the South African market, yet still be cost-effective against the international imported detectors.
After trying out many different metal detection theories and methodologies, the resulting Panaché multi-zone detector is one of Saflec's finest products, able to display accurately where on the body the metal is detected in both a picture form and also using LED lights down the edges of the unit.
Aesthetics
Saflec's philosophy has always been that its products must not only be cost-effective, robust and reliable, but should also look good. A large amount of effort is expended in ensuring that the units have an aesthetic appeal so as to fit in with the style and colour of its surroundings and be as unobtrusive as possible.
Proudly South African
The units are proudly manufactured, supported and maintained entirely in South Africa. This means that Saflec can provide instant cost-effective support and the ability to custom-make units for specific installations.
For more information contact Saflec Systems, +27 (0)11 477 4760, [email protected], www.saflec.com
Credit(s)
Further reading:
Johnny Aucamp joins iPulse exco
News
Johnny Aucamp has joined iPulse Systems as its chief sales officer (CSO), adding a massive boost to the executive team.
Read more...
---
From the editor's desk: Security and resilience
Technews Publishing News
It's often said that South Africans are a resilient bunch, and history has proven this correct. When it comes to security, both cyber and physical, resilience is key to an effective defensive plan. ...
Read more...
---
Hikvision aims for solutions
Technews Publishing Hikvision South Africa Editor's Choice CCTV, Surveillance & Remote Monitoring News Integrated Solutions Conferences & Events
Hikvision recently held a roadshow titled Industry X, where the company highlighted its latest products and solutions, supported by partners and distributors.
Read more...
---
Olarm launches PRO 4G communicator
Olarm News Perimeter Security, Alarms & Intruder Detection Products
Olarm has announced an additional 4G/LTE version of its Olarm PRO smart communicator. It is aimed at areas suffering from poor connectivity by providing support for 4G, 2G and Wi-Fi networks.
Read more...
---
ADI Expo returns to South Africa
Technews Publishing ADI Global Distribution News
September saw the return of the ADI Expo to South Africa. The Johannesburg event was held at the Focus Rooms and the Durban event, two days later, at the Southern Sun Elangeni & Maharani.
Read more...
---
Technoswitch Awards dinner for 2022
Technews Publishing News Fire & Safety
Technoswitch hosted its fifth awards dinner at Montecasino in September, where customers and suppliers celebrated a year of success.
Read more...
---
Suprema joins FiRa Consortium
Suprema News Access Control & Identity Management
Suprema recently became a member of the FiRa Consortium, a consultative body that establishes standards for ultra-wideband (UWB) technology, the next generation of wireless communication.
Read more...
---
Reliable, low-maintenance video appliances
Technews Publishing Editor's Choice CCTV, Surveillance & Remote Monitoring News IT infrastructure Products
Symetrix, part of the Agera Group, has added the AES range of video recording servers, storage appliances and workstations to its portfolio.
Read more...
---
ZYTEQ Fire Engineering Summit 2022
ZYTEQ Fire Fire & Safety News
Cape Town-based ZYTEQ Fire hosted its inaugural Engineering Summit at the Commodore Hotel in Cape Town and the Leonardo Hotel in Sandton, Johannesburg.
Read more...
---
Nomad launches early adopter programme
Editor's Choice News Integrated Solutions Smart Home Automation
Participants in Nomad's Early Adopter Programme will receive 10% of their volume order to facilitate testing before the commercial launch later this year.
Read more...
---