printer friendly version
Social media for the rest of us
November 2013
News
As I write this, Twitter has just listed its shares on the stock exchange and made a few billionaires and millionaires. Sad to say, I don't fall into either of those categories. However, it does bring up the question of social media and its usefulness in the South African business environment.
Hi-Tech Security Solutions has a Twitter account, a Facebook page and a LinkedIn group and we can track the number of conversations on these pages (quite dismal) and the number of people who have clicked on a link to securitysa.com website (not quite as dismal, but not too exciting either). The question I have is where is South Africa in terms of social media?
From a consumer point of view, there is no doubt that Twitter, Facebook and other sites are used by many South Africans on a daily basis. Not too long ago Woolworths SA shut down its Facebook page because of all the negativity surrounding one of its job adverts. Other companies have good response teams on Twitter and Facebook where they try to deal with consumer issues in these public domains.
However, when we get to the corporate side of things, there seems to be an acknowledgment that social media is something one must be seen doing, but few companies spend the required resources to make it an integral part of their marketing and PR.
Is there a social media industry in South Africa beyond the consumer market? Do companies see real returns when they embark on social media projects or is the lack of returns hidden in the high costs of an 'integrated marketing campaign'?
I know of one company, I suppose you'd call it a social media marketing company, that hires out its employees to be the social media presence for its customers, answering queries and keeping people happy on Twitter and Facebook. These poor employees are paid about R5000 per month so you can imagine the loyalty they have to the companies they represent.
Perhaps social media is like the security industry in that many businesses think they have to have it so they go for the cheapest option out there. Then one fine day something goes terribly wrong and your social media representatives aren't able to handle a real problem, with the result it blows up and everyone except the guy who was too cheap to spend the required amount of money gets the blame.
So, as we close out another year that has been both tough and rewarding, why not drop me an e-mail and tell me what you think of social media in the local security industry. Is it worth the effort? Do you get value from it? Should Hi-Tech Security Solutions up its Twitter game (or LinkedIn or Facebook etc.)? Or are you happy with the print and online resources we offer? We'd love to hear your opinions about what we can do to deliver a better service to our readers in 2014. Even if you want your comments and criticisms to remain anonymous, we'd appreciate the input.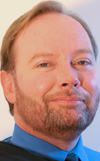 And with that, all that I have left to say is to wish you and yours a safe holiday season and a safe and prosperous 2014. (And if you think you know what the hot security topics for 2014 will be, drop me an e-mail, as we'll be covering that in our January issue.) My e-mail address is andrew@technews.co.za .
Andrew Seldon
Editor
Credit(s)
Further reading:
Online fleet management system
Issue 1 2020 , News
Fleet Domain's online Fleet Management Information System is reducing operating costs and improving safety for South African logistics firms.
Read more...
---
Digital insurance bundle for assets and devices
Issue 1 2020 , News
My CyberCare is a specialist provider of personal, and SMME online cyber insurance, cyber detection and cyber monitoring solutions for both local and global consumption.
Read more...
---
IDEMIA to supply Morocco's national electronic ID cards
Issue 1 2020, IDEMIA , News
IDEMIA will supply Morocco with national electronic ID cards and introduce a secured digital identity online services platform.
Read more...
---
Rockwell Automation to acquire Avnet
Issue 1 2020, Rockwell Automation , News
Rockwell Automation announced it has signed an agreement to acquire privately held Avnet Data Security, an Israeli-based cybersecurity provider with over 20 years' experience providing cybersecurity services.
Read more...
---
The instruments for investigation
Issue 1 2020, Technews Publishing , Security Services & Risk Management
Regardless of the reason for investigation, the investigation is only as good as the investigators.
Read more...
---
Do we really want simplicity?
Issue 1 2020, Technews Publishing , News
Everything today has to be simple, easy and fast. Even access to your bank account has to fit these adjectives and banks spend significant time and money trying to ensure their web and mobile interfaces ...
Read more...
---
Longse Distribution to become LD Africa
Issue 1 2020, LD Africa , News
Brendon Whelan, sales manager for Longse Distribution, announced that the company officially changed its name to LD Africa as of 20 January 2020.
Read more...
---
Three expos in one
Issue 1 2020 , News
Looking ahead to 2020 Vision: combined Securex South Africa, A-OSH EXPO and Facilities Management Expo 2020 promises to be even bigger and better.
Read more...
---
Security events you can't miss in 2020
Issue 1 2020, Technews Publishing , News
Hi-Tech Security Solutions will host a number of focused events in 2020 to highlight the latest in security technology and the operational benefits they deliver.
Read more...
---
David Shapiro to chair ESDA
Issue 1 2020, ESDA (Electronic Security Distributors Association , News
The Electronic Security Distributors' Association (ESDA), established in 1989, has elected David Shapiro as its chairperson for 2020.
Read more...
---