printer friendly version
Morpho extends product range
October 2013
Access Control & Identity Management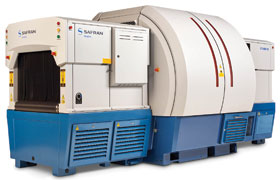 Over the next two years, Morpho South Africa will roll out its new Sigma range of access control products. According to COO of Morpho South Africa, Paul Jeremias, the Sigma products will replace the current generation of products.
"The Sigma range has a very modern look and feel and takes technology to the next level by providing managed time slots for personnel access. System managers can now pre-allocate specific time periods for each employee on an individual basis. Attempted access outside these time slots will be prohibited," said Jeremias.
"We have combined a number of features into one device. In the past, one would need a separate intercom and fingerprint reader. However, the Sigma devices include both elements. Therefore when a visitor arrives at the main gate or entrance they will push the device button which will activate the video camera, allowing the receptionist or security guard to identify the person before permitting access to the facilities."
The Sigma readers are all equipped with a camera and allow for dual identification and verification. Available in a number of variants including compact and full size, as well as with fingerprint and vein combinations, the devices support all protocols including smart cards. "We will kick off the phased-in implementation of the Sigma range with the compact readers, followed every few months by a different model."

Facial recognition
"We are very excited about our Morpho 3D Face Reader. In instances where biometric fingerprint readers are not suitable, for instance in dirty conditions, where fingerprints are badly degraded and in laboratories and hospitals where users wear latex gloves, facial recognition is a great choice. The failure to enrol and biometric accuracy rates on the reader are comparable to fingerprint readers with improved ease of use, resulting in enhanced security and reductions in access time," Jeremias added.
Morpho has invested a great deal of effort over the years in refining the 3D Face Reader technology to the point where common issues such as poor lighting, and people wearing glasses or hats, will not have an effect on the accuracy. As the person's head rotates, the camera captures the image at various angles to provide a true three-dimensional image that considers over 40 000 data points.
Backend management
Completing the suite of new products, Morpho South Africa is introducing the Web-based M2A backend management system, which is scalable up to 100 000 users with duplicate checking and more than 1000 devices, across multiple sites. "This will provide seamless and integrated management of all Morpho access control and time and attendance (T&A) products, including support for the Bioscrypt range," said Jeremias.
As part of its drive to increase service levels to its customers, Morpho is implementing a new service policy to strengthen the capabilities of the distribution channel.
Drug and explosive detectors
In addition to it access control range, the company is known for its range of drug and explosives detection equipment. "We felt that it was strategically pertinent to now release these Morpho detection products to the local market. We have made a substantial investment and we are currently implementing our stockholding of the portable and stationary range of products," said Jeremias.
The portable, handheld devices, such as the Hardened Mobile Trace, are ideal for the police, correctional services, customs control and freight companies. The Ion Trap Mobility Spectrometry technology can measure one billionth of a gram of a banned substance or explosive on a person or object.
In addition to traditional 2D X-Ray scanners, the company also markets the CTX range of 3D baggage scanners. These scanners interpret data and identify what drug or explosive is in the baggage as well as its exact location. This system reduces operator error and in some instances can even be used without the need for an operator.
"All the Morpho products are underpinned by local service and support, which equates to faster turnaround times," Jeremias concludes.
For more information contact Morpho South Africa, +27 (0)11 286 5800, andrina.diedericks@morpho.co.za, www.morpho.co.za
Credit(s)
Further reading:
HID addresses identification challenges at ID4Africa
August 2019 , News, Access Control & Identity Management, Government and Parastatal (Industry)
Being able to verify people's identities is critical for a nation's growth and prosperity and yet HID says nearly half of all African citizens can't prove who they are to vote, travel freely and receive government benefits and services.
Read more...
---
Came acquires Turkish company Özak
August 2019, CAME BPT South Africa , News, Access Control & Identity Management
Came broadens its market horizons and signals growth and consolidation in the Middle East.
Read more...
---
The benefits of electronic visitor management
August 2019, Powell Tronics , Access Control & Identity Management, Residential Estate (Industry)
Access control is a critical aspect of estate security as it represents the controls put in place to restrict entry (and possibly exit) along the outer boundary of the location.
Read more...
---
Addressing risks by means of access control layout and design
August 2019 , Access Control & Identity Management, Security Services & Risk Management
In order to develop a suitable, practical and appropriate security system for any organisation, it is essential to first develop a master security and life safety plan strategy.
Read more...
---
Secure hands-free access
August 2019, Suprema , Access Control & Identity Management, Residential Estate (Industry)
Suprema's facial biometric terminals bring no-touch access into secure residential estates, high-rise apartments and luxury homes providing fast, easy and intuitive user authentication with the added benefit of hygiene.
Read more...
---
MorphoAccess Sigma Extreme
August 2019, IDEMIA , Products, Access Control & Identity Management
MorphoAccess Sigma Extreme from IDEMIA is a touchscreen device with multiple recognition device interfaces (NFC chip reader, PIN and BioPIN codes, contactless card readers).
Read more...
---
Outdoor access terminals
August 2019, Suprema , Access Control & Identity Management, Residential Estate (Industry), Products
Rugged, dust- and weather-proof access control solutions that provide exceptional durability in extreme conditions is a strong requirement for many residential estates.
Read more...
---
MorphoWave Compact
August 2019, IDEMIA , Products, Access Control & Identity Management
The MorphoWave Compact captures and matches four fingerprints on either the right or left hand in any direction. It is robust to environmental factors such as extreme light or dust.
Read more...
---
MorphoAccess Sigma Lite
August 2019, IDEMIA , Products, Access Control & Identity Management
IDEMIA's MorphoAccess Sigma Lite and Lite + are fingerprint access control terminals, offering time and attendance in and out function keys.
Read more...
---
Eliminating forced gate opening scenarios
August 2019, ET Nice , Home Security, Access Control & Identity Management
When activated by the gate forced open alarm feature, the transmitter transmits a wireless alarm signal up to 750 metres in any direction.
Read more...
---