printer friendly version
Versatile local biometric device
Access & Identity Management Handbook 2014
Access Control & Identity Management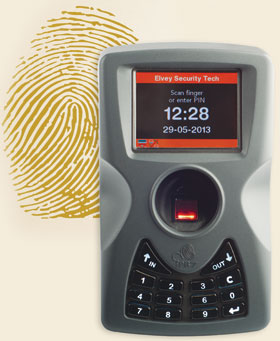 More than 71 000 dishonest employees in 18 900 stores in the United States were apprehended in 2012, up 5,5 percent from 2011 according to the 25th Annual Retail Theft Survey by US loss prevention firm Jack L. Hayes International.
And although there is an absence of similar data in South Africa, there's no question that the country is also experiencing alarmingly high levels of employee dishonesty, says Ingo Mutinelli, sales director at Elvey Security Technologies.
Quoting Mark Doyle, president of Hayes International, Mutinelli says the internal threat from dishonest employees is particularly troubling given that they steal on average five times more than external shoplifters. The survey also found that one in 40 employees was likely to steal or commit some form of crime in the workplace, which, he says, presents an enormous challenge to companies.
The solution, he avers, lies in technology and in particular, future-proof access control systems.
He urges company owners and installers to consider the benefits of the iPB7 from iPulse Systems. Designed and built almost completely in South Africa, the iPB7 is not only a standalone access control system, but the perfect hardware companion to any time and attendance solutions with some impressive and distinguishing characteristics.
Offline access
According to Kathleen Potgieter, key accounts manager for iPulse Systems, the major differential between the iPB7 and most other biometric devices is its ability to make complex decisions in an offline mode. "Whereas most other biometric readers require the input of a back-end system to make decisions, the iPB7 can make complex decisions in offline mode without intervention from a traditional controller or server."
The iPB7 is a multi-technology reader, offering both fingerprint and keypad code functionality. Depending on the security needs of the environment, one or both options can be used for identity authentication and to verify access.
The fingerprint reader is an optical sensor with 500 dpi resolution with good performance due to a highly tuned algorithm designed to identify a person in less than one second from a database of more than 10 000 locally stored users. This ensures that it is suited to high-density environments requiring quick identification and access to recognised users.
Boasting a full colour 3.4 inch LCD display screen, it is secured in a tough, IP65-rated polycarbonate casing with interchangeable covers and keypad.
IP65 with GSM option
The biometric reader comes standard with IntelliRelay support which allows a single device to control multiple relays. This adds versatility to the device's capabilities when combined with dynamic access schedules. It also removes the weak point characteristic in most other biometric devices which typically use a classic relay triggered by a high or low voltage spike.
"These can be bypassed by shorting out two wires or just disconnecting the correct wires," Mutinelli explains. "Traditional relays are, in most cases, dumb devices with no real intelligence built into them, but the IntelliRelay, through the use of encrypted two-way communication, can send and receive commands from the relay."
The unit also offers protection from sabotage. "Some access control systems, when tampered with, malfunction and release the door locking mechanism, which is a huge security breach," he cautions. "The iPB7, however, with its anti-tamper switch and custom screws, is guaranteed to withstand tampering."
Optional extras include a GSM unit that will allow it to manage data via mobile network when a normal network is not an option. The system also allows for a card reader such as iClass or Mifare to be built into it, should dual verification be required.
The iPB7 uses IQSuite, a biometrics management studio developed by iPulse and which forms the core of the entire iPulse product set. The software is fully Windows 7 compatible and seamlessly integrates the devices through a platform designed with the end user in mind, regardless of technical aptitude. It features a tiered, customisable user-role structure for additional security and easy to-use wizards to guide the user through each process. A flexible framework allows users to expand the functionality of their software with additional add-on packs: the entry-level IQSuite application is fully upgradable to an enterprise version, which has licensed add-ons for time and attendance, access control and visitor management.
"The most impressive attribute of the IQSuite application", continues Mutinelli, "is that it ships with a free licence bundled with the reader, making the overall cost of the solution even more competitive than anything similar on offer in the marketplace."
For more information contact Elvey Security Technologies, +27 (0) 11 401 6700, priyesh.jagjivan@elvey.co.za, www.elvey.co.za
Credit(s)
Further reading:
Facial access control for ministry
Issue 1 2020, ZKTeco , Access Control & Identity Management
The Ministry of Culture in Saudi Arabia has adopted ZKTeco's facial recognition technology and fingerprint biometrics to manage access control into its building.
Read more...
---
New Door Pilot app from dormakaba
Issue 1 2020, dormakaba South Africa , Access Control & Identity Management
With new dormakaba Door Pilot, automated doors can also now be operated on the basis of remote control technologies. The system, comprising the Door Pilot app for smartphones and a Wi-Fi interface for ...
Read more...
---
Identity lifestyle
Issue 1 2020, Suprema , Access Control & Identity Management
Once the technology of the future, biometrics has quietly snuck into our daily lives through smartphones and access controls into our places of work.
Read more...
---
Securing BP's new head office
Issue 1 2020, ISF SFP , Access Control & Identity Management
ISF SFP was awarded the contract to secure the first development phase for Oxford Parks, the new head office for BP South Africa.
Read more...
---
Combining aesthetics and access control
Issue 1 2020, Turnstar Systems , Access Control & Identity Management
Prestigious law firm Bowman Gilfillan recently upgraded its physical security with the addition of four Turnstar Speedgate Express access control lanes.
Read more...
---
Video doorbells from Ring
Issue 1 2020 , Access Control & Identity Management
Ring has a number of video doorbells available in South Africa that run off batteries or power and enable users to answer their doors from anywhere.
Read more...
---
Centurion to unveil new product
Issue 1 2020, Centurion Systems , Access Control & Identity Management
Centurion Systems will be hosting its third Access Automation Expo this year, with dates confirmed for Durban, Johannesburg and Cape Town.
Read more...
---
Looking ahead with mobile access technologies
Access & Identity Management Handbook 2020, Technews Publishing, HID Global, dormakaba South Africa, Salto Systems Africa, Suprema, Gallagher , Access Control & Identity Management, Integrated Solutions
Given the broad use of smartphones around the world and the numerous technologies packed into these devices, it was only a matter of time before the access control industry developed technology that would ...
Read more...
---
Mobile access is more secure than card systems
Access & Identity Management Handbook 2020 , Access Control & Identity Management
The ability to use mobile phones as access credentials is one of the biggest trends in a market that historically has been slow in adopting new technology.
Read more...
---
This is the future. This is what we do.
Access & Identity Management Handbook 2020, ZKTeco , Access Control & Identity Management
ZKTeco has created a unique range of visible light facial recognition products combined with a flexible Android platform.
Read more...
---