printer friendly version
Centralising Telkom's national security access system
October 2013
Access Control & Identity Management
National telecommunications provider, Telkom, has centralised its access control system nationally. Telkom's presence comprises a national footprint of buildings with telecommunication equipment, technical and administrative personnel. The company's security policy restricts access to certain areas for staff, contractors and visitors. The levels of access further restrict staff who execute functions internally and externally, that is, core side and client side.
A primary obstacle is the management of keys for remote locations and governance regarding the access to the sites. Although a key register is used to manage the site keys, delays in acquiring the keys posed an operational challenge, since multiple staff required keys simultaneously. A combination of physical and logical media was proposed to validate access.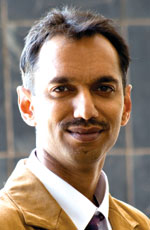 Sam Moodley, manager, Telkom Asset & Revenue Protection Services (TARPS)
An internally devised conceptual design was presented to management in early 2000. This design, that incorporates a national surveillance centre, was approved as the national security programme. At that time, there were six regional centres that managed the security operations for Telkom, monitoring all the intruder detection systems. The access control systems were standalone site devices and were locally managed. No national standard and no centralised database existed at the time, making investigations of security breaches labour intensive and time consuming.
The project for the new national security programme began with the drafting of an enterprise secur-ity policy that incorporated the networked surveillance system. An access card policy was also drafted to align all elements of the access control system to ensure seamless integration of the various modules. As a singular unit, the system would enrol a person, print a security access badge and provision access to any one of the sites that was incorporated onto the new enterprise system.
Various logical levels of access were provisioned for, such as management, security surveillance and maintenance staff. Furthermore, multiple physical access layers were also created, such as national, regional, sub-regional, site and door areas. A user also has the opportunity to have a combination of access permissions to these areas, together with timed duration. This methodology also provided other levels of access control, such as vehicle or parking management through a single access card.
Among others, milestones such as naming conventions, door permissions, grouping of access permissions, specific user access requirements, network provisioning and management formed the critical path for this project. The enterprise architecture, fragmented into the various regions, sub-regions and sites needed to be concise and provide for future growth. The architecture incorporated existing buildings that would also transform where churn needed to be accommodated.
A solution of this magnitude is primarily dependent on a team that is fully conversant with IT and communication networks with the ability to adapt to an ever-evolving landscape such as cloud-based servers and virtual environments. Although Telkom has not extended the programme to all its sites as yet, the organisation is tracking the changes within business to accommodate new needs from this system.
Forward compatibility is an integral part due to the changes and updates on the operating systems. A development environment is available to perform testing of all updates to the software so that the system is not compromised.
During events such as the FIFA World Cup 2010, remote management of the telecommunications rooms at all the stadiums was made possible by extending the current solution to these sites. Provision of access and surveillance of these rooms were centrally managed with great success.
The benefits derived from this programme extend to all users within Telkom. Workforce management enables supervisors to manage multiple staff working on a 24-hour shift basis and the management of staff at remote locations. Immediate provision or denial of access, together with situational analysis of the various sites, is provided. Instantaneous reports at any of the national sites are now available and centralised management and surveillance of the remote sites is provided. In all, this has been a highly successful project and has achieved all the goalposts and benchmarks originally assigned to it.
For more information contact Sam Moodley, +27 (0)12 311 3189, moodleys@telkom.co.za
Further reading:
HID addresses identification challenges at ID4Africa
August 2019 , News, Access Control & Identity Management, Government and Parastatal (Industry)
Being able to verify people's identities is critical for a nation's growth and prosperity and yet HID says nearly half of all African citizens can't prove who they are to vote, travel freely and receive government benefits and services.
Read more...
---
Came acquires Turkish company Özak
August 2019, CAME BPT South Africa , News, Access Control & Identity Management
Came broadens its market horizons and signals growth and consolidation in the Middle East.
Read more...
---
The benefits of electronic visitor management
August 2019, Powell Tronics , Access Control & Identity Management, Residential Estate (Industry)
Access control is a critical aspect of estate security as it represents the controls put in place to restrict entry (and possibly exit) along the outer boundary of the location.
Read more...
---
Addressing risks by means of access control layout and design
August 2019 , Access Control & Identity Management, Security Services & Risk Management
In order to develop a suitable, practical and appropriate security system for any organisation, it is essential to first develop a master security and life safety plan strategy.
Read more...
---
Secure hands-free access
August 2019, Suprema , Access Control & Identity Management, Residential Estate (Industry)
Suprema's facial biometric terminals bring no-touch access into secure residential estates, high-rise apartments and luxury homes providing fast, easy and intuitive user authentication with the added benefit of hygiene.
Read more...
---
MorphoAccess Sigma Extreme
August 2019, IDEMIA , Products, Access Control & Identity Management
MorphoAccess Sigma Extreme from IDEMIA is a touchscreen device with multiple recognition device interfaces (NFC chip reader, PIN and BioPIN codes, contactless card readers).
Read more...
---
Outdoor access terminals
August 2019, Suprema , Access Control & Identity Management, Residential Estate (Industry), Products
Rugged, dust- and weather-proof access control solutions that provide exceptional durability in extreme conditions is a strong requirement for many residential estates.
Read more...
---
MorphoWave Compact
August 2019, IDEMIA , Products, Access Control & Identity Management
The MorphoWave Compact captures and matches four fingerprints on either the right or left hand in any direction. It is robust to environmental factors such as extreme light or dust.
Read more...
---
MorphoAccess Sigma Lite
August 2019, IDEMIA , Products, Access Control & Identity Management
IDEMIA's MorphoAccess Sigma Lite and Lite + are fingerprint access control terminals, offering time and attendance in and out function keys.
Read more...
---
Eliminating forced gate opening scenarios
August 2019, ET Nice , Home Security, Access Control & Identity Management
When activated by the gate forced open alarm feature, the transmitter transmits a wireless alarm signal up to 750 metres in any direction.
Read more...
---