printer friendly version
Turbo HD X Security Solutions
May 2019 Home Security, CCTV, Surveillance & Remote Monitoring, Residential Estate (Industry)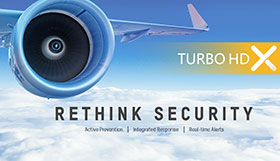 Hikvision has launched the latest generation Turbo HD Series - Turbo HD X, which is a complete system to help stop intruders in real-time, and avoiding damage and loss of property, from passive monitoring to active deterrence in a wide variety of applications
The Hikvision Turbo HD X series of cameras has a built-in detector that captures infrared light emitted by human bodies, distinguishing it from other visual 'noise'. Once the camera detects a potential intruder, its built-in siren flashes red and blue light and a loud sound with the aim of frightening the intruder away.
The Turbo HD X series can support a broad range of perimeter protection and security system processes for in-process warning, and evidence collection after an event. It enables transformation of the traditional monitoring and post-event investigation approach, and helps to change perimeter protection from passive monitoring to active deterrence in order to protect people and assets. It can be used in warehouses, residences, jewellery stores and more.
An end-to-end system
More importantly, the Turbo HD X is a unified system, featuring front-end devices linking to back-end devices and a remote application. As the front-end alarm sends a warning to potential intruders, the system also triggers an alarm at the back-end, to notify security personnel. Users can also receive alarm information remotely, via an application on their mobile devices.
Better false-alarm reduction
Turbo HD X cameras can also be integrated with Hikvision's AcuSense DVRs. The intelligent false-alarm reduction technology within these DVRs will disregard irrelevant movements picked up by the camera – such as rain, leaves and animals – and instead focus exclusively on human or vehicle movement. Together, this integrated solution dramatically reduces the number of false alarms, and ensures security staff focus on actual targets for greater efficiency.
All of this builds on the functionality that has been delivered by Hikvision's Turbo HD DVRs and cameras since their launch in 2013. In addition to HD image clarity, the last six years of Turbo HD products have delivered a wealth of innovations to the market, including efficient bandwidth and storage usage and ultra-low-light video recording – all helping customers to enhance their security and perimeter protection.
For more information contact Hikvision South Africa, +27 10 035 1172, support.africa@hikvision.com, www.hikvision.com
Credit(s)
Further reading:
Unintended consequences of ­technology
June 2019, Leaderware , CCTV, Surveillance & Remote Monitoring, Integrated Solutions
The development of general AI capabilities has seen an accompanying concern among some of the key players in the IT space as well as academics internationally.
Read more...
---
A platform to the future
June 2019, Genetec, Cathexis Technologies, Milestone Systems, Gijima Electronic and Security Systems (GESS) , Integrated Solutions, CCTV, Surveillance & Remote Monitoring, IT infrastructure
With AI, IoT and cloud changing the security technology landscape, will your security management platform be able to adapt to new demands?
Read more...
---
Foresight means secure offices
June 2019, Bosch Building Technologies , Commercial (Industry), CCTV, Surveillance & Remote Monitoring, Access Control & Identity Management
If you're responsible for a medium or large-sized office, it's more important than ever that you have access to a means of ensuring people's safety, managing risks and fraud, and protecting property.
Read more...
---
Axis 7th generation ARTPEC chip
June 2019, Axis Communications SA , Editor's Choice, CCTV, Surveillance & Remote Monitoring, Cyber Security
Axis has launched its 7th generation ARTPEC chip, optimised for network video, to improve all the signature Axis technologies created to address difficult light conditions.
Read more...
---
Hyper-converged simplicity
June 2019 , IT infrastructure, CCTV, Surveillance & Remote Monitoring
Hyper-converged infrastructure combines all of the data centre's critical components, such as storage, networking, compute, backup and more into pre-packaged units.
Read more...
---
Network cameras with strobe light and alarm
June 2019, Hikvision South Africa , Perimeter Security, Alarms & Intruder Detection
Hikvision has introduced the new AcuSense network camera series to its EasyIP 4.0 security solutions, featuring a strobe light and an audio alarm.
Read more...
---
Protecting education campuses with AI
June 2019, Hikvision South Africa , CCTV, Surveillance & Remote Monitoring, Integrated Solutions, Education (Industry)
School security must also be designed in layers, or concentric circles of protection, starting at the school's perimeter and working inward.
Read more...
---
Smarter with smarter technology
June 2019, Hikvision South Africa, Technews Publishing , News, Conferences & Events
Hikvision hosted a full house at The Houghton Hotel for its second AI Summit in Johannesburg, in May.
Read more...
---
A secure home on your phone
June 2019, Fidelity ADT Security , Home Security, Perimeter Security, Alarms & Intruder Detection
The latest offering in home security from Fidelity ADT is a product that gives the customer the control they need over their home security – no matter where they are.
Read more...
---
Home automation made easy
June 2019, HiTek Security Distributors , Home Security, Residential Estate (Industry), Products
Home automation makes is possible for apps, devices, alarm systems to integrate with each other seamlessly, allowing the consumer to customise their functions to their taste and priorities.
Read more...
---