printer friendly version
Smart surveillance for home
May 2019 CCTV, Surveillance & Remote Monitoring, Residential Estate (Industry)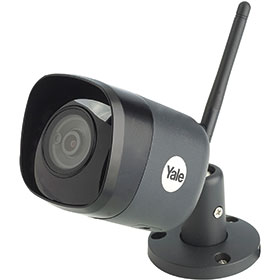 Ever been out and wanted a quick peek to check on your home? High definition live streaming, playback, recording, and back-up capabilities, means you can view footage anywhere in the world using a smartphone or tablet with Yale's Smart Living CCTV surveillance system.
The old adage 'prevention is better than the cure' rings true when it comes to protecting your property and loved ones. A CCTV system acts as an effective visual deterrent to any would-be burglars by its very presence alone, reducing the risk of you falling victim to crime in the first place, and with remote viewing capabilities business and family owners are provided with an increased sense of security and peace of mind.
The Yale Smart Living CCTV surveillance system is a DIY system complete with digital video recorder (DVR), cameras and cabling. It features built-in intelligent video analytics, enabling the system to detect and analyse moving objects from the CCTV cameras. Not only will the system record these events, but you will immediately be alerted via push notifications sent to your mobile.
Viewing live or recorded footage from the system can be done easily via a local screen connected to the DVR or remotely on a smartphone or tablet using the Yale Smart Living VIEW app.
With enhanced night vision and an IP67 weatherproof rating, you'll get good footage even in the lowest light or worst weather conditions. In addition, you can tailor the system to your needs by adding additional cameras.
Smart Living products are fully controllable from the mobile app, available for Apple and Android for free.
For more information contact Yale Security, +27 11 761 5000, za.yale.info@assaabloy.com, www.yalelock.co.za
Credit(s)
Further reading:
Huawei includes Namola safety app
Issue 1 2020
Huawei has partnered with South Africa's personal safety app, Namola, to ensure that more South Africans have access to the service.
Read more...
---
What are the cybersecurity issues in video surveillance?
November 2019, Axis Communications SA , Editor's Choice, CCTV, Surveillance & Remote Monitoring, Cyber Security
he importance of the data captured by surveillance cameras – and what can be done with it – has led to a new breed of cybercriminals, looking for insights to steal and sell.
Read more...
---
The safe city and its need for interoperability
November 2019 , Integrated Solutions, CCTV, Surveillance & Remote Monitoring
Interoperability continues to present one of the greatest challenges, particularly with video management systems, video recording devices and cameras.
Read more...
---
TruVision licence plate cameras
November 2019, UTC Fire & Security SSA , Products, CCTV, Surveillance & Remote Monitoring
TruVision ANPR cameras offer functionality for applications where vehicle access management is required based on licence plate.
Read more...
---
Do you have the smarts?
November 2019
Melissa Davidson from lighting retailer The Lighting Warehouse offers an overview on their latest smart LED ceiling light, which also acts as a Bluetooth speaker.
Read more...
---
The top five holiday scams
November 2019
The holiday season is a sea of shopping, laughter, gifts and entertainment. It is also a swamp of security risks and hacks and fraudsters, lurking on the edges of the festive fun.
Read more...
---
Be awake to the deepfake
November 2019
SA's Wireless Application Service Providers' Association is advising smartphone users alarmed by the 'deepfake' phenomenon that the expected promulgation of South Africa's Cybercrimes and Cyberbullying Bill is imminent.
Read more...
---
Reasoning with crime is like reasoning with death
November 2019
Have you noticed how many excuses a person or a management team can lay on the table when it comes to security?
Read more...
---
Not-so-safe travels
November 2019, Kaspersky
Kaspersky research of the RevengeHotels campaign aimed at the hospitality sector, has confirmed that in Latin America, Europe and Asia have fallen victim to targeted malware attacks.
Read more...
---
Digitise your access control
October 2019, dormakaba South Africa
With Evolo, you can open your doors using anything from an access card, key fob, or even a smartphone without any extra hardware.
Read more...
---