printer friendly version
BT makes the right call on security
October 2013
Access Control & Identity Management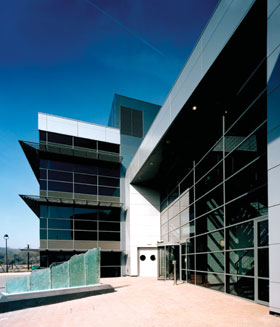 Management systems from Traka are being used by BT to track keys at its £90m flagship international data centre in Cardiff Bay, Wales.
Operations at the centre are supported by stringent security measures which ensure access to and within the building is controlled and restricted to authorised personnel whose use of site keys can be seen with a clear audit trail capability.
Occupied by 250 staff who manage the diverse requirements of BT's hosting and managed service customers worldwide, the international data centre is a 5570 square metre facility on three floors with many areas which only authorised personnel can access.
Philip Richards of BT Security said: "There is no doubt as to the extensive demand for Internet-related services such as Web and content hosting, Web design and data management across homes and businesses on a global basis.
"The BT international data centre in Cardiff stands as a hub of creativity and development. It has a multi-layer security mechanism, both physical and logical, enabling us to provide the extremely high levels of security demanded by many of our customers.
"Every element of the security is critical, but perhaps the most resource-heavy is key management. We have invested in the most sophisticated, Internet- enabled biometric scanning system possible, but essentially, if keys go missing the security is swiftly breached. Traka was a critical component to protect the key systems in place and maintain overall security on site."
Traditionally, keys had been stored in a key box and managed manually through use of a logbook. But management access to crucial IT equipment can be a time-intensive process with exposure to possible security breaches through lost keys or unauthorised staff mistakenly gaining access. The system needed to be optimised.
Traka's solution means all keys on site are permanently attached (using a tamper-proof security seal) to a metal iFob so as to effectively electronically tag the keys with unique identities.
The iFob, with keys attached, locks into a receptor strip within a key cabinet until released by an authorised user via a fully automated and audited process. Traka cabinets, as installed at this location are run with software and can be networked across numerous locations on sites while being managed by one central administrator.
Since installing the Traka system, BT has seen vast improvement in its access management. Not only is there less misplacement of keys but the time spent managing the process has been greatly reduced and the overall security of equipment improved due to the automated authorisation system. Personnel simply cannot access areas or use technology if they are not authorised to do so. A further benefit is that user profiles uploaded to the Traka system contain training details for all staff. This alerts managers when machine licences need to be renewed and staff re-trained, so avoiding time-intensive manual tracking of staff qualifications.
Paul Mazaher, major accounts sales manager at Traka said: "As data becomes more business-critical for BT customers and for the company itself, the need for failsafe secure data centres to create and deliver new IT solutions is vital."
He continued: "Even when it came to security systems, BT Cardiff looked for inspirational technology and Traka systems has been an integral part of the security infrastructure for over a decade. The benefit to BT is the significant cost and efficiency savings for the security team, as every key and electronic card is accounted for at all times even without the team being on site."
For more information contact Traka, +44 1234 712345, sales@traka.com, www.traka.com
Further reading:
HID addresses identification challenges at ID4Africa
August 2019 , News, Access Control & Identity Management, Government and Parastatal (Industry)
Being able to verify people's identities is critical for a nation's growth and prosperity and yet HID says nearly half of all African citizens can't prove who they are to vote, travel freely and receive government benefits and services.
Read more...
---
Came acquires Turkish company Özak
August 2019, CAME BPT South Africa , News, Access Control & Identity Management
Came broadens its market horizons and signals growth and consolidation in the Middle East.
Read more...
---
The benefits of electronic visitor management
August 2019, Powell Tronics , Access Control & Identity Management, Residential Estate (Industry)
Access control is a critical aspect of estate security as it represents the controls put in place to restrict entry (and possibly exit) along the outer boundary of the location.
Read more...
---
Addressing risks by means of access control layout and design
August 2019 , Access Control & Identity Management, Security Services & Risk Management
In order to develop a suitable, practical and appropriate security system for any organisation, it is essential to first develop a master security and life safety plan strategy.
Read more...
---
Secure hands-free access
August 2019, Suprema , Access Control & Identity Management, Residential Estate (Industry)
Suprema's facial biometric terminals bring no-touch access into secure residential estates, high-rise apartments and luxury homes providing fast, easy and intuitive user authentication with the added benefit of hygiene.
Read more...
---
MorphoAccess Sigma Extreme
August 2019, IDEMIA , Products, Access Control & Identity Management
MorphoAccess Sigma Extreme from IDEMIA is a touchscreen device with multiple recognition device interfaces (NFC chip reader, PIN and BioPIN codes, contactless card readers).
Read more...
---
Outdoor access terminals
August 2019, Suprema , Access Control & Identity Management, Residential Estate (Industry), Products
Rugged, dust- and weather-proof access control solutions that provide exceptional durability in extreme conditions is a strong requirement for many residential estates.
Read more...
---
MorphoWave Compact
August 2019, IDEMIA , Products, Access Control & Identity Management
The MorphoWave Compact captures and matches four fingerprints on either the right or left hand in any direction. It is robust to environmental factors such as extreme light or dust.
Read more...
---
MorphoAccess Sigma Lite
August 2019, IDEMIA , Products, Access Control & Identity Management
IDEMIA's MorphoAccess Sigma Lite and Lite + are fingerprint access control terminals, offering time and attendance in and out function keys.
Read more...
---
Eliminating forced gate opening scenarios
August 2019, ET Nice , Home Security, Access Control & Identity Management
When activated by the gate forced open alarm feature, the transmitter transmits a wireless alarm signal up to 750 metres in any direction.
Read more...
---