printer friendly version
A competitive edge for the hospitality sector
May 2019 CCTV, Surveillance & Remote Monitoring, Integrated Solutions, Entertainment and Hospitality (Industry)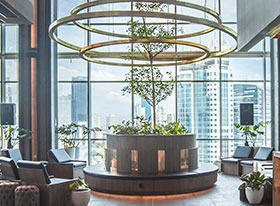 Hotel security teams work hard to ensure high levels of security, but they face challenges in the form of high guest turnover and multiple entry and exit points that are easy for anyone to access. Luckily there is a solution to these security issues and it's one that can give hotels a significant competitive edge in the face of the growing pressure from the private lettings sector.
Guests stealing towels, property damage and even pick-pockets making their way into the lobby or bar: these are just a few of the things that result in hotels losing thousands every year. But there are also economic challenges, and hiring more staff to counter these issues is simply not a feasible option. But how to then ensure safety and security for guests and staff without cutting into profits?
An effective solution
The solution is to 'work smarter' by using a modern, intelligent video surveillance system that will protect guests, staff, premises and assets. A good video management system platform can be tailored to any type of hotel and can be upscaled or downscaled should requirements change over time. The hotel management can choose to operate the system in-house, outsource its operation, run it as a service or opt for any combination of these possibilities.
In addition to its security role, the video system can also function as a business asset by using video analytics and artificial intelligence (AI) to provide data on guest flows and behaviour. It is important to note however, that from May 2018, video surveillance systems must be carefully implemented to ensure that they meet the requirements of the new European Union General Data Protection Regulations (GDPR).
The benefits
Efficient video management and surveillance gives hoteliers a competitive edge over individuals offering short-term rentals of their private homes. In the latter instances, there is often no security at all and, even where it does exist, it is likely rudimentary and unreliable.
This means that hoteliers can use their video security system as a marketing asset and a powerful selling point, helping them stand out from the crowd. Intelligent video systems will also alert hotel managers if assets are removed from their premises and will allow potentially problematic incidents to be quickly detected and fully documented to facilitate further investigation.
Perhaps even more important is that using video analytics and AI can help to predict incidents before they happen, ensuring that staff and guests feel safe anywhere on the hotel premises.
Giving hotel managers 20/20 site vision
Having complete situational awareness of a hotel offers more than just safety and security, it also offers peace of mind and aids efficiency. Thanks to the video feeds from cameras, hotel managers can monitor progress in the preparation of rooms, tidiness in public hotel areas, crowding in the reception, readiness of conference room and so much more.
This enables them to be more efficient and to assign staff intelligently to the most important and urgent tasks. Recorded video footage can be used to document best practices as an aid to training and to improve service quality. It can also be used for simple things like showing the queue at the breakfast buffet – which can lead to the creation of further efficiencies by finding ways to reduce future queues.
With easy-to-use Milestone software, all of this insight can be acquired with a few clicks of a mouse. Milestone supports more than 7 000 different devices, enabling users to pick the perfect cameras for their individual business needs. It even supports the use of cost-efficient television sets as monitors.
These features make it easy to add extra video services such as a swimming pool camera so that parents can keep an eye on their children enjoying the hotel pool. Monitors showing selected video feeds from the installed cameras can also be used in hotel public areas to showcase the hotel's dedication to maintaining a safe environment.
Additional benefits from video software
When Milestone software is used with thermal imaging cameras, it can intelligently monitor temperature changes in rooms, using an algorithm that relates these changes to the number of people present in the room.
The software can then send signals to the hotel's environmental management system ensuring that the room is always maintained at a comfortable temperature. The temperature monitoring function can also be used for fire protection, as it can be programmed to generate an alarm if a fire breaks out.
Milestone can also be programmed to recognise individuals. This means it can be used for access control, ensuring that only authorised persons are allowed to enter certain rooms or areas, and also to log the presence of individuals in particular areas so that in the event of an emergency, they can be quickly warned by the security personnel.
Privacy and GDPR
The aim of the European Union General Data Protection Regulations (GDPR) is to protect personal data throughout the EU. It includes within its scope all forms of image data and recordings taken by video cameras and CCTV. This means that camera placement in hotel premises needs to be considered very carefully, especially in relation to bars and reception areas, where guests can reasonably expect a level of privacy and confidentiality. Private communication and social interaction are, after all, integral elements of bar culture.
Installing a video surveillance system in the hotel reception and entrance areas is only allowed if there are appropriate signs notifying people of its presence and operation. Furthermore, cameras must not point directly at the receptionists, as this could lead to constant observation of the employees, which is strictly forbidden. And although it may be acceptable to monitor the entrance and reception, the lobby should be out of bounds as guests enjoy free time there.
Monitoring the exterior of the hotel should always be done in a considerate manner avoiding, for example, accidental coverage of adjacent buildings and areas. An important aid to achieving GDPR compliance in these cases is the use of tools for pixelating or masking specific image sections.
Finally, there must be a good reason for video surveillance and this must be recorded in writing. Because of GDPR, hotels and companies are accountable to the relevant national data protection authority and it is worth noting that the penalties for non-compliance are considerably large.
With Milestone video management software, images from hundreds of cameras can be evaluated in real time. This allows for multiple sources of information to be collated in a single central location. Previously separate solutions such as building security, fire protection and energy management can now be integrated. In a nutshell, smart video surveillance using Milestone not only makes hotels safer, but also helps them run more smoothly, more efficiently and more profitably.
For more information contact Amine Sadi, Milestone Systems, +971 50 899 0055, ams@milestonesys.com, www.milestonesys.com
Credit(s)
Further reading:
Unintended consequences of ­technology
June 2019, Leaderware , CCTV, Surveillance & Remote Monitoring, Integrated Solutions
The development of general AI capabilities has seen an accompanying concern among some of the key players in the IT space as well as academics internationally.
Read more...
---
Changing of the guard, AI style
June 2019, Active Track, Technews Publishing , Integrated Solutions, Security Services & Risk Management
Active Track is launching a raft of new AI-based products and services with which it intends to turn the security world as we know it on its head.
Read more...
---
A platform to the future
June 2019, Genetec, Cathexis Technologies, Milestone Systems, Gijima Electronic and Security Systems (GESS) , Integrated Solutions, CCTV, Surveillance & Remote Monitoring, IT infrastructure
With AI, IoT and cloud changing the security technology landscape, will your security management platform be able to adapt to new demands?
Read more...
---
Foresight means secure offices
June 2019, Bosch Building Technologies , Commercial (Industry), CCTV, Surveillance & Remote Monitoring, Access Control & Identity Management
If you're responsible for a medium or large-sized office, it's more important than ever that you have access to a means of ensuring people's safety, managing risks and fraud, and protecting property.
Read more...
---
Axis 7th generation ARTPEC chip
June 2019, Axis Communications SA , Editor's Choice, CCTV, Surveillance & Remote Monitoring, Cyber Security
Axis has launched its 7th generation ARTPEC chip, optimised for network video, to improve all the signature Axis technologies created to address difficult light conditions.
Read more...
---
Hyper-converged simplicity
June 2019 , IT infrastructure, CCTV, Surveillance & Remote Monitoring
Hyper-converged infrastructure combines all of the data centre's critical components, such as storage, networking, compute, backup and more into pre-packaged units.
Read more...
---
Enhancing perimeter security with video
June 2019, Pelco by Schneider Electric , CCTV, Surveillance & Remote Monitoring, Perimeter Security, Alarms & Intruder Detection
Securing perimeters, whether they surround an airport, seaport, or an oil and gas facility, require a layered approach.
Read more...
---
Proactive forensic intelligence
June 2019, Secutel Technologies , CCTV, Surveillance & Remote Monitoring, Integrated Solutions
Through its Safe City projects, AxxonSoft is assisting authorities in identifying unsolicited behaviour and potential human threats in public spaces.
Read more...
---
Tailoring surveillance to the customer
June 2019, Pelco by Schneider Electric , CCTV, Surveillance & Remote Monitoring
Pelco's custom surveillance solutions can be used to adapt to avoid obstructions or conform to unique architectural features by modifying mounts on cameras.
Read more...
---
From hype to viable assistance
June 2019, Dallmeier Electronic Southern Africa , CCTV, Surveillance & Remote Monitoring
Dallmeier has published four practical statements about video technology and artificial intelligence to assist users in differentiating reality from research.
Read more...
---