printer friendly version
A smart city is a partnership
May 2019 CCTV, Surveillance & Remote Monitoring, Integrated Solutions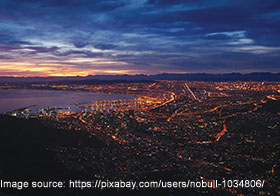 Strength lies in unity, especially when forces join to tackle crime. Without a doubt, it is necessary for a smart city to have integrated public and private safety and security systems. This ensures the highest level of protection for a city and its citizens, without any sector working in a silo. Globally, this is starting to take off, with some very successful use cases proving the importance of partnerships and collaborations between public and private sector, which I have outlined below.
Public-private partnerships spread worldwide
Starting in the United States, a recent example of a real public-private collaborative effort to tackle crime was displayed through a project run in the city of Atlanta. The Atlanta police department launched Operation Shield, a video integration initiative that pulls video resources from private organisations, such as local businesses, and public entities such as public schools, into a single command centre, to provide law enforcement with a more holistic real-time view of situations across the entire city.
Law officials now have access to 24/7 surveillance throughout the city, something that would have been prohibitive before, due to the cost of owning and maintaining all those cameras themselves. Private businesses that share their live video with the police department mutually benefit from a more rapid, better-prepared response toward crime happening on or near their premises. Thus, this project showed a real partnership between the public and private sectors to improve crime prevention efforts.
Similarly, the Minneapolis SafeZone is a collaborative video surveillance and communications project between private security firms and public police forces, which has helped to lower crime rates in the downtown area. The city of Hartford, Connecticut, also minimised crime rates thanks to small businesses and community groups working on the same side as the local police department. You can view a video about the Hartford programme at https://youtu.be/W7kooPy32Bs
Another example of a successful public-private collaborative project is the Project Green Light Detroit, where the police department partners with gas stations across the city and the community to improve neighbourhood and local business safety. The result is a strengthened relationship between public services and private businesses operating in the area.
Heading south, Conectandonos, Mexico, is a project of collaborative video surveillance between private industry, government and the community, which involves sharing the use of IP cameras at zero cost for municipalities, integrating efforts in order to improve security and enhance the quality of life of its citizens.
Moving to Europe, there are some smart city projects in the Netherlands, driven by triple or quadruple public-private helix clusters such as the government, institutions, industries and the community. Stratumseind, a bar street in Eindhoven, is turned into a living lab with innovative technologies. The project started in 2014 and is still running. Generic data of the nightlife crowd is used to influence the mood of the visitors and improve public safety.
In Assen, the police, fire department, paramedics and traffic control keep the crowd safe during the annual biker festival, when more than 100 000 people visit the city. In the city centre of Almere, traffic flow has improved thanks to collaboration between parking management and police forces.
React – respond – resolve
As seen through the above cases, these 'smart', connected cities allow the development of a real-time video surveillance system. This allows law enforcement to more accurately and efficiently react to, respond to and resolve crime across a much wider area. This improves the management of the city's most critical issues related to crime and makes citizens feel safer, improving the overall reputation of the city and attracting investment, which leads to economic development.
Partnerships between public organisations, private companies and the community can bring benefits to the whole system – in addition to law enforcement and the associated public safety. It can also be used in other areas such as traffic management, environmental management and even warnings about potential natural disasters.
For more information contact Axis Communications, +27 11 548 6780, sasha.bonheim@axis.com, www.axis.com
Credit(s)
Further reading:
Unintended consequences of ­technology
June 2019, Leaderware , CCTV, Surveillance & Remote Monitoring, Integrated Solutions
The development of general AI capabilities has seen an accompanying concern among some of the key players in the IT space as well as academics internationally.
Read more...
---
Changing of the guard, AI style
June 2019, Active Track, Technews Publishing , Integrated Solutions, Security Services & Risk Management
Active Track is launching a raft of new AI-based products and services with which it intends to turn the security world as we know it on its head.
Read more...
---
A platform to the future
June 2019, Genetec, Cathexis Technologies, Milestone Systems, Gijima Electronic and Security Systems (GESS) , Integrated Solutions, CCTV, Surveillance & Remote Monitoring, IT infrastructure
With AI, IoT and cloud changing the security technology landscape, will your security management platform be able to adapt to new demands?
Read more...
---
Foresight means secure offices
June 2019, Bosch Building Technologies , Commercial (Industry), CCTV, Surveillance & Remote Monitoring, Access Control & Identity Management
If you're responsible for a medium or large-sized office, it's more important than ever that you have access to a means of ensuring people's safety, managing risks and fraud, and protecting property.
Read more...
---
Axis 7th generation ARTPEC chip
June 2019, Axis Communications SA , Editor's Choice, CCTV, Surveillance & Remote Monitoring, Cyber Security
Axis has launched its 7th generation ARTPEC chip, optimised for network video, to improve all the signature Axis technologies created to address difficult light conditions.
Read more...
---
Hyper-converged simplicity
June 2019 , IT infrastructure, CCTV, Surveillance & Remote Monitoring
Hyper-converged infrastructure combines all of the data centre's critical components, such as storage, networking, compute, backup and more into pre-packaged units.
Read more...
---
Enhancing perimeter security with video
June 2019, Pelco by Schneider Electric , CCTV, Surveillance & Remote Monitoring, Perimeter Security, Alarms & Intruder Detection
Securing perimeters, whether they surround an airport, seaport, or an oil and gas facility, require a layered approach.
Read more...
---
Proactive forensic intelligence
June 2019, Secutel Technologies , CCTV, Surveillance & Remote Monitoring, Integrated Solutions
Through its Safe City projects, AxxonSoft is assisting authorities in identifying unsolicited behaviour and potential human threats in public spaces.
Read more...
---
Tailoring surveillance to the customer
June 2019, Pelco by Schneider Electric , CCTV, Surveillance & Remote Monitoring
Pelco's custom surveillance solutions can be used to adapt to avoid obstructions or conform to unique architectural features by modifying mounts on cameras.
Read more...
---
From hype to viable assistance
June 2019, Dallmeier Electronic Southern Africa , CCTV, Surveillance & Remote Monitoring
Dallmeier has published four practical statements about video technology and artificial intelligence to assist users in differentiating reality from research.
Read more...
---