printer friendly version
Speedy access to luxury
October 2013 Asset Management, EAS, RFID, Access Control & Identity Management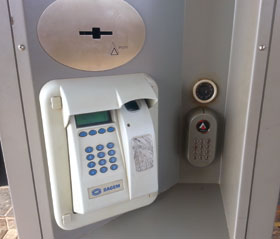 Serengeti Golf and Wildlife Estate is located 10 minutes from OR Tambo International Airport, yet its proximity belies the tranquillity within the estate. The award-winning Jack Nicklaus Signature golf course attracts many avid golfers and the estate is home to a number of discerning residents who are intent on combining convenience with luxury in this mixed-use arena. Future developments include a hotel and conference centre, shopping facilities and an office park.
One of the biggest access issues encountered at the estate was the delay in processing golfers on their arrival at the entrance gates. The UTM Group, which had been involved in the maintenance of pre-existing on-site security surveillance and access control systems, was asked to conceptualise, design and implement a suitable solution to ease the regular backlog of visitors, in conjunction with SA Digital Villages.
"The estate focuses on state-of-the-art security equipment and infrastructure with intelligent policing of both the internal and external elements of the estate. In line with this we devised a high-tech system that could be readily integrated into the existing system, while at the same time drastically reducing the waiting time at the entrance points," Kelly Mclintock, MD of the UTM Group said.
The visitor management and processing system comprises an Impro IXP400i system with customised visitor management back-end system as well as 22 Sagem MA500 biometric fingerprint readers and 16 Impro keypads attached to Impro iTRT controllers.
The UTM Group worked closely with SA Digital Villages to develop the integration pack that would allow the new system to integrate with the existing database. "This was a rather complex and time consuming process which took four months to complete. After running live, we encountered a few teething problems with the SQL interfacing and port allocations. We subsequently made a number of subtle changes to the code and the system is now running seamlessly. This system is typical of the new trend whereby coding and other IT involvement comprises 90% of the successful implementation of security systems," Mclintock explained.
When a visitor wishes to access the estate, their host (a resident or the Golf Club) logs into the portal and requests a one-time PIN code which is then sent to the visitor's cellphone. The PIN is directly linked to a specific access time period and zone inclusion on the system. The system allows management to interrogate each resident's account to track all visitors admitted to the estate.
A visitor is required to travel through a number of boomed access zones within a predetermined time limit. Should they not check in during this period, the system immediately alerts the estate's security rangers, who will then search for the vehicle and assist its passenger to reach their destination.
Based on the success of the new system and the UTM Group's extensive experience in driving integrated security solutions, Serengeti Golf & Wildlife Estate has awarded the company the contract to upgrade all surveillance equipment and bring the entire access control system in line with the new visitor management technology. In phase 4 of the upgrade this will include the deployment of RFID readers to service the residential component as well as LNPR and facial recognition cameras.
For more information contact UTM Group , 0860 22 22 66, kelly@utmgroup.co.za
Further reading:
MorphoAccess Sigma Extreme
August 2019, IDEMIA , Products, Access Control & Identity Management
MorphoAccess Sigma Extreme from IDEMIA is a touchscreen device with multiple recognition device interfaces (NFC chip reader, PIN and BioPIN codes, contactless card readers).
Read more...
---
MorphoWave Compact
August 2019, IDEMIA , Products, Access Control & Identity Management
The MorphoWave Compact captures and matches four fingerprints on either the right or left hand in any direction. It is robust to environmental factors such as extreme light or dust.
Read more...
---
MorphoAccess Sigma Lite
August 2019, IDEMIA , Products, Access Control & Identity Management
IDEMIA's MorphoAccess Sigma Lite and Lite + are fingerprint access control terminals, offering time and attendance in and out function keys.
Read more...
---
Eliminating forced gate opening scenarios
August 2019, ET Nice , Home Security, Access Control & Identity Management
When activated by the gate forced open alarm feature, the transmitter transmits a wireless alarm signal up to 750 metres in any direction.
Read more...
---
Came acquires Turkish company Özak
August 2019, CAME BPT South Africa , News, Access Control & Identity Management
Came broadens its market horizons and signals growth and consolidation in the Middle East.
Read more...
---
HID addresses identification challenges at ID4Africa
August 2019 , News, Access Control & Identity Management, Government and Parastatal (Industry)
Being able to verify people's identities is critical for a nation's growth and prosperity and yet HID says nearly half of all African citizens can't prove who they are to vote, travel freely and receive government benefits and services.
Read more...
---
Delta Scientific prevents two vehicle attacks
August 2019 , Editor's Choice, Access Control & Identity Management, Security Services & Risk Management
Two vehicular attacks that occurred eight days apart at the Mayport Naval Station were stopped, the preventing both intruders from penetrating the site.
Read more...
---
Securing apartments in Vienna
August 2019 , Home Security, Access Control & Identity Management
A luxurious new residential complex offering 53 residential units offers flat owners comfort and also personal security.
Read more...
---
TAPA EMEA appoints Thorsten Neumann as president and CEO
July 2019, TAPA (Transported Asset Protection Association) , News, Asset Management, EAS, RFID
The Transported Asset Protection Association (TAPA) has appointed Thorsten Neumann as its first full-time president & CEO.
Read more...
---
Child fingerprint identification solution
July 2019 , News, Access Control & Identity Management
Gavi, NEC, and Simprints to deploy world's first scalable child fingerprint identification solution to boost immunisation in developing countries.
Read more...
---