printer friendly version
Huawei's Platform + Ecosystem strategy for 2019
May 2019 News, Integrated Solutions, IT infrastructure, Conferences & Events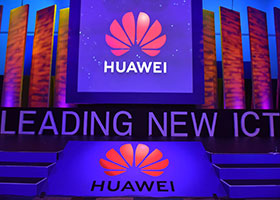 The annual Huawei Eco Connect event took place at the Sandton Convention Centre in Johannesburg and brought together business leaders, global industry visionaries, opinion leaders, partners and potential partners for an in-depth update on what Huawei Enterprise has to offer within the South African market in 2019.
The event saw more than 1000 attendees and housed exhibition stands from an array of partners including Altron, Mustek, Pinnacle, EOH, BCX, Gijima, TorqueIT, Commvault, Trillcom, Xon, Datacentrix, Tech Mahindra, and Reflex.

Alex Du Min
At a media briefing held during the event, Huawei Enterprise MD, Alex Du Min confirmed that, "Huawei Enterprise South Africa's strategy for 2019 will centre around collaboration with partners and customers in order to develop innovative industry specific solutions that will enable flexible, open, and secure platforms to drive enterprise digital transformation".
Huawei is focused on facilitating a digital transformation ecosystem within South Africa in order to implement joint innovations and expand this ecosystem in terms of industry alliances, business alliances, developer platforms, and open-source communities. "The idea is that Huawei will provide the data centre facility, hardware and software infrastructure and technical team whilst the partner contributes with ideas, products and human resources".
As Huawei Enterprise's commitment to this strategy in 2019, it hopes to accelerate digitalisation, as well as to escalate the convergence of physical and digital worlds. New ICT represents not only new technologies and platforms, but also a new ecosystem, making it a cornerstone of industrial digitalisation.
As digital transformation now dominates many C-suite and boardroom agendas, at the beginning phase of this 4th industrial revolution in southern Africa, businesses are faced with radical viewpoints and demands of which CIOs, CTOs, and CDOs struggle to define cohesive digital strategies. "It is therefore crucial that Huawei Enterprise commits to building a sustainable platform within which all its partners can thrive," said Du Min.
In line with the Huawei Enterprise Platform + Ecosystem strategy, Huawei Enterprise will in 2019 specifically focus on the 4 star products and solutions namely:
• Huawei OceanStor Dorado all-flash storage, which is a high-end product for the enterprise business market, offering both reliability and high performance.
• Huawei Wi-Fi 6 AP which is the industry's first application of 8x8 MU-MIMO, OFDMA, and 1024 QAM. It is also the industry's first wireless AP with a data transfer speed of up to 10Gbps. According to one of Huawei's distribution partners, Pinnacle CEO Tim Humphreys Davies; "It is great to see a 1-gig uplink for any wireless device and high density of single users per point – which is great for streaming. This will drive better content and a richer experience."
• The industry's first data center switch built for the AI era – the CloudEngine 16800. With an embedded AI chip, the CloudEngine 16800 uses the innovative iLossless algorithm to achieve an AI computing power of 100%, improving data storage IOPS by 30%.
• Huawei's software-defined cameras that can be applied in a wide variety of security scenarios such as face checkpoint, situation awareness, vehicle checkpoint, and Intelligent Transportation Surveillance (ITS). The software-defined camera supports continuous evolution and development of algorithms and applications. The open-ended platform enables AI to be applied in more security scenarios.
Du Min also thanked partners for their ongoing commitment to Huawei's vision and stressed the importance of relationship building. "Huawei Enterprise will continue to strengthen relationships with our partners in South Africa and fiercely support and enable them to achieve the best results for their businesses by equipping them with the latest technological advancements in this market."
For more information, contact Huawei Enterprise, +27 (0)8600 18000, enterprisebiz@huawei.com, e.huawei.com
Credit(s)
Further reading:
TAPA: The role of an effective treasury function in business risk management
June 2019, Technews Publishing , News
Neil Le Roux, the Founder of Diligent Advisors will speak at the TAPA SA (Transported Asset Protection Association) annual conference on 26 July 2019.
Read more...
---
From the editor's desk: Of sore feet and new websites
June 2019, Technews Publishing , News
I hope everyone has recovered from the hustle and bustle of Securex. This year was once again an exhausting event and now we're left with following up. For Hi-Tech Security Solutions it was a good show ...
Read more...
---
Unintended consequences of ­technology
June 2019, Leaderware , CCTV, Surveillance & Remote Monitoring, Integrated Solutions
The development of general AI capabilities has seen an accompanying concern among some of the key players in the IT space as well as academics internationally.
Read more...
---
Changing of the guard, AI style
June 2019, Active Track, Technews Publishing , Integrated Solutions, Security Services & Risk Management
Active Track is launching a raft of new AI-based products and services with which it intends to turn the security world as we know it on its head.
Read more...
---
A platform to the future
June 2019, Genetec, Cathexis Technologies, Milestone Systems, Gijima Electronic and Security Systems (GESS) , Integrated Solutions, CCTV, Surveillance & Remote Monitoring, IT infrastructure
With AI, IoT and cloud changing the security technology landscape, will your security management platform be able to adapt to new demands?
Read more...
---
Does green cost more?
June 2019 , News, Commercial (Industry)
GBCA, ASAQS and UP launch the 2019 edition of Green Building in South Africa: Guide to Costs & Trends.
Read more...
---
Proactive forensic intelligence
June 2019, Secutel Technologies , CCTV, Surveillance & Remote Monitoring, Integrated Solutions
Through its Safe City projects, AxxonSoft is assisting authorities in identifying unsolicited behaviour and potential human threats in public spaces.
Read more...
---
Partnership to reduce farm violence and agricultural crime
June 2019, Fidelity ADT Security , News, Security Services & Risk Management, Agriculture (Industry)
Agri SA has partnered with Fidelity ADT, a subsidiary of the Fidelity Services Group, to offer a range of services and products to its members and the rural community.
Read more...
---
Protecting education campuses with AI
June 2019, Hikvision South Africa , CCTV, Surveillance & Remote Monitoring, Integrated Solutions, Education (Industry)
School security must also be designed in layers, or concentric circles of protection, starting at the school's perimeter and working inward.
Read more...
---
Intrusion detection with visual ­verification
June 2019, Secutel Technologies , Perimeter Security, Alarms & Intruder Detection, Integrated Solutions, Products
Secutel Technologies' Visual Verifier is an effective intrusion system designed specifically to accommodate for low bandwidth availability and low power usage.
Read more...
---