printer friendly version
Huawei's Platform + Ecosystem strategy for 2019
May 2019 News, Integrated Solutions, IT infrastructure, Conferences & Events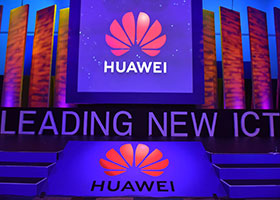 The annual Huawei Eco Connect event took place at the Sandton Convention Centre in Johannesburg and brought together business leaders, global industry visionaries, opinion leaders, partners and potential partners for an in-depth update on what Huawei Enterprise has to offer within the South African market in 2019.
The event saw more than 1000 attendees and housed exhibition stands from an array of partners including Altron, Mustek, Pinnacle, EOH, BCX, Gijima, TorqueIT, Commvault, Trillcom, Xon, Datacentrix, Tech Mahindra, and Reflex.

Alex Du Min
At a media briefing held during the event, Huawei Enterprise MD, Alex Du Min confirmed that, "Huawei Enterprise South Africa's strategy for 2019 will centre around collaboration with partners and customers in order to develop innovative industry specific solutions that will enable flexible, open, and secure platforms to drive enterprise digital transformation".
Huawei is focused on facilitating a digital transformation ecosystem within South Africa in order to implement joint innovations and expand this ecosystem in terms of industry alliances, business alliances, developer platforms, and open-source communities. "The idea is that Huawei will provide the data centre facility, hardware and software infrastructure and technical team whilst the partner contributes with ideas, products and human resources".
As Huawei Enterprise's commitment to this strategy in 2019, it hopes to accelerate digitalisation, as well as to escalate the convergence of physical and digital worlds. New ICT represents not only new technologies and platforms, but also a new ecosystem, making it a cornerstone of industrial digitalisation.
As digital transformation now dominates many C-suite and boardroom agendas, at the beginning phase of this 4th industrial revolution in southern Africa, businesses are faced with radical viewpoints and demands of which CIOs, CTOs, and CDOs struggle to define cohesive digital strategies. "It is therefore crucial that Huawei Enterprise commits to building a sustainable platform within which all its partners can thrive," said Du Min.
In line with the Huawei Enterprise Platform + Ecosystem strategy, Huawei Enterprise will in 2019 specifically focus on the 4 star products and solutions namely:
• Huawei OceanStor Dorado all-flash storage, which is a high-end product for the enterprise business market, offering both reliability and high performance.
• Huawei Wi-Fi 6 AP which is the industry's first application of 8x8 MU-MIMO, OFDMA, and 1024 QAM. It is also the industry's first wireless AP with a data transfer speed of up to 10Gbps. According to one of Huawei's distribution partners, Pinnacle CEO Tim Humphreys Davies; "It is great to see a 1-gig uplink for any wireless device and high density of single users per point – which is great for streaming. This will drive better content and a richer experience."
• The industry's first data center switch built for the AI era – the CloudEngine 16800. With an embedded AI chip, the CloudEngine 16800 uses the innovative iLossless algorithm to achieve an AI computing power of 100%, improving data storage IOPS by 30%.
• Huawei's software-defined cameras that can be applied in a wide variety of security scenarios such as face checkpoint, situation awareness, vehicle checkpoint, and Intelligent Transportation Surveillance (ITS). The software-defined camera supports continuous evolution and development of algorithms and applications. The open-ended platform enables AI to be applied in more security scenarios.
Du Min also thanked partners for their ongoing commitment to Huawei's vision and stressed the importance of relationship building. "Huawei Enterprise will continue to strengthen relationships with our partners in South Africa and fiercely support and enable them to achieve the best results for their businesses by equipping them with the latest technological advancements in this market."
For more information, contact Huawei Enterprise, +27 (0)8600 18000, enterprisebiz@huawei.com, e.huawei.com
Credit(s)
Further reading:
From the editor's desk: Presenting … how you were hacked
May 2019, Technews Publishing , News
"It's all fun and games until you hit the wall." Someone said that to me once (an American, so I don't know if that's a common saying in the US). At the time I thought he watched too much reality TV. These ...
Read more...
---
Securex Preview 2019
Securex Preview 2019, Technews Publishing , Conferences & Events
Securex is upon us once again and Hi-Tech Security Solutions is here with another brief preview of what the show has to offer.
Read more...
---
Platforms and community lead the future
May 2019, Milestone Systems , Editor's Choice, CCTV, Surveillance & Remote Monitoring, News, Integrated Solutions
Milestone Systems took a look into the future of open platforms and the power of community at MIPS EMEA in Copenhagen in March this year.
Read more...
---
The consequences of false alerts
May 2019, Leaderware , Editor's Choice, CCTV, Surveillance & Remote Monitoring, Integrated Solutions
Craig Donald discusses the impact of false alarm rates on the utility of intelligent security technology systems.
Read more...
---
Protecting people's money, and their data
May 2019, Cathexis Technologies, CA Southern Africa, IDEMIA , Editor's Choice, Integrated Solutions, Financial (Industry)
The temptations inherent to the banking sector, and financial institutions more generally, pit them in an eternal and increasingly high-tech battle to secure themselves against threats from within and without.
Read more...
---
Access authentication with a wave
May 2019, IDEMIA , Editor's Choice, Access Control & Identity Management, Integrated Solutions, Financial (Industry), Commercial (Industry)
Financial organisations are making the move to contactless fingerprint biometrics in order to meet the increasing burden of regulatory and compliance demands.
Read more...
---
Does your control room add value?
May 2019, Fidelity Security Group, G4S South Africa, Progroup , Editor's Choice, CCTV, Surveillance & Remote Monitoring, Integrated Solutions, IT infrastructure, Commercial (Industry)
Whether on- or offsite, control rooms are a critical aspect of security today and care must be taken in the design and rollout of these nerve centres.
Read more...
---
iLegal 2019: Augmented surveillance - realising the full potential of CCTV
May 2019, Technews Publishing , Editor's Choice, News, Conferences & Events, Training & Education
iLegal 2019 will look at what is becoming known as Augmented Surveillance – using technologies and people interactively to maximise results from operators and control rooms in order to make intelligent security and business decisions.
Read more...
---
Local manufacturing from Hissco International
May 2019, Hissco , Editor's Choice, Asset Management, EAS, RFID, News
Hissco International recently announced it has set up a local manufacturing partnership that will supply X-ray equipment to partners around the world.
Read more...
---
Face to face with Suprema FaceLite
May 2019, Suprema , Editor's Choice, Access Control & Identity Management, News, Products
Suprema has announced the launch of FaceLite, the new generation compact face recognition terminal designed for enterprise access control as well as time and attendance applications.
Read more...
---