printer friendly version
Effective intruder detection: more important than ever
May 2019 Perimeter Security, Alarms & Intruder Detection, Products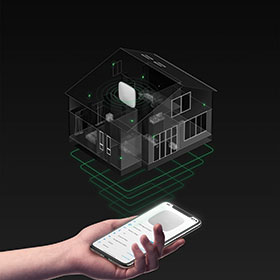 While intruder detection systems abound, not all solutions are created equal. Ensuring that their intruder detection system is with them for the long haul is something that all end-users desire. Powell Tronics suggests following certain non-negotiable rules to create a sustainable, future-proofed system.
One of the most important factors to consider when selecting an intruder detection and monitoring system is its overall functionality in terms of what the system can actually do, not just what is claimed it can do. Here, reference to previous successful installations is a good indicator of the integrity and credibility of both the system supplier and the product.
System reliability should be a given. Since an intruder detection and monitoring system is selected to protect the occupants of a home or building, it is clear that it should be characterised by ongoing operability, even in offline mode. "The bottom line is that resolving threats often depends on the ability of the system to continue operating during event and non-event scenarios. In a country which is often plagued by load shedding, there should not be dependence on the mainline power supply, but rather, an alternative power supply in the form of a reliable long-life battery should be available to ensure continued operation at all times," says Matthew Bushell, operations manager at Powell Tronics.
In a nutshell, in professional security systems, detectors should monitor the situation and send information to the hub. If there's any danger, the system should alert the control room and end users to a possible event.
The durability of an intruder detection and monitoring system should never be brought into question. The correct IP rating should ensure the ruggedness of the unit and its ability to withstand predefined environmental conditions. Similarly, some form of vandal-proofing is a good idea to provide ongoing operability of the system.
"Ideally, the system should have a number of partitions and the hub should check the operational status of devices at least once every 12 seconds. We recommend that the devices have at least two communication channels built into them to allow for notifications to be sent using both Ethernet and GSM channels for faultless delivery," says Bushell.
Bushell points out that a device such as the one from Ajax, uses Jeweller radio technology to monitor the detectors and ensure a quick response to danger. It switches the entire system to clear frequencies during jamming and the device is protected against viruses at software level.
Is it really important for one's intruder detection system to integrate with other security/home automation systems? Bushell says that the term 'smart home' is a very broad one, covering a number of connected gadgets, or systems and even appliances that do a wide variety of different things. 'Home automation' however, is a slightly less broad term, referring specifically to things in one's home that can be programmed to function automatically. He cites the example of Ajax's smart socket or a relay that can be used for remotely switching household appliances on and off, or opening and closing electric locks, gates and roller blinds. The device is installed into a wall plate, electric switchboard or junction box.
While some legacy hardwired intruder detection systems still exist, the trend is definitely towards wireless technology. Not only does this make installation simple and quick but it can also detect radio jamming and interference in specific products. Wireless technology further results in increased detector battery life, with devices typically being able to operate for up to seven years without a battery replacement being required.
"Powell Tronics undertook the stringent process of having all Ajax products ICASA approved before introducing the products to the local market. We can now provide a superior range of products supported by a smart, interactive application that allows for ease of use. Detectors can be connected with a few taps in the mobile app. The Ajax system can be easily expanded with entry, fire and flood detectors, as well as relays for managing electrical appliances remotely. We will shortly be announcing exciting expansions to the range with the introduction of the ReX, the Hubplus and the Curtain Beam," says Bushell.
For more information contact Powell Tronics, 0861 784 357, marketing@powelltronics.com, www.p-tron.com
Credit(s)
Further reading:
Securing perimeters of secure locations
November 2019, Axis Communications SA, Modular Communications, Hikvision South Africa, Nemtek Electric Fencing Products, Technews Publishing, Stafix , Government and Parastatal (Industry), Perimeter Security, Alarms & Intruder Detection, Integrated Solutions
Hi-Tech Security Solutions asked a number of companies offering perimeter security solutions for their insights into protecting the boundaries of national key points.
Read more...
---
Utility outages: Are you looking at the big picture?
October 2019 , Perimeter Security, Alarms & Intruder Detection
We have to start thinking about, and laying plans for, the real possibility that the whole grid is somehow compromised.
Read more...
---
The importance of XDR for cyber protection
October 2019 , Cyber Security, Products
35% of South African organisations are expecting an imminent cyberattack and a further 31% are bracing for it to happen within a year, according to local research conducted by Trend Micro.
Read more...
---
Visitor management for estates
Access & Identity Management Handbook 2020, Powell Tronics , Residential Estate (Industry), Access Control & Identity Management
Residential estates and business parks around South Africa have installed access control systems that aim to streamline access for both pedestrians and vehicular traffic.
Read more...
---
IDEMIA and Powell Tronics on the road
November 2019, Powell Tronics , News
In the first week of September, Powell Tronics and IDEMIA hosted two breakfast roadshow events in Cape Town and Port Elizabeth respectively.
Read more...
---
Duxbury Networking launches Solar Switch
November 2019 , IT infrastructure, Products
Duxbury Networking has launched its Solar Switch with tailored capabilities for applications in less-accessible areas where electricity is not available or not reliable.
Read more...
---
Closing the security loop for educational institutions
November 2019, Powell Tronics , News
The Campus Protection Society of Southern Africa hosted its annual conference in Port Elizabeth at the Radisson Blu Hotel and Conference Centre between the 15th and 18th September 2019.
Read more...
---
Arteco launches new management platform
CCTV Handbook 2019, Arteco Global, Technews Publishing , CCTV, Surveillance & Remote Monitoring, Products
Arteco has released its latest management platform, Omnia, designed to be faster and more responsive to operators? needs.
Read more...
---
Edwards Public Address & Voice Alarm System
October 2019 , Security Services & Risk Management, Products
Carrier has added the Public Address & Voice Alarm (PAVA) range to its fire product offerings.
Read more...
---
Your business needs synchronised security
September 2019 , Cyber Security, Products
This complete security portfolio from Sophos offers endpoint, servers, firewall, Wi-Fi, mobile, email and encryption that is fully scalable to grow as your business does.
Read more...
---