printer friendly version
Effective intruder detection: more important than ever
May 2019 Perimeter Security, Alarms & Intruder Detection, Products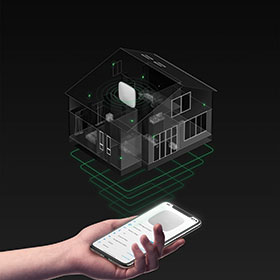 While intruder detection systems abound, not all solutions are created equal. Ensuring that their intruder detection system is with them for the long haul is something that all end-users desire. Powell Tronics suggests following certain non-negotiable rules to create a sustainable, future-proofed system.
One of the most important factors to consider when selecting an intruder detection and monitoring system is its overall functionality in terms of what the system can actually do, not just what is claimed it can do. Here, reference to previous successful installations is a good indicator of the integrity and credibility of both the system supplier and the product.
System reliability should be a given. Since an intruder detection and monitoring system is selected to protect the occupants of a home or building, it is clear that it should be characterised by ongoing operability, even in offline mode. "The bottom line is that resolving threats often depends on the ability of the system to continue operating during event and non-event scenarios. In a country which is often plagued by load shedding, there should not be dependence on the mainline power supply, but rather, an alternative power supply in the form of a reliable long-life battery should be available to ensure continued operation at all times," says Matthew Bushell, operations manager at Powell Tronics.
In a nutshell, in professional security systems, detectors should monitor the situation and send information to the hub. If there's any danger, the system should alert the control room and end users to a possible event.
The durability of an intruder detection and monitoring system should never be brought into question. The correct IP rating should ensure the ruggedness of the unit and its ability to withstand predefined environmental conditions. Similarly, some form of vandal-proofing is a good idea to provide ongoing operability of the system.
"Ideally, the system should have a number of partitions and the hub should check the operational status of devices at least once every 12 seconds. We recommend that the devices have at least two communication channels built into them to allow for notifications to be sent using both Ethernet and GSM channels for faultless delivery," says Bushell.
Bushell points out that a device such as the one from Ajax, uses Jeweller radio technology to monitor the detectors and ensure a quick response to danger. It switches the entire system to clear frequencies during jamming and the device is protected against viruses at software level.
Is it really important for one's intruder detection system to integrate with other security/home automation systems? Bushell says that the term 'smart home' is a very broad one, covering a number of connected gadgets, or systems and even appliances that do a wide variety of different things. 'Home automation' however, is a slightly less broad term, referring specifically to things in one's home that can be programmed to function automatically. He cites the example of Ajax's smart socket or a relay that can be used for remotely switching household appliances on and off, or opening and closing electric locks, gates and roller blinds. The device is installed into a wall plate, electric switchboard or junction box.
While some legacy hardwired intruder detection systems still exist, the trend is definitely towards wireless technology. Not only does this make installation simple and quick but it can also detect radio jamming and interference in specific products. Wireless technology further results in increased detector battery life, with devices typically being able to operate for up to seven years without a battery replacement being required.
"Powell Tronics undertook the stringent process of having all Ajax products ICASA approved before introducing the products to the local market. We can now provide a superior range of products supported by a smart, interactive application that allows for ease of use. Detectors can be connected with a few taps in the mobile app. The Ajax system can be easily expanded with entry, fire and flood detectors, as well as relays for managing electrical appliances remotely. We will shortly be announcing exciting expansions to the range with the introduction of the ReX, the Hubplus and the Curtain Beam," says Bushell.
For more information contact Powell Tronics, 0861 784 357, marketing@powelltronics.com, www.p-tron.com
Credit(s)
Further reading:
LanDynamix helps secure Michael Mount campus
September 2019 , IT infrastructure, Products
LanDynamix has implemented Fortigate, Fortinet's firewall appliance, at Michael Mount Waldorf School in Bryanston, Johannesburg.
Read more...
---
New AlproMAX7 secures maximum rating
September 2019 , Access Control & Identity Management, Products
Alpro has launched a new range of ultra-secure mechanical mortice deadlocks, the AlproMAX7 which comply with BS EN 12209.
Read more...
---
ViRDI UBio Tab 5
September 2019 , Access Control & Identity Management, Products
ViRDI Distribution SA (ViRDI Africa) has announced the release of its long-awaited UBio Tablet to the South African market.
Read more...
---
Accurate guard tracking and management
September 2019, Secutel Technologies , Security Services & Risk Management, Products
There are many challenges when it comes to effectively managing and tracking a guarding workforce in real time.
Read more...
---
Network insight benefits business
September 2019, Duxbury Networking , IT infrastructure, Products
The Insight app provides ease of access to your network from any location, and simplified device discovery and setup, warnings, notifications, and status checks.
Read more...
---
Visitor access control at Ruimsig Country Club
September 2019, Elvey Security Technologies , Access Control & Identity Management, Products
Cost-effective access control solution that would control the ingress and egress of people, without hindering the traffic throughput of members.
Read more...
---
Improving operational efficiency through surveillance
September 2019 , CCTV, Surveillance & Remote Monitoring, Products
Today?s surveillance systems are no longer just about monitoring, but more so the intelligence that sits on the camera and what businesses can do with that information proactively.
Read more...
---
New thermal/visual drone
September 2019 , CCTV, Surveillance & Remote Monitoring, Products
New drone equips security professionals and first responders with a reliable everyday tool for dynamic operations in challenging environments.
Read more...
---
Mini PT/PTZ Series for easy installation
September 2019, Dahua Technology South Africa , CCTV, Surveillance & Remote Monitoring, Products
Dahua Technology is launching its new Mini PT/PTZ IP series for easy installation and remote monitoring.
Read more...
---
Securing Savannah Hills Estate
August 2019, Rhyco Risk Projects , CCTV, Surveillance & Remote Monitoring, Perimeter Security, Alarms & Intruder Detection
Savannah Hills Estate in Midrand planned a security upgrade which was awarded to Rhyco Risk Projects. The project started in March 2019 and was completed in May 2019.
Read more...
---