printer friendly version
Delivering greater control room value
May 2019 Editor's Choice, CCTV, Surveillance & Remote Monitoring, Integrated Solutions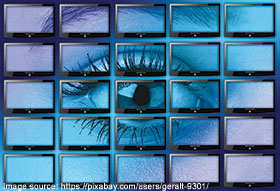 While surveillance has become a key component in security and operations management, a truly integrated security system requires that all aspects of the security system work seamlessly together, while being managed by the heart of the system, which is the control room.
Working in a 24/7 security control room environment demands a lot of physical and mental commitment from operators. Thankfully several security product providers are designing and manufacturing products that reduce the risk of human error while enhancing the control room operators' working environment.
Real-time information followed by prompt decision-making and immediate action can make all the difference, which is why sophisticated video management software is central to the control room environment and its operators.
"The true power of a surveillance system, and what it can offer in terms of security, operations and infrastructure management becomes even more apparent when combined with sophisticated video management software," says Gus Brecher, managing director of Cathexis Africa and business development director of Cathexis Technologies.
The world of surveillance is greatly enhanced by the association of synchronised video and full integration with other third-party security systems, including remote monitoring, access control, alarm panels, fire panels, analytics, building management systems and more.
This integration provides a powerful single-user interface, enhanced by video verification of events that occur, as well as rules-based events that can be initiated from event data. Integration leads directly to a dramatically improved control room environment with improved efficiency and effectiveness. Integration enables the system to guide the CCTV operators to specific cameras associated with third-party systems events, speeding up response times and resultant efficiency.
The exponential growth of the remote monitoring sector has seen video surveillance management software providers such as Cathexis Technologies at the forefront of developing technology for the most powerful monitoring solutions available on the market today. CathexisVision offers users the ability to make key-decisions based on intelligent information processing, and to automate actions in the control room or command centre environment. This provides enhanced effectiveness and efficiency, and a superior return on surveillance investment.
The CathexisVision range of features provides clients with efficient and effective surveillance solutions, that drastically improve the control room environment to provide a holistic management tool that goes beyond surveillance management to provide practical and useable outcomes.
Over the years Cathexis has accumulated extensive expertise in implementing the CathexisVision solution for various vertical market applications that include: airports, city surveillance, education facilities, financial institutions, government facilities, healthcare facilities, hospitality, logistics manufacturing, mining, oil and gas, property and retail.
Off-site monitoring service providers are looking to provide more added value to their offering by finding smart ways to increase their monitoring potential. With its powerful integration capability and its comprehensive 'health monitoring' solutions as well as the flexible hybrid architecture, Cathexis offers far more than just another video monitoring solution.
More than video monitoring
One of the challenges for service providers in the remote monitoring industry is justifying the added expense of video monitoring to their customers, but Cathexis provides the technology and capability to utilise the infrastructure in place to its maximum potential. Other major benefits include:
• Integration
The ability to integrate various third-party systems is one of the biggest advantages offered by CathexisVision. Integrations are enhanced by rules-based actions upon information received from the various systems and the association of events with video along intelligent database facilities.
• Event management
The Alarm Management Gateway enables service providers to monitor events the automatically connect sites and cameras associated with those events.
• Video analytics
CathexisVision offers several video analytics to improve the effectiveness of the system.
• Health monitoring
Although often largely undervalued, health monitoring is critical to prevent system failure.
For more information contact Cathexis Africa, +27 31 240 0800, info@cathexisvideo.com, www.cathexisvideo.com
Credit(s)
Further reading:
Platforms and community lead the future
May 2019, Milestone Systems , Editor's Choice, CCTV, Surveillance & Remote Monitoring, News, Integrated Solutions
Milestone Systems took a look into the future of open platforms and the power of community at MIPS EMEA in Copenhagen in March this year.
Read more...
---
30 years of business continuity
May 2019, ContinuitySA, Technews Publishing , Editor's Choice, Security Services & Risk Management
ContinuitySA is celebrating its 30th anniversary this year and Hi-Tech Security Solutions spoke to CEO Michael Davies about the changes he has seen in the business continuity and disaster recovery markets.
Read more...
---
The consequences of false alerts
May 2019, Leaderware , Editor's Choice, CCTV, Surveillance & Remote Monitoring, Integrated Solutions
Craig Donald discusses the impact of false alarm rates on the utility of intelligent security technology systems.
Read more...
---
The enemy within – insider ­security threats
May 2019, Wolfpack Information Risk , Editor's Choice, Cyber Security, Financial (Industry)
Insider threats in today's financial world are insidious and destructive and your defence against insiders should start long before the person assumes his/her position.
Read more...
---
Protecting people's money, and their data
May 2019, Cathexis Technologies, CA Southern Africa, IDEMIA , Editor's Choice, Integrated Solutions, Financial (Industry)
The temptations inherent to the banking sector, and financial institutions more generally, pit them in an eternal and increasingly high-tech battle to secure themselves against threats from within and without.
Read more...
---
Access authentication with a wave
May 2019, IDEMIA , Editor's Choice, Access Control & Identity Management, Integrated Solutions, Financial (Industry), Commercial (Industry)
Financial organisations are making the move to contactless fingerprint biometrics in order to meet the increasing burden of regulatory and compliance demands.
Read more...
---
The benefits of background screening
May 2019, iFacts, Managed Integrity Evaluation , Editor's Choice, Security Services & Risk Management
Companies need to be more vigilant about the people they employ by making sure comprehensive background screening checks are conducted.
Read more...
---
Does your control room add value?
May 2019, Fidelity Security Group, G4S South Africa, Progroup , Editor's Choice, CCTV, Surveillance & Remote Monitoring, Integrated Solutions, IT infrastructure, Commercial (Industry)
Whether on- or offsite, control rooms are a critical aspect of security today and care must be taken in the design and rollout of these nerve centres.
Read more...
---
Intruder detection is becoming smarter and more mobile
May 2019, Elvey Security Technologies , Regal Distributors SA , Editor's Choice, Perimeter Security, Alarms & Intruder Detection
Alongside the new technologies continually being developed, existing technologies are being co-opted into not only performing an intrusion detection role, but combatting that bane of the electronic security industry: false alarms.
Read more...
---
iLegal 2019: Augmented surveillance - realising the full potential of CCTV
May 2019, Technews Publishing , Editor's Choice, News, Conferences & Events, Training & Education
iLegal 2019 will look at what is becoming known as Augmented Surveillance – using technologies and people interactively to maximise results from operators and control rooms in order to make intelligent security and business decisions.
Read more...
---