printer friendly version
Delivering greater control room value
May 2019 Editor's Choice, CCTV, Surveillance & Remote Monitoring, Integrated Solutions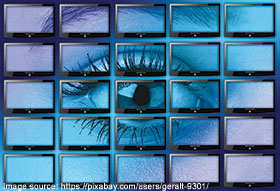 While surveillance has become a key component in security and operations management, a truly integrated security system requires that all aspects of the security system work seamlessly together, while being managed by the heart of the system, which is the control room.
Working in a 24/7 security control room environment demands a lot of physical and mental commitment from operators. Thankfully several security product providers are designing and manufacturing products that reduce the risk of human error while enhancing the control room operators' working environment.
Real-time information followed by prompt decision-making and immediate action can make all the difference, which is why sophisticated video management software is central to the control room environment and its operators.
"The true power of a surveillance system, and what it can offer in terms of security, operations and infrastructure management becomes even more apparent when combined with sophisticated video management software," says Gus Brecher, managing director of Cathexis Africa and business development director of Cathexis Technologies.
The world of surveillance is greatly enhanced by the association of synchronised video and full integration with other third-party security systems, including remote monitoring, access control, alarm panels, fire panels, analytics, building management systems and more.
This integration provides a powerful single-user interface, enhanced by video verification of events that occur, as well as rules-based events that can be initiated from event data. Integration leads directly to a dramatically improved control room environment with improved efficiency and effectiveness. Integration enables the system to guide the CCTV operators to specific cameras associated with third-party systems events, speeding up response times and resultant efficiency.
The exponential growth of the remote monitoring sector has seen video surveillance management software providers such as Cathexis Technologies at the forefront of developing technology for the most powerful monitoring solutions available on the market today. CathexisVision offers users the ability to make key-decisions based on intelligent information processing, and to automate actions in the control room or command centre environment. This provides enhanced effectiveness and efficiency, and a superior return on surveillance investment.
The CathexisVision range of features provides clients with efficient and effective surveillance solutions, that drastically improve the control room environment to provide a holistic management tool that goes beyond surveillance management to provide practical and useable outcomes.
Over the years Cathexis has accumulated extensive expertise in implementing the CathexisVision solution for various vertical market applications that include: airports, city surveillance, education facilities, financial institutions, government facilities, healthcare facilities, hospitality, logistics manufacturing, mining, oil and gas, property and retail.
Off-site monitoring service providers are looking to provide more added value to their offering by finding smart ways to increase their monitoring potential. With its powerful integration capability and its comprehensive 'health monitoring' solutions as well as the flexible hybrid architecture, Cathexis offers far more than just another video monitoring solution.
More than video monitoring
One of the challenges for service providers in the remote monitoring industry is justifying the added expense of video monitoring to their customers, but Cathexis provides the technology and capability to utilise the infrastructure in place to its maximum potential. Other major benefits include:
• Integration
The ability to integrate various third-party systems is one of the biggest advantages offered by CathexisVision. Integrations are enhanced by rules-based actions upon information received from the various systems and the association of events with video along intelligent database facilities.
• Event management
The Alarm Management Gateway enables service providers to monitor events the automatically connect sites and cameras associated with those events.
• Video analytics
CathexisVision offers several video analytics to improve the effectiveness of the system.
• Health monitoring
Although often largely undervalued, health monitoring is critical to prevent system failure.
For more information contact Cathexis Africa, +27 31 240 0800, info@cathexisvideo.com, www.cathexisvideo.com
Credit(s)
Further reading:
Social media and intelligence-led surveillance
July 2019, Leaderware , Editor's Choice, Integrated Solutions, Security Services & Risk Management
Social media has become a major feature of most people's lives in the last few years and they can be invaluable as a source of information for companies and security organisations.
Read more...
---
Advanced integration and performance with NUUO
July 2019, Forbatt SA , CCTV, Surveillance & Remote Monitoring
Established in 2004, NUUO is a global security industry leader specialising in the manufacturing of open architecture video surveillance products, with deployments worldwide and an ever-growing base of professional industry-experienced staff.
Read more...
---
The 4th Industrial Revolution
July 2019, Wolfpack Information Risk , Editor's Choice, Cyber Security, Security Services & Risk Management, Industrial (Industry)
Most major industries have turned to and are reliant on technology to run their operations. This is a time of great promise, but also one of frightening peril.
Read more...
---
You can't isolate, so integrate
July 2019, Axis Communications SA , Industrial (Industry), Integrated Solutions
One of the most exciting trends to emerge from the Industry 4.0 revolution is that technologies and hardware that were originally developed for the security market are increasingly being co-opted to enhance organisational productivity.
Read more...
---
Data protection more challenging
July 2019 , Editor's Choice, IT infrastructure
The number of businesses unable to recover data after an incident nearly doubled from 2016, according to the Global Data Protection Index surveying 2 200 IT decision makers from 18 countries.
Read more...
---
Cyber-attacks target operational technology
July 2019 , Editor's Choice, Cyber Security, Industrial (Industry)
Focus on operational technology security increasing as around 74% of OT organisations come under attack in the past year, finds a new Fortinet report.
Read more...
---
Controlled intelligence
July 2019 , Industrial (Industry), Integrated Solutions
Connected intelligence and 5G technology are set to profoundly impact the way the industrial sector approaches quality control.
Read more...
---
Ingo Mutinelli moves to IDEMIA
July 2019, Technews Publishing, IDEMIA , Editor's Choice, News
IDEMIA, the security and identity management company has announced that Ingo Mutinelli will be taking on the post of regional sales director for the southern Africa region.
Read more...
---
Transom Capital Group Acquires Pelco
July 2019 , News, CCTV, Surveillance & Remote Monitoring
Transom Capital Group (Transom), an operations-focused middle market private equity firm, announced it has acquired Pelco from Schneider Electric.
Read more...
---
Residential Estate Security Conference 2019: Integrating man and machine for effective security and operations
July 2019, Technews Publishing , Editor's Choice, News, Residential Estate (Industry), Conferences & Events
The Residential Estate Security Conference 2019 will delve into how estates and their service providers can better integrate man and machine for more effective security and operations.
Read more...
---