printer friendly version
Local manufacturing from Hissco International
May 2019 Editor's Choice, Asset Management, EAS, RFID, News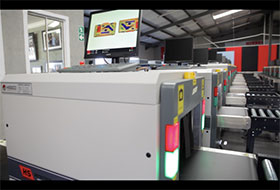 Hissco International is a supplier of security detection products that has been selling equipment throughout Africa for the past 25 years. A specialist in security X-ray, metal detection and associated equipment, the company has now transformed from being a distributor to South African manufacturer in the X-ray segment.
In 2007, Hissco embarked on a programme of analysing designs and monitoring the performance of all major parts within X-ray equipment and accessories being sold on behalf of other manufacturers. These included generator tanks, controllers, power distribution boards and supplies, monitors, computer hardware, switchgear and roller conveyors. Over the years, the company was able to identify design flaws and test the performance of components, while measuring these against lifespan and cost-effectiveness.
In the intervening period, Hissco was able to remanufacture used equipment from the ground up and test its own designs and component permutations. This process enabled the company to draw up detailed specifications for the building of equipment in-house.
Since 2014, the company has also been producing and supplying its own accessories such as inspection trays, conveyor rollers and baggage slides, while also manufacturing its own range of security X-ray equipment under the HS Detection brand.
Hissco recently partnered with a renowned international company to manufacture all of the detector boards within their X-ray machines. Not only does this result in better image quality, but also these patented 'picture pure' detectors are achieving resolution values of up to 45 AWG (American Wire Gauge) with a steel penetration level of over 43 mm. The current industry norm sits around 38 (AWG) and up to 40 mm of steel penetration.
Hissco is now the only company to venture into local manufacturing in South Africa and has been busy setting up distributors in countries such as Saudi Arabia, Tanzania, Kenya, Russia and the United Kingdom. The company plans to expand its operations within the next 12 months to other countries across the globe.
Andy Hudson, director of Hissco International, commented, "With over 420 systems already sold, we are extremely proud of how far we have come over the past couple of years and are very excited about what the future holds for the business. It was a huge leap for the company to take this new direction and from humble beginnings as a small two-man operation to being the first and only South African company to be producing security X-ray machines locally, the sky is now the limit."
The company currently employs a number of highly-trained professionals with 100+ years of experience in the field of security X-rays. "The future vision for the business is to expand our current international operations and to set up a global distribution network via our ever increasing contact base that we have accumulated throughout the years," concludes Hudson.
For more information contact Hissco International, +27 87 150 3648, mail@hissco.co.za, www.hisscoint.com
Credit(s)
Further reading:
2020 Residential Estate Security Conference in KZN
November 2019, Technews Publishing , Editor's Choice
Meeting the residential security challenges in 2020 and beyond: Hi-Tech Security Solutions will host the Residential Estate Security Conference 2020 in Durban on 12 March 2020.
Read more...
---
Sentian secures funding from Imfezeko
November 2019, Sentian , Editor's Choice
Cape Town based smart security technology developer Sentian has recently secured a round of funding from Imfezeko Investment Holdings.
Read more...
---
A brighter future
November 2019, NEC XON, Technews Publishing , Editor's Choice
NEC XON hosted its annual summit in October 2019 at Sun City under the banner of 'Orchestrating a Brighter World'.
Read more...
---
What are the cybersecurity issues in video surveillance?
November 2019, Axis Communications SA , Editor's Choice, CCTV, Surveillance & Remote Monitoring, Cyber Security
he importance of the data captured by surveillance cameras – and what can be done with it – has led to a new breed of cybercriminals, looking for insights to steal and sell.
Read more...
---
Big data operational and management requirements
November 2019, Leaderware , Editor's Choice
Big data offers huge advantages in enhancing or augmenting data, giving it added meaning and context, creating a broader perspective in which to view things, and adding to the value of data.
Read more...
---
GUI for fire detection systems
November 2019, FDIA (Fire Detection Installers Association) , Editor's Choice
A graphical user interface for fire detection is a graphics program that makes it easier for the operator to access all the functionalities of the fire detection system.
Read more...
---
Determining and mitigating risk: Where to begin?
November 2019 , Editor's Choice
Managing risk means proactively reducing the severity or seriousness of that which has not 'yet' occurred, says Lesley-Anne Kleyn.
Read more...
---
A platform approach to innovation and value
CCTV Handbook 2019, Technews Publishing , Editor's Choice, CCTV, Surveillance & Remote Monitoring, Integrated Solutions, IT infrastructure
Moving to the platform model of doing business holds tremendous advantages for end users and smaller developers, but also for the whole technology supply chain.
Read more...
---
Open does not always mean easy integration
CCTV Handbook 2019, Veracitech, Technews Publishing , Editor's Choice, CCTV, Surveillance & Remote Monitoring, Integrated Solutions
Customers who opt for best-of-breed solutions will have to rely on their integrators to develop customised integrated solutions for them.
Read more...
---
The impact of AI on the surveillance industry
CCTV Handbook 2019, G4S South Africa, Hikvision South Africa, Myertal Tactical Security, Technews Publishing , Editor's Choice, CCTV, Surveillance & Remote Monitoring
What the impact of AI will be on companies, the services and solutions they supply, as well as on the jobs people do.
Read more...
---