printer friendly version
Local manufacturing from Hissco International
May 2019 Editor's Choice, Asset Management, EAS, RFID, News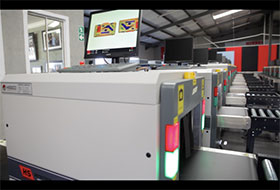 Hissco International is a supplier of security detection products that has been selling equipment throughout Africa for the past 25 years. A specialist in security X-ray, metal detection and associated equipment, the company has now transformed from being a distributor to South African manufacturer in the X-ray segment.
In 2007, Hissco embarked on a programme of analysing designs and monitoring the performance of all major parts within X-ray equipment and accessories being sold on behalf of other manufacturers. These included generator tanks, controllers, power distribution boards and supplies, monitors, computer hardware, switchgear and roller conveyors. Over the years, the company was able to identify design flaws and test the performance of components, while measuring these against lifespan and cost-effectiveness.
In the intervening period, Hissco was able to remanufacture used equipment from the ground up and test its own designs and component permutations. This process enabled the company to draw up detailed specifications for the building of equipment in-house.
Since 2014, the company has also been producing and supplying its own accessories such as inspection trays, conveyor rollers and baggage slides, while also manufacturing its own range of security X-ray equipment under the HS Detection brand.
Hissco recently partnered with a renowned international company to manufacture all of the detector boards within their X-ray machines. Not only does this result in better image quality, but also these patented 'picture pure' detectors are achieving resolution values of up to 45 AWG (American Wire Gauge) with a steel penetration level of over 43 mm. The current industry norm sits around 38 (AWG) and up to 40 mm of steel penetration.
Hissco is now the only company to venture into local manufacturing in South Africa and has been busy setting up distributors in countries such as Saudi Arabia, Tanzania, Kenya, Russia and the United Kingdom. The company plans to expand its operations within the next 12 months to other countries across the globe.
Andy Hudson, director of Hissco International, commented, "With over 420 systems already sold, we are extremely proud of how far we have come over the past couple of years and are very excited about what the future holds for the business. It was a huge leap for the company to take this new direction and from humble beginnings as a small two-man operation to being the first and only South African company to be producing security X-ray machines locally, the sky is now the limit."
The company currently employs a number of highly-trained professionals with 100+ years of experience in the field of security X-rays. "The future vision for the business is to expand our current international operations and to set up a global distribution network via our ever increasing contact base that we have accumulated throughout the years," concludes Hudson.
For more information contact Hissco International, +27 87 150 3648, mail@hissco.co.za, www.hisscoint.com
Credit(s)
Further reading:
Constructive CCTV contributions to research
September 2019, Leaderware , Editor's Choice, CCTV, Surveillance & Remote Monitoring
Study leads to understanding that we need more recognition and reward for constructive participation in society.
Read more...
---
TAPA conference 2019 explores layered approach to security
September 2019, Technews Publishing, TAPA (Transported Asset Protection Association) , News, Transport (Industry)
The Transported Asset Protection Association (TAPA) held its annual South African conference at Emperors Palace in Johannesburg on 26 July 2019.
Read more...
---
Ensuring a seamless ultra-wideband ecosystem
September 2019 , Editor's Choice, IT infrastructure
FiRa consortium ensures an interoperable ultra-wideband technology ecosystem across chipset, device and service infrastructure through standards and certifications.
Read more...
---
The hunt for the Carbanak group
September 2019 , Editor's Choice, Cyber Security, News
Tomorrow Unlocked has released a free four-part documentary that tells the story of the notorious Carbanak APT group and its $1 billion bank heist.
Read more...
---
Genetec to integrate CylancePROTECT
September 2019, Genetec , Editor's Choice, CCTV, Surveillance & Remote Monitoring, News
Genetec has announced it is partnering with Cylance, a business unit of Blackberry, to bring AI-based antivirus protection to its appliance customers.
Read more...
---
SAP and Uber Freight join forces
September 2019 , Transport (Industry), Asset Management, EAS, RFID
SAP and Uber Freight announced a partnership to modernise the freight industry through intelligent process automation and better access to a network of connected and reliable drivers.
Read more...
---
Securing people, vehicles and cargo
September 2019 , Transport (Industry), Asset Management, EAS, RFID
The transport industry is under siege, not only with fuel price and legislation increases, but also with widespread unrest, looting and violence against drivers.
Read more...
---
Clear visibility into supply chain complexity
September 2019 , Transport (Industry), Asset Management, EAS, RFID
The Internet of Things is refining the capabilities of the supply chain to reduce theft, increase visibility and transform legacy complexity.
Read more...
---
Autonomous attendance
September 2019 , Products, Asset Management, EAS, RFID
The SACO RF attendance solution was developed with the focus on driving down costs without compromising functionality and ease of use.
Read more...
---
X-rays in 3D
September 2019, XPro Security Solutions , Editor's Choice, Security Services & Risk Management
Hi-Tech Security Solutions asked Greg Dixon, director of XPro, for some insights into X-ray scanning and its pros and cons in today?s volatile world.
Read more...
---