printer friendly version
SALTO Systems South Africa
Securex Preview 2019
Products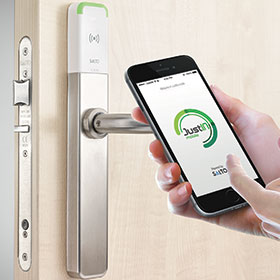 SALTO is introducing SVN-Flex, a new technology which provides access management with increased security, more convenience and at lower costs. SVN-Flex makes hard-wired update points obsolete, enabling completely wire-free access control with online functionalities.
As end users do not need extra components like wall readers or door controllers, spending on hardware is reduced, and omitting wires leads to lower costs, mainly through shorter installation time. In addition to the benefits for the operator, the technology also brings convenience for the users of the system, as they no longer have to go to specific doors or locations to update their cards – they can update their access rights anytime and anywhere because any wireless door can be activated as an SVN-Flex updater.
SVN-Flex is based on two core technologies: the SALTO Virtual Network and SALTO BLUEnet. Since all new escutcheons, such as the XS4 One and XS4 Mini, already have Bluetooth for mobile access on-board, SALTO combines the SVN and BLUEnet in such a way that the updated access rights can now be transferred via Bluetooth wirelessly to defined escutcheons and cylinders.
Credit(s)
Further reading:
AI Box for retail
Retail (Industry) CCTV, Surveillance & Remote Monitoring Products
IDIS AI Box for retail delivers advanced video intelligence, even for smaller stores. The simple add-on gives retailers powerful business insights without the price tag.
Read more...
---
New innovations in bomb protection and cash storage
Fidelity Services Group Security Services & Risk Management Products
The recent increase in retail bombing, grinding and impact attacks on cash acceptance devices (CAD) in the retail sector has prompted a relook at the technology required to protect both staff and assets.
Read more...
---
Remote management of access points
Salto Systems Africa Access Control & Identity Management
SALTO BLUEnet Wireless has been developed to meet the demands of security and ease-of-use. This access control system is networked through Bluetooth RF and designed for doors where real-time control is required.
Read more...
---
RealScan S60 fingerprint reader
Suprema Products
Suprema's RealScan S60 is an FBI Appendix F certified fingerprint live scanner suitable for desktop applications, also available in a module-form, making it the perfect scanner for integrating into mobile devices and biometric kits.
Read more...
---
Handheld thermography camera
Dahua Technology South Africa Products
Dahua Technology has launched its thermal handheld thermography camera, a portable diagnostic instrument for daily inspections in the industrial field.
Read more...
---
Enhanced two-way business radios
Products
Hytera has announced the launch of a new generation of two-way business radios, which will provide users with instant, enhanced communications; the AP5 range is fully analogue, while the BP5 range is both digital and analogue.
Read more...
---
Advanced ID Solutions
Advanced ID Solutions Products
Securex 2022 will see Advanced ID Solutions returning to the scene of their business launch in 2019. The 2-year Covid hiatus has seen the company grow and establish itself as a trusted partner for a ...
Read more...
---
Ajax Systems
Ajax Systems Products
Ajax Systems is the largest security systems manufacturer in Europe, developing hardware and software. The product range consists of over 50 wireless and wired devices for indoor and outdoor security. ...
Read more...
---
AP Sensing
Products
AP Sensing offers distributed fibre optic sensing solutions that monitor and protect a wide range of critical infrastructure applications, including:    • Perimeter monitoring (borders, transportation hubs, ...
Read more...
---
Astra Fasteners
Astra Fasteners Products
Astra Fasteners is excited to be showcasing its range of securing products at this year's exhibition. As the official distributor of Dirak, Southco and Vispen products in southern Africa, its products ...
Read more...
---