printer friendly version
Ajax Systems
Securex Preview 2019
Products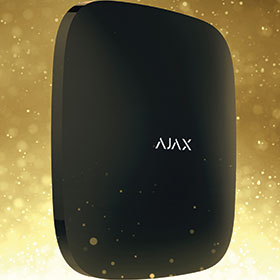 Ajax Systems is a European security systems manufacturer, founded in 2011 and its products are represented in 77 countries. Ajax Systems has developed unique wireless communication protocols Jeweller and Cargo, a real-time operating system Malevich, false alarm protection algorithms SmartDetect, Lisa and Zoe, as well as the HazeFlow smoke detection algorithm. The company has five patents.
The Ajax product line includes 22 devices for protection of premises and adjacent territories, fire safety, and flood protection, as well as home automation. It can also integrate video surveillance.
The system is fully secured with anti-sabotage and anti-jamming systems, encrypted channels and authentication. It boasts two-way communication, polls detectors every 12-300 seconds and sends alarm notifications in fewer than 150 milliseconds.
The Ajax system can be controlled using a mobile or desktop application, and there is a separate app for installers and security companies. You can maintain or test devices remotely. The system can connect to all popular central monitoring stations using the SIA or the ContactID protocols.
Further reading:
Turnstar ramps up countermeasures
Turnstar Systems Editor's Choice Access Control & Identity Management News Products
Turnstar has developed and patented an early warning and deterrent system which will alert security, and anyone nearby, of any attempt to place ramps over the raised spikes.
Read more...
---
Next-generation mobile APN product
Flickswitch Products
SIMcontrol has launched its fully-managed mobile APN product that connects company data SIM cards via a private and secure network.
Read more...
---
The Genius electronic advertising barrier
BoomGate Systems Access Control & Identity Management Products
The Genius Electronic Advertising Vehicle Barrier does not only protect and control access of shopping centres across South Africa, but it also offers advertising space for the retail sector.
Read more...
---
Guard site communication
OnGuard Products
Onguard's Guard Patrol radio uses the global PTT service with the backbone based on the GSM cellular network to make communications faster and easier.
Read more...
---
Product Highlights of the Year 2021
Products
While 2021 has been yet another challenging year, Hi-Tech Security Solutions once again offers a selection of products that hit the local market this year and made an impact with installers, integrators and end users.
Read more...
---
Ring introduces new doorbell
Products Access Control & Identity Management
Ring has expanded its doorbell line-up with the Ring Video Doorbell Wired, featuring 1080p HD video with night vision, two-way talk and audio with noise cancellation.
Read more...
---
Object monitoring technology
Dahua Technology South Africa Government and Parastatal (Industry) CCTV, Surveillance & Remote Monitoring Integrated Solutions Products
Powered by deep learning algorithms, the WizMind 5 Series can accurately detect six types of objects: luggage bag, backpack, box, shopping bag, bicycle and motorbike.
Read more...
---
Fence tampering detection
Regal Distributors SA Products
Electric fences often span hundreds of metres and these long distances can make it difficult to pick up when an intruder tampers with the fence. The Nemtek Dual Action Tension Sensor Set (DATS2) ensures ...
Read more...
---
Oxeye mitigates Log4Shell vulnerability
Cyber Security Products
Free Cloud native open-source payload deobfuscation tool spearheads initiative and supports developers, AppSec pros in stopping this threat.
Read more...
---
Artificial intelligence at the edge
Products
Lenovo expands its ThinkEdge portfolio with GPU-rich edge server designed to accelerate business critical insights with performance and scalability at the edge.
Read more...
---