printer friendly version
Biometric fingerprint technology still dominates
October 2013
Access Control & Identity Management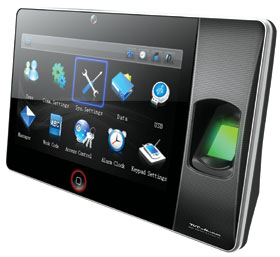 While biometric facial recognition access technology is gaining some ground in the market, fingerprint technology continues to retain a 90% share. This is according to Hendrik Combrinck, GM of ZKTeco (previously known as ZK Software).
"As the price of facial recognition technology decreases over time, it will continue to grow in demand, but I believe that fingerprint technology will remain dominant due to its long track record and extensive footprint in the market. Iris technology is predominantly used in areas where extremely high levels of access control are required, for instance laboratories. The fact that it has such a niche market means that the technology is very expensive.
"The biggest obstacles to the ready adoption of facial recognition technology, after its price, are the physical restraints. The camera size and the available lighting are often limiting factors. However, we do find that this technology proves popular with smaller companies where they have issues with fingerprint technology. A typical scenario is one where the fingerprints have been destroyed by chemicals or where dust is a major factor such as on construction sites," said Combrinck.
Distributor challenges
"One of the biggest challenges that distributors of products face is local support of the technology. It is critical to align oneself with a fully-fledged supplier branch that has not only sufficient stockholding of technology and consumables, but which is also able to provide complete technical support for the products they sell," Combrinck pointed out.
Distributors need to know that the products they market are fully covered by warranties and guarantees. While this is true of the well-known brands, the same cannot always be said of some of the cheaper, mass produced products flooding the country.
Pricing has been very negatively affected by the fluctuating Rand-Dollar exchange rate. The uncertainty makes it extremely difficult to estimate a feasible sales price even on a weekly basis. This has resulted in extra administrative costs for distributors as they attempt to balance the scales so that they do not price their goods too high or too low. This type of fluctuation inevitably influences the whole supply chain.
"Added to this is the juggling act that distributors are faced with when considering critical mass of stockholding. Gauging the market demand is often challenging, since technology that one might assume would be a 'sure thing' may not live up to expectations in terms of market acceptance," he continued.
Importer challenges
Combrinck said that many of the challenges faced by distributors also affect the importers of technology. "In addition, the time zone of the originating and destination company can often be a large stumbling block. With time differences of up to eight hours, it can be difficult to ensure that there is a reasonable overlap period between the business hours of suppliers and those of importers. At ZKTeco's head office in China, a team assigned to our South African office has been placed on shifts that coincide with our local working hours to provide us with uninterrupted access to resources.
"We have noticed that one of the challenges previously faced in terms of hold-ups at customs seems to have been eliminated. Instead of taking up to a week to clear imported goods, we now receive clearance within 24 hours. This seems to be a trend for other importing companies in the industry and we feel that this may be due to intervention from the Department of Trade and Industry."
Full solutions
Combrinck explained that ZKTeco has implemented an international strategy to be branded as a full solutions biometrics and security product supplier. "This will allow us to offer customers an end-to-end holistic solution whereby we will eventually be able to provide whatever security technology needs the customer may have. We will be implementing more customised and high-end software and we will create APIs (Application Programming Interfaces) for integration with third-party technology or software.
"We already provide our own RFID cards, biometric products and door handles and locks, so the move to add CCTV and access control products is a logical one that will see us move towards the number one spot as a global security products distributor," Combrinck concluded.
For more information contact ZKTeco (SA), +27 (0)12 259 1047, hendrik@zkteco.co.za
Credit(s)
Further reading:
Managing staff effectively
September 2019, dormakaba South Africa, iPulse Systems , Integrated Solutions, Access Control & Identity Management
Workforce management solutions allow organisations to track the relationship between productivity and the cost of employment, incorporating issues such as health and safety, T&A, rostering and more.
Read more...
---
Hennie Lategan joins Centurion as head of exports
September 2019, Centurion Systems , News, Access Control & Identity Management
Centurion Systems has announced the appointment of Hennie Lategan as the head of the company's exports department.
Read more...
---
New AlproMAX7 secures maximum rating
September 2019 , Access Control & Identity Management, Products
Alpro has launched a new range of ultra-secure mechanical mortice deadlocks, the AlproMAX7 which comply with BS EN 12209.
Read more...
---
ViRDI UBio Tab 5
September 2019 , Access Control & Identity Management, Products
ViRDI Distribution SA (ViRDI Africa) has announced the release of its long-awaited UBio Tablet to the South African market.
Read more...
---
Visitor access control at Ruimsig Country Club
September 2019, Elvey Security Technologies , Access Control & Identity Management, Products
Cost-effective access control solution that would control the ingress and egress of people, without hindering the traffic throughput of members.
Read more...
---
Estate-focused visitor management solution
September 2019, Vox Telecom , Access Control & Identity Management, Residential Estate (Industry)
Vox has expanded its cloud-based visitor management solution to cater specifically for the needs of small multi-dwelling unit estates and large residential estates.
Read more...
---
Biometrics control airport railroad
September 2019, Suprema , Access Control & Identity Management
63 km railroad to Incheon Airport is centrally controlled and secured by Suprema biometric hardware and software.
Read more...
---
Dual energy X-ray inspection system
September 2019, Regal Distributors SA , Products, Access Control & Identity Management
The ZKX6550 X-ray inspection system increases the operator's ability to identify potential threats; the device is designed to scan briefcases, carry-on baggage, small cargo parcels.
Read more...
---
ZKTeco parking barrier
September 2019, Regal Distributors SA , Products, Access Control & Identity Management
The PB3000 parking barrier is an ideal automatic car park barrier for parking lot and security control; it can easily integrate with revenue collection and access control systems.
Read more...
---
ZKTeco automatic bollard
September 2019, Regal Distributors SA , Products, Access Control & Identity Management
The high-quality automatic bollard is used to protect security areas from vehicle intrusion; in case of power failure, the bollard can be lowered manually.
Read more...
---