printer friendly version
Biometric fingerprint technology still dominates
Access & Identity Management Handbook 2014
Access Control & Identity Management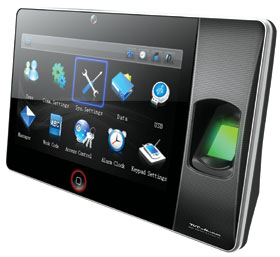 While biometric facial recognition access technology is gaining some ground in the market, fingerprint technology continues to retain a 90% share. This is according to Hendrik Combrinck, GM of ZKTeco (previously known as ZK Software).
"As the price of facial recognition technology decreases over time, it will continue to grow in demand, but I believe that fingerprint technology will remain dominant due to its long track record and extensive footprint in the market. Iris technology is predominantly used in areas where extremely high levels of access control are required, for instance laboratories. The fact that it has such a niche market means that the technology is very expensive.
"The biggest obstacles to the ready adoption of facial recognition technology, after its price, are the physical restraints. The camera size and the available lighting are often limiting factors. However, we do find that this technology proves popular with smaller companies where they have issues with fingerprint technology. A typical scenario is one where the fingerprints have been destroyed by chemicals or where dust is a major factor such as on construction sites," said Combrinck.
Distributor challenges
"One of the biggest challenges that distributors of products face is local support of the technology. It is critical to align oneself with a fully-fledged supplier branch that has not only sufficient stockholding of technology and consumables, but which is also able to provide complete technical support for the products they sell," Combrinck pointed out.
Distributors need to know that the products they market are fully covered by warranties and guarantees. While this is true of the well-known brands, the same cannot always be said of some of the cheaper, mass produced products flooding the country.
Pricing has been very negatively affected by the fluctuating Rand-Dollar exchange rate. The uncertainty makes it extremely difficult to estimate a feasible sales price even on a weekly basis. This has resulted in extra administrative costs for distributors as they attempt to balance the scales so that they do not price their goods too high or too low. This type of fluctuation inevitably influences the whole supply chain.
"Added to this is the juggling act that distributors are faced with when considering critical mass of stockholding. Gauging the market demand is often challenging, since technology that one might assume would be a 'sure thing' may not live up to expectations in terms of market acceptance," he continued.
Importer challenges
Combrinck said that many of the challenges faced by distributors also affect the importers of technology. "In addition, the time zone of the originating and destination company can often be a large stumbling block. With time differences of up to eight hours, it can be difficult to ensure that there is a reasonable overlap period between the business hours of suppliers and those of importers. At ZKTeco's head office in China, a team assigned to our South African office has been placed on shifts that coincide with our local working hours to provide us with uninterrupted access to resources.
"We have noticed that one of the challenges previously faced in terms of hold-ups at customs seems to have been eliminated. Instead of taking up to a week to clear imported goods, we now receive clearance within 24 hours. This seems to be a trend for other importing companies in the industry and we feel that this may be due to intervention from the Department of Trade and Industry."
Full solutions
Combrinck explained that ZKTeco has implemented an international strategy to be branded as a full solutions biometrics and security product supplier. "This will allow us to offer customers an end-to-end holistic solution whereby we will eventually be able to provide whatever security technology needs the customer may have. We will be implementing more customised and high-end software and we will create APIs (Application Programming Interfaces) for integration with third-party technology or software.
"We already provide our own RFID cards, biometric products and door handles and locks, so the move to add CCTV and access control products is a logical one that will see us move towards the number one spot as a global security products distributor," Combrinck concluded.
For more information contact ZKTeco (SA), +27 (0)12 259 1047, [email protected]
Credit(s)
Further reading:
Powder coating provides durable finish
Turnstar Systems Access Control & Identity Management Industrial (Industry)
Turnstar's powder coating line provides corrosion resistance, high-quality surface finishing and a long-term environment-friendly impact for all access control components the company manufactures.
Read more...
---
Identity management in a factory environment
ZKTeco Industrial (Industry)
Combining access control, video surveillance and intrusion systems for protecting people and assets may not provide a complete security solution for industrial companies.
Read more...
---
Local makes lekker parking bay management technology
Access Control & Identity Management
South African born-and-bred technology platform Parket builds a seamless bridge between supply and the ever-increasing, but fluid – and often temporary – demand for parking bays.
Read more...
---
Local innovation continues
BoomGate Systems Access Control & Identity Management
While having local manufacturing facilities presents its own set challenges in South Africa, Boomgate Systems makes full use of its in-house local manufacturing and R&D.
Read more...
---
CathexisVision integrated with Suprema's BioStar2
Technews Publishing News Access Control & Identity Management Integrated Solutions
This integration uses BioStar2 access control events to trigger automated actions on the CathexisVision system, including alerts, recording a camera and commands such as locking and unlocking doors, and clearing an alarm.
Read more...
---
Maximise parking lot security
Hikvision South Africa Access Control & Identity Management
Hikvision has created its range of TandemVu PTZ cameras which provide wide-angle and close-up visibility of incidents, real-time alerts for security teams, and sound and light alarm deterrents in commercial parking spaces.
Read more...
---
Linux-based biometric access control
ZKTeco Products Access Control & Identity Management
The SpeedFace M4 is a Linux-based multi-biometric access control and time attendance terminal with visible light facial recognition and palm verification.
Read more...
---
Hospitality in the post-pandemic world
Salto Systems Africa Access Control & Identity Management
COVID-19 has forced the hospitality industry into reconfiguring hotel operations, but it has also provided a new opportunity to transform them for the better.
Read more...
---
ACaaS: The future of access control systems
Suprema Access Control & Identity Management
As many SaaS-based cloud services in other industries have shown, ACaaS will improve quality, making it more convenient, safe and quick to responding to user feedback.
Read more...
---
Advantages of palm vein biometrics
Fulcrum Biometrics Access Control & Identity Management
Fulcrum Biometrics Southern Africa offers five key differentiators when comparing the reliability and accuracy of palm vein biometrics with other modalities.
Read more...
---