printer friendly version
The importance of visitor ­management for installers
October 2013 Asset Management, EAS, RFID, Access Control & Identity Management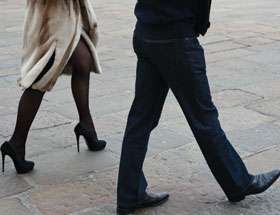 Many security dealers and integrators overlook visitor management. It doesn't often carry the high system sales cost of access control or CCTV systems. But the fact is that a modern, professional visitor management system can add substantial value in improved security and operational efficiency as well as enhance the professionalism of organisations that previously used paper-based solutions. By integrating with an access control system, integrators and dealers are able to provide complete, integrated security solutions for employees, intruders, unwanted guests, and temporary visitors. Visitor management is also needed by virtually every type of industry and vertical market, allowing dealers to address a wide audience.
Although many view a paper method of visitor sign-in to be quick and easy, this approach can introduce significant risk to an organisation. Paper logs expose visitor names for anyone to see, and they diminish the perceived professionalism of an organisation. Frequently, the visitor sign-in names are either illegible or false. In an emergency such as a fire, it would be very difficult to quickly determine who's still in the building, since names can be hard to read and check out times are not always required or enforced.
Visitor management systems typically reside on a PC at the reception desk or other points of entry and automate the entire process, from registering a visitor to using badge maker software to create and print visitor ID badges. There are a number of key components.
The first is a scanner for capturing visitor ID information, which can be a driver's licence, business card, passport, government or military ID, or other form of identification. The ID information can be captured either with an optical character recognition (OCR) scanner, or with a scanning device that can read the magnetic stripe or 2D barcode on the back of a driver's licence. Ideally, the user should have the ability to scan multiple types of credentials. Optical scanners offer the advantage of capturing the visitor's photo in addition to name and other information, so it can be included on the visitor ID badge.
Next, the system must capture other information that can't be gleaned from the ID scan, such as the person that the visitor will be seeing, the reason for the visit, and whether the visitor is a contractor or other special category of guest. For optimal accuracy and convenience, the visitor software should include drop-down menus or check boxes to facility data entry. Users may also want to have visitors acknowledge a document such as a non-disclosure agreement by capturing a signature with a signature pad or taking a photo with a Web camera.
Badging visitors
After the ID card is scanned and other information is entered into the system, a customised visitor badge is printed. Visitor badges can include any information that was scanned or captured during check-in, and customised to meet specific needs. There are many sizes and types of visitor IDs, including adhesive, clip-on, self-laminating, expiring, and badges that can be inserted into a plastic sleeve. While employee badges are generally hard plastic, visitor badges tend to be more temporary, using paper or card stock. They can also be produced with a black-and-white or colour printer. An inexpensive option for black-and-white badges is a thermal printer that does not contain ink cartridges.
For higher volume applications and/or situations where more permanent visitor badges are desired for frequently-returning guests, there is the option of direct-to-card (DTC) printers. Although these previously were prohibitively expensive for visitor management applications, the latest low-cost monochrome DTC printers offer an economical way to print higher-quality badges than can be created with thermal printers. Monochrome DTC printers combine quality, reliability and ease of use, while providing organisations with a solution that is cost-effective to own and operate and offers a low total cost of ownership.
With these components in place, a visitor management solution should enable a lobby attendant to complete the check-in process and print a visitor badge in about 20 seconds per visitor. Any number of visitor badging systems can be stationed in different locations in an enterprise, including remote field offices, and they can all share a database over the network for centralised monitoring and reporting.
Analysing and integrating visitors
The next element to consider in a visitor management system is analytical tools. Today's visitor systems include report wizards that enable users to generate customised reports in seconds, and store and disseminate this report data immediately. Leveraging visitor management analytics offers many potential benefits. For instance, users can identify trends and their implications, and assess operational areas where processes may need to be improved. Users may also want to automatically track and compile information about certain types of visitor by location, or they may want to verify contractor arrival and departure times to make sure they are meeting agreed-upon deliverables.
In addition to these basic system elements, there are other considerations for optimising visitor management solution deployments. The first is integration with access control systems, and how to ensure that both systems operate in concert with each other. This enables lobby attendants to easily and safely provide temporary proximity credentials to guests through the visitor management system, rather than the access control system. Lobby attendants don't have to be familiar with the access system in order to provide temporary card privileges to visitors.
The information entered into the visitor management system during check-in is seamlessly passed to the access control system. A proximity card for the visitor is activated in the access system using the information entered into the visitor software. Then, when the visitor leaves the facility, they are checked out by the visitor lobby system and that card is automatically deactivated. If visitors inadvertently leave with their cards, the facility is still secure, because the visitor software passes the expiration date and time to the access system. The access card will no longer be valid after the specified date and time. If the card was stolen, it could not open anything.
Integrating visitor management with access control also eliminates the problems of having a supply of live cards at the reception desk for those who have forgotten their employee badges. The visitor system also has a record of all visitors who have been provided an access card, so there is a complete audit trail, including information about the dates and times when cards were active.
Visitors recognition and identification
Another important visitor management element is watch lists and alerts. The creation of watch lists in the visitor system enables lobby attendants or security officers to be alerted within seconds when someone on these lists tries to enter the facility at a visitor check-in station. Users can screen against known malicious individuals, disgruntled ex-employees, fraudulent contractors, and others they want to bar from the building.
Users also can integrate external databases with their internal watch lists. For instance, they can use this feature to guard against individuals on each state's sex offender database, or the database of government-denied parties. System alerts also can be used as part of compliance initiatives – for instance, to enforce requirements that contractors completed safety tests after their second facility visit. The lobby attendant can be alerted when the contractor is checking in for the second time, remind the contractor about the requirement, and direct him or her to the proper person. Other typical alerts include notifications to the employee being visited when a visitor checks in, when the organisation has reached the maximum number of visitors to a particular location, when packages arrive, and when badges expire.
One last element that should be considered in deploying a visitor management system is the ability for employees to pre-register their guests. This saves time during visitor check-in by allowing the employee to pre-populate a number of fields for the expected guest in a simple form using a Web-based tool. The information is automatically sent to the visitor station in the lobby and, when the guest arrives, all of the information is already there.
In addition to speeding check-in, visitor management systems can also expedite checkout by including barcodes on the visitor ID badge. This allows the lobby attendant to automatically check visitors out by simply scanning the visitor badge when the guest is leaving. Barcodes on visitor badges can also be used for returning visitors who are given a more permanent badge. A barcode can be included on these badges so that, when the guest returns, the lobby attendant only needs to scan the badge and that guest is automatically checked in, using all of the visitor information from the first check-in.
Visitor self-registration is another option. A freestanding kiosk or tablet computer can be used by guests to register themselves by completing required fields, much like the self-check-in employed at most airlines today. Self-registration is particularly attractive for unattended lobbies, or for lobbies with a high level of traffic. Guests can choose either to check in with a lobby attendant, or complete the process alone at the kiosk. A kiosk can even include a driver's licence scanner and printer, so that the guest can complete the entire check-in process independently.
Visitor management systems improve the security of facilities, both large and small, and enhance the professionalism of the organisation. Security dealers and integrators who include visitor management in their portfolios can integrate visitor management with access control to provide a comprehensive security solution for employees and temporary visitors that protects them from intruders and unwanted guests.
Visitor management systems can also help organisations comply with regulatory requirements for monitoring and controlling access to a facility. In any situation, these systems strengthen overall security and improve the professional image of the organisation.
Source: https://www.hidglobal.com/blog/how-security-dealers-and-integrators-can-benefit-including-visitor-management-in-their-0
For more information contact HID Global, +27 (0)82 449 9398, rtruter@hidglobal.com, www.hidglobal.com
Credit(s)
Further reading:
HID addresses identification challenges at ID4Africa
August 2019 , News, Access Control & Identity Management, Government and Parastatal (Industry)
Being able to verify people's identities is critical for a nation's growth and prosperity and yet HID says nearly half of all African citizens can't prove who they are to vote, travel freely and receive government benefits and services.
Read more...
---
Came acquires Turkish company Özak
August 2019, CAME BPT South Africa , News, Access Control & Identity Management
Came broadens its market horizons and signals growth and consolidation in the Middle East.
Read more...
---
MorphoAccess Sigma Extreme
August 2019, IDEMIA , Products, Access Control & Identity Management
MorphoAccess Sigma Extreme from IDEMIA is a touchscreen device with multiple recognition device interfaces (NFC chip reader, PIN and BioPIN codes, contactless card readers).
Read more...
---
MorphoWave Compact
August 2019, IDEMIA , Products, Access Control & Identity Management
The MorphoWave Compact captures and matches four fingerprints on either the right or left hand in any direction. It is robust to environmental factors such as extreme light or dust.
Read more...
---
MorphoAccess Sigma Lite
August 2019, IDEMIA , Products, Access Control & Identity Management
IDEMIA's MorphoAccess Sigma Lite and Lite + are fingerprint access control terminals, offering time and attendance in and out function keys.
Read more...
---
Eliminating forced gate opening scenarios
August 2019, ET Nice , Home Security, Access Control & Identity Management
When activated by the gate forced open alarm feature, the transmitter transmits a wireless alarm signal up to 750 metres in any direction.
Read more...
---
Delta Scientific prevents two vehicle attacks
August 2019 , Editor's Choice, Access Control & Identity Management, Security Services & Risk Management
Two vehicular attacks that occurred eight days apart at the Mayport Naval Station were stopped, the preventing both intruders from penetrating the site.
Read more...
---
Securing apartments in Vienna
August 2019 , Home Security, Access Control & Identity Management
A luxurious new residential complex offering 53 residential units offers flat owners comfort and also personal security.
Read more...
---
TAPA EMEA appoints Thorsten Neumann as president and CEO
July 2019, TAPA (Transported Asset Protection Association) , News, Asset Management, EAS, RFID
The Transported Asset Protection Association (TAPA) has appointed Thorsten Neumann as its first full-time president & CEO.
Read more...
---
Child fingerprint identification solution
July 2019 , News, Access Control & Identity Management
Gavi, NEC, and Simprints to deploy world's first scalable child fingerprint identification solution to boost immunisation in developing countries.
Read more...
---