printer friendly version
Visiting visitor management
October 2013 Asset Management, EAS, RFID, Access Control & Identity Management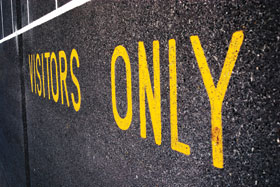 As visitor management becomes more important to control who enters a building or business park, we're seeing more technology being adopted to allow management companies to better control access. While there are still far too many businesses using the guard at the gate with a tattered visitor's book, systems such as driver's licence scanners or biometric readers are becoming more important.
Hi-Tech Security Solutions spoke to Luke Dunstan, director of Bartrans to understand the latest developments in the visitor management industry.
Hi-Tech Security Solutions: How has visitor management changed over the past year or two?
Luke Dunstan: With the Protection of Personal Information Act (PoPI) due to be in full force by 2014, we're seeing a huge move towards mobile devices replacing the traditional visitor books. Bartrans imports the Honeywell scanning and mobility range of enterprise-ready mobile devices running WEH6.5 and Android operating systems. We then add value to these devices by enabling them to connect to various visitor management solutions, thus enabling systems integrators to offer a service to their customers.
HSS: What, in your opinion, is the best solution to visitor management?
Luke Dunstan: By using the camera on the mobile device to scan the number plate on the vehicle using ANPR (automatic number plate recognition) and then using the embedded 2D imager to scan the round licence disk, we're able to compare what is physically on the vehicle to what the licence disk says is on the vehicle. Using these mobile devices, we're now able to also scan and decode the national driver's licences thus linking the driver to the vehicle quickly and efficiently. The addition of a biometric fingerprint module serves as acceptance of the visitor to the terms and condition of entry or they can sign on screen.
HSS: Some companies use technology to manage their visitors, but the question is always raised as to what happens to the visitor's information?
Luke Dunstan: The responsibility for the management and integrity of the data within the system relies on the service provider and the stakeholder, thus the visitor should be allowed the option to have their information removed from any database.
By managing the data captured responsibly and ensuring that PoPI is not breached, the information relating to a visit can be securely stored either on or off site. The trick in the security industry will be how long this data is kept, since if an incident is reported, the user of the system will need to interrogate the database and check the history.
A good way to handle this is to encrypt all data, thus preventing it falling into the wrong hands or being of any use to a third party.
HSS: How does your company handle visitors management and the information it collects?
Luke Dunstan: We leave this task up to the system integrator, as there are many different policies and solutions in place. We prefer a securely hosted environment with encryption, but every customer tends to have their own policies in place. PoPI will guide the industry in terms of this. As in most mobile solutions there is a client application running on the mobile device and a host applications to which it connects.
Whether the data is collected online using WiFi/GSM or in a batch mode when systems are down, the data needs to be protected in case of loss or theft of the mobile device. By encrypting all the data on a local file store, like an SD card for example, you ensure that the information collected is of no use to another party.
HSS: Everyone is talking about cloud computing. Would it be possible/desirable (or does it already exist) to have a single database of identities through which the identities of visitors could be verified?
Luke Dunstan: In an ideal world there would be one central database, but currently this is not feasible. Identifying your own subset and hosting that database or adding to it seems far more realistic. Automated Biometric Bureaus (ABB) containing fingerprint and other biometric data are certainly the way of the future.
Cloud-based visitor management systems certainly do exist and these are especially useful in situations where staff have to enter multiple sites that may be separated by vast geographical distances. Tying their visit into the company's IT policy by enabling their corporate laptop to connect to the intranet using a MAC address and IP address for example is also a good use of such technology.
For more information, contact Luke Dunstan, Bartrans, +27 (0)11 552 8245, luke@bartrans.co.za
Credit(s)
Further reading:
Managing staff effectively
September 2019, dormakaba South Africa, iPulse Systems , Integrated Solutions, Access Control & Identity Management
Workforce management solutions allow organisations to track the relationship between productivity and the cost of employment, incorporating issues such as health and safety, T&A, rostering and more.
Read more...
---
Hennie Lategan joins Centurion as head of exports
September 2019, Centurion Systems , News, Access Control & Identity Management
Centurion Systems has announced the appointment of Hennie Lategan as the head of the company's exports department.
Read more...
---
SAP and Uber Freight join forces
September 2019 , Transport (Industry), Asset Management, EAS, RFID
SAP and Uber Freight announced a partnership to modernise the freight industry through intelligent process automation and better access to a network of connected and reliable drivers.
Read more...
---
Securing people, vehicles and cargo
September 2019 , Transport (Industry), Asset Management, EAS, RFID
The transport industry is under siege, not only with fuel price and legislation increases, but also with widespread unrest, looting and violence against drivers.
Read more...
---
Clear visibility into supply chain complexity
September 2019 , Transport (Industry), Asset Management, EAS, RFID
The Internet of Things is refining the capabilities of the supply chain to reduce theft, increase visibility and transform legacy complexity.
Read more...
---
Autonomous attendance
September 2019 , Products, Asset Management, EAS, RFID
The SACO RF attendance solution was developed with the focus on driving down costs without compromising functionality and ease of use.
Read more...
---
Dual energy X-ray inspection system
September 2019, Regal Distributors SA , Products, Access Control & Identity Management
The ZKX6550 X-ray inspection system increases the operator's ability to identify potential threats; the device is designed to scan briefcases, carry-on baggage, small cargo parcels.
Read more...
---
ZKTeco parking barrier
September 2019, Regal Distributors SA , Products, Access Control & Identity Management
The PB3000 parking barrier is an ideal automatic car park barrier for parking lot and security control; it can easily integrate with revenue collection and access control systems.
Read more...
---
ZKTeco automatic bollard
September 2019, Regal Distributors SA , Products, Access Control & Identity Management
The high-quality automatic bollard is used to protect security areas from vehicle intrusion; in case of power failure, the bollard can be lowered manually.
Read more...
---
Removable bollard
September 2019, Regal Distributors SA , Products, Access Control & Identity Management
ZKTeco?s removable bollard is a low-cost solution when the depth is not sufficient to install an automatic bollard.
Read more...
---