printer friendly version
Accredited service and support
October 2013
Access Control & Identity Management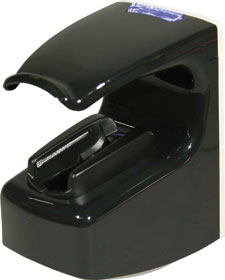 Biometrics security solutions still remain a substantial investment for any new customer and one of the key considerations customers are facing in their purchase decision is the life expectancy of this investment. Should something go wrong (which more than often does) will there be sufficient support available to ensure a speedy repair and limited downtime?
Ideco Biometric Security Solutions is not only the largest distributor of Morpho biometric terminals in South Africa, but also the only Morpho accredited service and support centre in Africa. This offers any customer the peace of mind that in the event of a failure, biometric terminals do not have to be shipped to the manufacturer, but instead could be sent directly to Ideco, which offers various swap out and repair options.
Free swap out during warranty period
* Products are shipped with a standard one-year manufacturer's warranty. Should the product default during this period, the manufacturer offers a free swap out service that is facilitated through its distribution partners.
* Ideco also offers customers the option to extend the warranty period at a small initial fee, up to a maximum of three years, which also includes the option of swap out.
* Out of warranty repairs may only be done by the manufacturer or an accredited repair centre, in order not to void any of the equipment certification.
* The warranty does not cover any damage as a result of incorrect installation, general misuse or any damages as a result of fire, water, electrical surges or acts of God.
Limit your risks
* Should anyone that is not officially trained and certified by Morpho, France, try to repair a unit, this would immediately invalidate any warranty.
* An organisation could also increase its liability should it use equipment where the certification was void due to unauthorised repairs.
Reduce cost of ownership
* To limit any unnecessary implementation costs, Ideco performs pre-deliver quality checks. This provides customers the assurance that terminals would be fully functional when they arrive on site. With prior arrangement, Ideco could also pre-configure terminals according to specific customer requirements before delivery.
* Ideco received factory training to do board level repairs and also has direct access to the specialist hotline in France. Our in-depth understanding of the terminal design and with the advanced laboratory and equipment we own, no fault is too complex to repair.
* As a result the cost of repairs through Ideco are also dramatically lower. Replacing components are done fast and at affordable rates and there is seldom a need to replace the full processor board of a terminal.
* Repairs are even done on discontinued product lines. Although limited, we still have spares for products sold in 2004 and there are many of those terminals out there still fully functioning.
* In some cases it may however not make economical sense to repair some terminals.
Professional service
* With the most comprehensive market intelligence on all fault types, Ideco can diagnose most terminal errors within a few minutes.
* The annual average for normal repairs average is less than eight days when equipment is submitted directly to Ideco. During the lightning season, standard repair times may peak at 13 days. Customers do however have the option to fast track a specific repair to a same day service.
* Ideco also operates one of the most accurate and comprehensive serial number tracking systems in the world, and is therefore capable of providing a detailed history on shipping, repairs and licensing on a per terminal basis.
For more information contact Ideco Biometric Security Solutions, 086 104 3326, contact@ideco.co.za, www.ideco.co.za
Credit(s)
Further reading:
Managing staff effectively
September 2019, dormakaba South Africa, iPulse Systems , Integrated Solutions, Access Control & Identity Management
Workforce management solutions allow organisations to track the relationship between productivity and the cost of employment, incorporating issues such as health and safety, T&A, rostering and more.
Read more...
---
Hennie Lategan joins Centurion as head of exports
September 2019, Centurion Systems , News, Access Control & Identity Management
Centurion Systems has announced the appointment of Hennie Lategan as the head of the company's exports department.
Read more...
---
New AlproMAX7 secures maximum rating
September 2019 , Access Control & Identity Management, Products
Alpro has launched a new range of ultra-secure mechanical mortice deadlocks, the AlproMAX7 which comply with BS EN 12209.
Read more...
---
ViRDI UBio Tab 5
September 2019 , Access Control & Identity Management, Products
ViRDI Distribution SA (ViRDI Africa) has announced the release of its long-awaited UBio Tablet to the South African market.
Read more...
---
Visitor access control at Ruimsig Country Club
September 2019, Elvey Security Technologies , Access Control & Identity Management, Products
Cost-effective access control solution that would control the ingress and egress of people, without hindering the traffic throughput of members.
Read more...
---
Estate-focused visitor management solution
September 2019, Vox Telecom , Access Control & Identity Management, Residential Estate (Industry)
Vox has expanded its cloud-based visitor management solution to cater specifically for the needs of small multi-dwelling unit estates and large residential estates.
Read more...
---
Biometrics control airport railroad
September 2019, Suprema , Access Control & Identity Management
63 km railroad to Incheon Airport is centrally controlled and secured by Suprema biometric hardware and software.
Read more...
---
Dual energy X-ray inspection system
September 2019, Regal Distributors SA , Products, Access Control & Identity Management
The ZKX6550 X-ray inspection system increases the operator's ability to identify potential threats; the device is designed to scan briefcases, carry-on baggage, small cargo parcels.
Read more...
---
ZKTeco parking barrier
September 2019, Regal Distributors SA , Products, Access Control & Identity Management
The PB3000 parking barrier is an ideal automatic car park barrier for parking lot and security control; it can easily integrate with revenue collection and access control systems.
Read more...
---
ZKTeco automatic bollard
September 2019, Regal Distributors SA , Products, Access Control & Identity Management
The high-quality automatic bollard is used to protect security areas from vehicle intrusion; in case of power failure, the bollard can be lowered manually.
Read more...
---