printer friendly version
Best-of-breed is still the best choice
October 2013
Access Control & Identity Management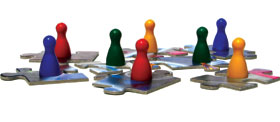 In today's technology-oriented business world, it is easy to focus on the cool stuff, like facial recognition and high-tech integration. However, it's probably a good idea to remember that the cool stuff is at the leading edge; most installations today are still focused on old favourites in the physical access world that make it a simple task to get people in and out of a building or various areas in a building quickly and easily.
Not only are the 'old' cards, PINs, fobs and whatever other access control systems have been around for years still selling like hotcakes, they are also far more cost effective than going for the latest in biometrics or integrated IP systems. Hi-Tech Security Solutions spoke to Jonathan Summers, CEO of Controlsoft while he was in the country to find out what the market is really looking for when it comes to access. We asked him if all the fancy technology out there is top of mind for his customers, or if these leading-edge solutions are the exception to the rule.
Summers is a good person to ask this question of, since Controlsoft has been designing, manufacturing and selling its products in the access market for nearly 25 years. More recently, the company has added a range of best-of-breed products from other manufacturers to its product stable. Summers says this is to ensure Controlsoft is able to deliver a full access solution to clients, no matter what their technology needs are, from one source.
On the question of integration, Summers says that companies generally are not demanding integrated solutions. Taking the time and attendance (T&A) market as an example, he says most companies have their access control points and T&A points separate so that someone doesn't actually clock in when entering the building, but only when entering a work area.
In this simple example, the systems don't need to be integrated as the T&A system performs an independent function that may require it to be linked to the payroll system, but not the access control system. The benefit to end users is that they are able to buy their T&A system from any vendor who offers them the service they require – the best-of-breed approach.
Not only does this allow clients the independence to choose the system that best meets their needs, but it gives them the flexibility to change their minds. If in a year or two the T&A system breaks or does not deliver the functionality the user wants, or if legislation changes regarding T&A operations, the client can easily implement another solution from another company. The only changes will be to the T&A system, while the access control system will continue as normal.
Summers says Controlsoft has a customer base made up of businesses that have been with the company for years. If they had integrated all their systems, there would have been a time when older Controlsoft technology, that still did the job the client wanted, would have had to be replaced with something else that suited a new product they installed.
Therefore, while integration may not be the norm, ensuring your solutions meet industry standards and are backwards compatible is a service all companies in the access market should offer to their clients. Many of Controlsoft's clients have non-critical doors where a key fob has been and still is all the access control required, and these are still in operation although other areas are protected by newer technologies such as smartcards or biometrics.
While this take on the market may not gel with the latest and greatest stories we hear, it is one that resonates with clients, many of whom are looking for ways in which to improve their security postures without the costs of replacing everything. Looking ahead, however, Summers says the growth of biometrics is its many forms is set to continue and even increase over the coming years.
His view is that the market for access key fobs and cards will eventually diminish and biometrics and NFC (Near-Field Communications) solutions will become mainstream. This will obviously not be an overnight change and Summers explains that Controlsoft's move to include products from other manufacturers is designed to cater for clients who are cautiously making the move to newer technology as requirements dictate, as well as to ensure the company remains the go-to service provider in the access control world.
Credit(s)
Further reading:
HID addresses identification challenges at ID4Africa
August 2019 , News, Access Control & Identity Management, Government and Parastatal (Industry)
Being able to verify people's identities is critical for a nation's growth and prosperity and yet HID says nearly half of all African citizens can't prove who they are to vote, travel freely and receive government benefits and services.
Read more...
---
Came acquires Turkish company Özak
August 2019, CAME BPT South Africa , News, Access Control & Identity Management
Came broadens its market horizons and signals growth and consolidation in the Middle East.
Read more...
---
The benefits of electronic visitor management
August 2019, Powell Tronics , Access Control & Identity Management, Residential Estate (Industry)
Access control is a critical aspect of estate security as it represents the controls put in place to restrict entry (and possibly exit) along the outer boundary of the location.
Read more...
---
Addressing risks by means of access control layout and design
August 2019 , Access Control & Identity Management, Security Services & Risk Management
In order to develop a suitable, practical and appropriate security system for any organisation, it is essential to first develop a master security and life safety plan strategy.
Read more...
---
Secure hands-free access
August 2019, Suprema , Access Control & Identity Management, Residential Estate (Industry)
Suprema's facial biometric terminals bring no-touch access into secure residential estates, high-rise apartments and luxury homes providing fast, easy and intuitive user authentication with the added benefit of hygiene.
Read more...
---
MorphoAccess Sigma Extreme
August 2019, IDEMIA , Products, Access Control & Identity Management
MorphoAccess Sigma Extreme from IDEMIA is a touchscreen device with multiple recognition device interfaces (NFC chip reader, PIN and BioPIN codes, contactless card readers).
Read more...
---
Outdoor access terminals
August 2019, Suprema , Access Control & Identity Management, Residential Estate (Industry), Products
Rugged, dust- and weather-proof access control solutions that provide exceptional durability in extreme conditions is a strong requirement for many residential estates.
Read more...
---
MorphoWave Compact
August 2019, IDEMIA , Products, Access Control & Identity Management
The MorphoWave Compact captures and matches four fingerprints on either the right or left hand in any direction. It is robust to environmental factors such as extreme light or dust.
Read more...
---
MorphoAccess Sigma Lite
August 2019, IDEMIA , Products, Access Control & Identity Management
IDEMIA's MorphoAccess Sigma Lite and Lite + are fingerprint access control terminals, offering time and attendance in and out function keys.
Read more...
---
Eliminating forced gate opening scenarios
August 2019, ET Nice , Home Security, Access Control & Identity Management
When activated by the gate forced open alarm feature, the transmitter transmits a wireless alarm signal up to 750 metres in any direction.
Read more...
---