printer friendly version
Indian rail on track with intelligence and safety
April 2019 Transport (Industry), CCTV, Surveillance & Remote Monitoring, Perimeter Security, Alarms & Intruder Detection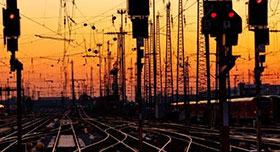 India's Western Railway is one of the 17 zones of the country's railway systems and is among the most-travelled rail networks in India. The Surat Railway Station, for example, is one of the busiest among the Western Railways where more than 160 trains pass each day. This segment of the railway network is headquartered in Baroda, now also known as Vadodara, a few hours south-east of Ahmedabad in Western India.
The railway has some 150 remote installations for the railway's signalling systems. Located alongside the tracks about every 5 km, there is a battery hub that powers each of these standalone systems. Recently, in many places, the batteries have been stolen, causing train signals to malfunction, which threatens travellers' security and leads to stoppage of the trains as personnel wait for confirmation of safety signals.
It is nearly impossible to secure all locations 24/7 by way of personnel alone. In many locations, chances of theft and damage seem to be inevitable. Jignesh Shah, system integrator for Mehulendra Corporation was called upon to stop the theft of the batteries. Major security concerns over human life, assets, and property loom, not the least of which is securing the battery system on which the signalling depends. Maintenance of the various systems at remote locations was also a significant concern.
Railway administrators wanted to monitor all sites at head office located in Baroda, and the standard solutions on the market – where CCTV and alarm systems are separate – could not meet their requirements for this project. Mehulendra, however, proposed Hikvision technology, demonstrating its all-in-one, integrated solution. More than that, since the after-sales service was an equally important consideration, Hikvision's joint venture company in India, Hikvision-Prama, helped to secure this solution as the best one available.
What Shah and Mehulendra Corporation proposed was an Intrusion Monitoring System (IMS) for Railways. This would make use of Hikvision's integrated security alarm system using the all-in-one Security Control Panel, a device that packs multiple features into one accessible unit. Basically, the security hardware needed at each signalling station included an integrated security control panel, video surveillance cameras, door alarm components, and a 4G SIM-based, four-port router. Finally, Hikvision's video management platform would tie the operations together for personnel at the head office.
The control panel ties together intrusion detection, two-way audio, and mobile messaging; it can be managed remotely using an app on a connected mobile device. The panel can host up to four IP camera inputs and provides PTZ control as well. Hikvision's 1.3 MP Fixed Dome Network Cameras were chosen for their 24/7 monitoring capabilities, including 30 metres of IR range for night time surveillance and on-board micro-SD card digital recording.
Doors at each station were wired with alarm contacts and connected to a 109 dB siren. Panic switches were also installed for personnel to use in emergencies. The internet router keeps the systems connected across the vast Indian landscape and enables the automated SMS messaging via mobile apps to alert nearby personnel of security needs.
After the successful completion of the pilot project (complete installation at one of the stations), the client was satisfied and gave the green light for installation in the remainder of railway locations. Timeline for the completion was one month. Since no major challenges stood in the way, MC was able to successfully complete the project as required.
For more information contact Hikvision South Africa, +27 10 035 1172, support.africa@hikvision.com, www.hikvision.com
Credit(s)
Further reading:
Platforms and community lead the future
May 2019, Milestone Systems , Editor's Choice, CCTV, Surveillance & Remote Monitoring, News, Integrated Solutions
Milestone Systems took a look into the future of open platforms and the power of community at MIPS EMEA in Copenhagen in March this year.
Read more...
---
The consequences of false alerts
May 2019, Leaderware , Editor's Choice, CCTV, Surveillance & Remote Monitoring, Integrated Solutions
Craig Donald discusses the impact of false alarm rates on the utility of intelligent security technology systems.
Read more...
---
Does your control room add value?
May 2019, Fidelity Security Group, G4S South Africa, Progroup , Editor's Choice, CCTV, Surveillance & Remote Monitoring, Integrated Solutions, IT infrastructure, Commercial (Industry)
Whether on- or offsite, control rooms are a critical aspect of security today and care must be taken in the design and rollout of these nerve centres.
Read more...
---
Intruder detection is becoming smarter and more mobile
May 2019, Elvey Security Technologies , Regal Distributors SA , Editor's Choice, Perimeter Security, Alarms & Intruder Detection
Alongside the new technologies continually being developed, existing technologies are being co-opted into not only performing an intrusion detection role, but combatting that bane of the electronic security industry: false alarms.
Read more...
---
Hikvision
Securex Preview 2019, Hikvision South Africa , Products
As per its slogan 'See Far, Go Further,' Hikvision will be showcasing its artificial intelligence (AI), advanced security technology solutions and more. This year, the company's booth will highlight ...
Read more...
---
Complete security solutions for bank branches
May 2019, Hikvision South Africa , Integrated Solutions
Everyone has a favourite heist film – whether it's a traditional shoot 'em up like Bonnie and Clyde, or something a bit more high-tech, like Oceans 11, they're compelling viewing.
Read more...
---
Delivering greater control room value
May 2019, Cathexis Technologies , Editor's Choice, CCTV, Surveillance & Remote Monitoring, Integrated Solutions
A truly integrated security system requires that all aspects of the security system work seamlessly together, while being managed by the heart of the system, which is the control room.
Read more...
---
HD PIR camera with strobe light
May 2019, Hikvision South Africa , Perimeter Security, Alarms & Intruder Detection, CCTV, Surveillance & Remote Monitoring
Hikvision's Turbo HD passive infrared (PIR) camera uses advanced video surveillance technologies to capture infrared light given off by human bodies.
Read more...
---
AI enhances intruder detection
May 2019, Dahua Technology South Africa , Products, CCTV, Surveillance & Remote Monitoring
Dahua Technology launched its new XVR series, XVR5000-I/XVR7000-4KL-I featuring full-channel SMD Plus to benefit customers with an AI upgrade.
Read more...
---
The world's first surveillance camera day
May 2019 , News, CCTV, Surveillance & Remote Monitoring, Conferences & Events
As part of the National Surveillance Camera Strategy for England and Wales, the Surveillance Camera Commissioner is holding the world's first Surveillance Camera Day on 20 June.
Read more...
---