printer friendly version
Next-gen access control in hospitality
1 April 2019 Access Control & Identity Management, Entertainment and Hospitality (Industry)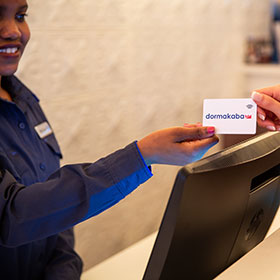 With its high customer volume, the cash- and labour-intensive hospitality industry needs advanced security technology to ensure a safe environment. The typical environment is generally characterised by many access points, often manned by security personnel who oversee 'stop-and-check' stations – effective for security, but vulnerable because of having multiple points of entry.
That is why it has become necessary to integrate technology that offers an holistic view in order to effectively scan and monitor the entire environment say IT security and access control experts at dormakaba.
Paul Chari, principal consultant EDC Solutions at dormakaba, says accessibility is a must for hospitality facilities and venues, but this increases the risk factor. "For easy access, many entrance points are needed and employed. This means the sources and escape route for someone with ill intent becomes difficult to monitor."
Fortunately, security has kept up with market requirements and demands, particularly within the access control he says. He refers to access control for large crowds as an example. Multi-sensor cameras and facial recognition biometric solutions enables security personnel to instantly and automatically verify personal identities.
"Visitors can be profiled and any red flags can be set to have security personnel react to double check an area/person. The automatic enrolment can eliminate need for barriers across entry points."
Data gathered through these access control points and biometric-based systems can be quickly gathered, assimilated and correlated to provide an accurate database that can be referenced immediately to bolster security control and enforcement.
Video analytics, big data and robotics are beginning to filter through to security and access control strategies – specifically within the hospitality industry. Chari says: "The ability to flag repeat offenders relieves operators from having to remember or identify faces without support. New operators benefit from gathered intelligence and can immediately be more effective than previously possible. Analytics can also count volumes and be matched to max numbers allowed in an area. A reaction can be solicited before a problem arises."
Unified communications and integrated systems offer real -time automation and seamless interaction between back-end functions and front-end/customer-facing applications. Centralised smart infrastructure dominates surveillance and security control rooms, and these connect via mobile and wireless networks to allow resources to be deployed quickly and effectively.
Chari explains that control rooms form the hub of any surveillance system. "These allow for controlled deployment of personnel to various points - security, medical or general personnel. Beyond security, hospitality matters can be informed by surveillance issues."
Credit(s)
Further reading:
Face recognition while wearing a mask
Issue 9 2020 , Access Control & Identity Management
Update for IXM TITAN adds features for mask detection and face recognition while wearing a mask to biometric provider's touchless solution.
Read more...
---
Choosing the right biometric technology in the new normal
Issue 9 2020, IDEMIA , Access Control & Identity Management
Selecting the right biometric data that delivers according to your requirements is crucial to ongoing success. So, how do we select the appropriate biometrics to meet our needs?
Read more...
---
Smartphone controlled access
Issue 9 2020, dormakaba South Africa , Products
Evolo Smart is a total solution, managed via an app on your smartphone, for smart access for the home or micro-enterprise business.
Read more...
---
Keeping COVID in check
Issue 8 2020, Suprema , Access Control & Identity Management, Healthcare (Industry)
Suprema thermal camera solution helps prevent the spread of COVID-19 in South Korea in a focused healthcare approach from government.
Read more...
---
Scorpion Spike Barriers for St Helena Bay
Issue 8 2020, BoomGate Systems , Access Control & Identity Management
The Port of St Helena Bay, along the west coast of South Africa, gets a security upgrade in the form of the Scorpion High Security Spike Barrier.
Read more...
---
Gallagher unveils new T30 access reader
Issue 8 2020, Gallagher , Access Control & Identity Management
Gallagher has launched the new T30 card and PIN reader with two-factor authentication, designed to offer an extra layer of security without the display screen.
Read more...
---
Speeding into the office
Issue 8 2020, Turnstar Systems , Access Control & Identity Management
The Firs commercial property is situated in the heart of Rosebank – Johannesburg's second largest business centre – surrounded by new commercial, residential and retail property developments. Rosebank ...
Read more...
---
Paxton introduces Checkpoint Control
Issue 8 2020, Paxton , Access Control & Identity Management
Paxton's new Checkpoint Control feature supports COVID-secure sites and helps Net2 users protect employees and visitors by monitoring and approving people as they enter buildings.
Read more...
---
Turnstar secures MTN
Issue 8 2020, Turnstar Systems , Access Control & Identity Management
Turnstar Velocity barriers and Velocity Raptor spike vehicle barriers form part of the physical access solutions that secure the MTN head office in Johannesburg.
Read more...
---
Net2 integrates with additional thermal scanners
Issue 8 2020, Paxton , News, Access Control & Identity Management
Paxton has updated Net2 to include six new thermal temperature scanning integrations to assist in managing the pandemic.
Read more...
---