printer friendly version
Next-gen access control in hospitality
1 April 2019 Access Control & Identity Management, Entertainment and Hospitality (Industry)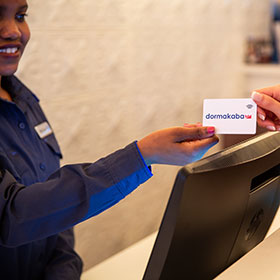 With its high customer volume, the cash- and labour-intensive hospitality industry needs advanced security technology to ensure a safe environment. The typical environment is generally characterised by many access points, often manned by security personnel who oversee 'stop-and-check' stations – effective for security, but vulnerable because of having multiple points of entry.
That is why it has become necessary to integrate technology that offers an holistic view in order to effectively scan and monitor the entire environment say IT security and access control experts at dormakaba.
Paul Chari, principal consultant EDC Solutions at dormakaba, says accessibility is a must for hospitality facilities and venues, but this increases the risk factor. "For easy access, many entrance points are needed and employed. This means the sources and escape route for someone with ill intent becomes difficult to monitor."
Fortunately, security has kept up with market requirements and demands, particularly within the access control he says. He refers to access control for large crowds as an example. Multi-sensor cameras and facial recognition biometric solutions enables security personnel to instantly and automatically verify personal identities.
"Visitors can be profiled and any red flags can be set to have security personnel react to double check an area/person. The automatic enrolment can eliminate need for barriers across entry points."
Data gathered through these access control points and biometric-based systems can be quickly gathered, assimilated and correlated to provide an accurate database that can be referenced immediately to bolster security control and enforcement.
Video analytics, big data and robotics are beginning to filter through to security and access control strategies – specifically within the hospitality industry. Chari says: "The ability to flag repeat offenders relieves operators from having to remember or identify faces without support. New operators benefit from gathered intelligence and can immediately be more effective than previously possible. Analytics can also count volumes and be matched to max numbers allowed in an area. A reaction can be solicited before a problem arises."
Unified communications and integrated systems offer real -time automation and seamless interaction between back-end functions and front-end/customer-facing applications. Centralised smart infrastructure dominates surveillance and security control rooms, and these connect via mobile and wireless networks to allow resources to be deployed quickly and effectively.
Chari explains that control rooms form the hub of any surveillance system. "These allow for controlled deployment of personnel to various points - security, medical or general personnel. Beyond security, hospitality matters can be informed by surveillance issues."
Credit(s)
Further reading:
The house wins with Ajax
Elvey Security Technologies Perimeter Security, Alarms & Intruder Detection Entertainment and Hospitality (Industry)
One of the largest hotel-and-casino complexes in South Africa's North West province needed to increase security on its perimeter, but due to the sheer extent of the site, it was deemed extremely difficult ...
Read more...
---
Powder coating provides durable finish
Turnstar Systems Access Control & Identity Management Industrial (Industry)
Turnstar's powder coating line provides corrosion resistance, high-quality surface finishing and a long-term environment-friendly impact for all access control components the company manufactures.
Read more...
---
Local makes lekker parking bay management technology
Access Control & Identity Management
South African born-and-bred technology platform Parket builds a seamless bridge between supply and the ever-increasing, but fluid – and often temporary – demand for parking bays.
Read more...
---
Local innovation continues
BoomGate Systems Access Control & Identity Management
While having local manufacturing facilities presents its own set challenges in South Africa, Boomgate Systems makes full use of its in-house local manufacturing and R&D.
Read more...
---
CathexisVision integrated with Suprema's BioStar2
Technews Publishing News Access Control & Identity Management Integrated Solutions
This integration uses BioStar2 access control events to trigger automated actions on the CathexisVision system, including alerts, recording a camera and commands such as locking and unlocking doors, and clearing an alarm.
Read more...
---
Maximise parking lot security
Hikvision South Africa Access Control & Identity Management
Hikvision has created its range of TandemVu PTZ cameras which provide wide-angle and close-up visibility of incidents, real-time alerts for security teams, and sound and light alarm deterrents in commercial parking spaces.
Read more...
---
Linux-based biometric access control
ZKTeco Products Access Control & Identity Management
The SpeedFace M4 is a Linux-based multi-biometric access control and time attendance terminal with visible light facial recognition and palm verification.
Read more...
---
Hospitality in the post-pandemic world
Salto Systems Africa Access Control & Identity Management
COVID-19 has forced the hospitality industry into reconfiguring hotel operations, but it has also provided a new opportunity to transform them for the better.
Read more...
---
ACaaS: The future of access control systems
Suprema Access Control & Identity Management
As many SaaS-based cloud services in other industries have shown, ACaaS will improve quality, making it more convenient, safe and quick to responding to user feedback.
Read more...
---
Advantages of palm vein biometrics
Fulcrum Biometrics Access Control & Identity Management
Fulcrum Biometrics Southern Africa offers five key differentiators when comparing the reliability and accuracy of palm vein biometrics with other modalities.
Read more...
---