printer friendly version
Cloud video protects farmers
1 April 2019 CCTV, Surveillance & Remote Monitoring, Agriculture (Industry)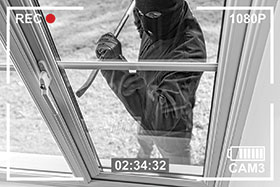 The safety and protection of farming communities remains one of the biggest challenges that farmers across South Africa face. People who live on farms and in rural areas are particularly vulnerable to armed farm attacks, where response times are lengthy due to the remote locations of the farms. This offers the attackers an opportunity to linger on the premises for longer, with a greater chance of the victim being subjected to a high degree of violence and brutality, compared to crimes in urban areas where the police, security companies and neighbours will arrive sooner to give assistance.
The SecuVue CVR, developed by Secutel Technologies, is a cloud video recorder (CVR) that can send images to the SecuVue Cloud and bring intelligence to existing CCTV cameras. SecuVue allows any farmer with an Internet connection to monitor their farm and homestead in real-time, and serves as a proactive approach; a pre-warning system to enable the farmer to take immediate action to protect themselves and their family.
The moment movement is detected, or an object moves into a defined area, it creates an alarm and a photo snapshot is taken. Alerts are sent in real-time to the farmer, his local farm-watch control room, or any other security company or person as requested by the farmer. This will ensure that the right people are informed at the right time. High-definition footage recorded on the SecuVue CVR can also be uploaded and viewed via a normal Internet browser.
SecuVue is a cloud-based system, which means you can do your surveillance from anywhere and at any time. The software intelligence and all images are stored securely in the cloud and password protected. Up to 16 cameras can be linked to a SecuVue unit, which brings intelligence to already installed CCTV cameras without the need to buy new ones.
The maintenance stack shows the current functional status of all cameras, and will raise an alarm if a camera is down or tampered with. Easy-to-configure watchlist management is provided, with automated notifications of when a person of interest is identified by the SecuVue platform. All events and triggers are displayed in an easy-to-use event stack (dashboard). The system also delivers a number of facial recognition and biometric features.
Credit(s)
Further reading:
Qognify VMS adds support for Pelco IP camera series
CCTV, Surveillance & Remote Monitoring Products
The latest IP camera series from Pelco can now be used with Qognify's advanced video solution for corporate and enterprise projects, increasing the overall number of camera models and third-party devices supported in Qognify VMS to more than 6 500.
Read more...
---
VIVOTEK launches VAST Security Station
CCTV, Surveillance & Remote Monitoring Products
VIVOTEK officially launched its AI security system, VAST Security Station (VSS), in March, available to users in three flexible tiers: VSS Lite, VSS Standard, and VSS Professional.
Read more...
---
Keeping students, staff and communities safe
Vumacam News CCTV, Surveillance & Remote Monitoring Security Services & Risk Management
South African schools are facing increasing security challenges, making effective surveillance systems more important than ever. To address this issue, Vumacam is offering advanced security solutions with security partners, aimed at keeping students, staff, and the community safe.
Read more...
---
Helping to care for zoo animals
Hikvision South Africa CCTV, Surveillance & Remote Monitoring
Zoo keeps an eye on the safety of animals and visitors through the installation of Hikvision 4 MP turret, 12 MP Fisheye cameras, as well as PTZs, NVRs and central management system.
Read more...
---
Boosting digital-intelligent transformation and AI applications
Dahua Technology South Africa CCTV, Surveillance & Remote Monitoring Products
2022 has been a year full of development and innovation for Dahua. The company has launched various upgrades to its existing product portfolio as well as an artillery of new products and solutions that address specific needs/problems in society.
Read more...
---
Arcules and IMMIX announce integration
News CCTV, Surveillance & Remote Monitoring Products
Arcules has announced that its integration with Immix Central Station and Guard Force is available. The integration provides Central Station and Guard Force users a way to manage, verify, and respond to security events, while using Arcules-managed video feeds.
Read more...
---
Developing an effective CCTV control room culture
Leaderware Editor's Choice CCTV, Surveillance & Remote Monitoring Training & Education
Organisational culture in organisations can be seen as the set of values, practices, focus, standards and behaviours, and ways of interacting with others that are accepted and subscribed to by the people who work there.
Read more...
---
Eagle Eye Networks releases 2023 Video Surveillance Trends Report
Eagle Eye Networks News CCTV, Surveillance & Remote Monitoring
Eagle Eye Networks has released the 2023 Trends in Video Surveillance ebook, identifying five trends that will have the largest impact on businesses around the globe in 2023.
Read more...
---
Secure and private access in the cloud
Secutel Technologies Education (Industry)
Combining the idea of touchless and mobile access control, Secutel Technologies has developed NoKey, a secure keyless access control system using biometrics and BLE technology to ensure the user is present to open the door.
Read more...
---
Stainless steel 8 MP dome
Axis Communications SA Products CCTV, Surveillance & Remote Monitoring
Enclosed in marine-grade stainless steel (SS 316L) and DNV-certified, the AXIS Q3538-SLVE can withstand the corrosive effects of seawater and cleaning chemicals.
Read more...
---