printer friendly version
Hidden person detection
April 2019
Security Services & Risk Management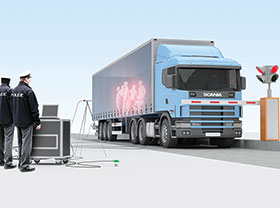 The FSC HPD system detects any movement generated by a hidden person or persons in contact with the interior or cargo of a vehicle. Even signals such as a person's heartbeat can be detected.
Hidden person motion and human heartbeat are detected with the use of sensitive sensors attached to the vehicle either in a horizontal or vertical position. From the sensors, data is sent via cable to a computer, where the measured data is subjected to stringent analysis and subsequent evaluation.
The measurement time is approximately 30 seconds while the total vehicle check time does not exceed two minutes, including application and removal of the sensors. Fare dodgers, illegal immigrants or terrorists may be transported in trucks from one country to another without meeting the legal requirements to enter these countries.
Trucks are often sealed or loaded in such a way that renders standard visual check of the cargo space impossible. Not all methods, for example, the measurement of CO2 concentration or X-raying of cargo spaces of trucks are reliable in all cases and can sometimes be circumvented.
HPD is a simple, non-invasive measurement method. It is passive detection that does not have any side effects for the human organism or equipment in its vicinity. It is the latest generation of a detector of hidden persons that makes it possible to reveal hidden people with almost 100% reliability in less than 1 minute.
Three design versions are available and vehicles can be checked not only in permanent locations such as ports and border crossings and entrance gates of sites, but also in the field where checks may move.
Credit(s)
Further reading:
IoT provides assurance in ESG initiatives
Security Services & Risk Management
Environmental, social and governance (ESG) metrics can be used effectively to measure and define the impact an organisation has, the trust it engenders, and the value it takes beyond the shareholder and into the ecosystem.
Read more...
---
The benefits of investing in whole-house surge protection
Smart Home Automation Security Services & Risk Management Residential Estate (Industry)
When you consider that the potential for equipment damage can run well into the hundreds of thousands of rands, whole-house surge protection is a worthwhile expense.
Read more...
---
Are you your insider threat?
Technews Publishing Editor's Choice Security Services & Risk Management Commercial (Industry)
Insider threats are a critical aspect of risk management today, but what happens when it is the owner of the company acting fraudulently and making sure none of his staff can catch him?
Read more...
---
Minimise the cost and impact of protest activity
Thorburn Security Solutions Security Services & Risk Management Industrial (Industry)
Strikes and protest actions are common in South Africa and businesses need to prepare for the worst while working for the best outcome that benefits all parties.
Read more...
---
How to make data governance practical
Security Services & Risk Management Commercial (Industry)
For many businesses, data governance is not well received because governance programmes are often driven by supporting functions like compliance or IT, with a focus on the needs of these functions.
Read more...
---
Passion, drive and hard work
Technews Publishing Editor's Choice CCTV, Surveillance & Remote Monitoring Security Services & Risk Management
Colleen Glaeser is a leader in the security market, having made her mark in the male-dominated security industry through determination and hard work, along with a vision of making the world a safer place.
Read more...
---
How to react in an armed robbery or home invasion
Fidelity Services Group Security Services & Risk Management News
How you react when faced with a nervous, gun-toting criminal can save your life, or cost you your life; all family members need to know what to do in such circumstances.
Read more...
---
Manage reckless driving while speed cameras are offline
Transport (Industry) Security Services & Risk Management
Motorists in Johannesburg have not been fined for infringing the law for almost a year, because the city hasn't had any functioning speed cameras since May 2021.
Read more...
---
Privacy and human rights in an AI world
Security Services & Risk Management
To find out where we stand on data privacy, Cisco conducted its 2022 Data Privacy Benchmark Study, based on an anonymous survey of 4900 security and IT professionals from 27 geographies.
Read more...
---
Understanding the benefits of connectivity management
IT infrastructure Security Services & Risk Management
As companies embrace digital, more of their services require connectivity to keep the business running; effectively managing the increasing complexity of this environment becomes a critical enabler for success.
Read more...
---