printer friendly version
Hidden person detection
April 2019
Security Services & Risk Management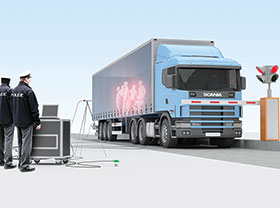 The FSC HPD system detects any movement generated by a hidden person or persons in contact with the interior or cargo of a vehicle. Even signals such as a person's heartbeat can be detected.
Hidden person motion and human heartbeat are detected with the use of sensitive sensors attached to the vehicle either in a horizontal or vertical position. From the sensors, data is sent via cable to a computer, where the measured data is subjected to stringent analysis and subsequent evaluation.
The measurement time is approximately 30 seconds while the total vehicle check time does not exceed two minutes, including application and removal of the sensors. Fare dodgers, illegal immigrants or terrorists may be transported in trucks from one country to another without meeting the legal requirements to enter these countries.
Trucks are often sealed or loaded in such a way that renders standard visual check of the cargo space impossible. Not all methods, for example, the measurement of CO2 concentration or X-raying of cargo spaces of trucks are reliable in all cases and can sometimes be circumvented.
HPD is a simple, non-invasive measurement method. It is passive detection that does not have any side effects for the human organism or equipment in its vicinity. It is the latest generation of a detector of hidden persons that makes it possible to reveal hidden people with almost 100% reliability in less than 1 minute.
Three design versions are available and vehicles can be checked not only in permanent locations such as ports and border crossings and entrance gates of sites, but also in the field where checks may move.
Credit(s)
Further reading:
Numerous challenges for transport and logistics
Transport (Industry) CCTV, Surveillance & Remote Monitoring Security Services & Risk Management Logistics (Industry)
Operators are making significant investments in automation and digitalisation in order to address security concerns, improve loss prevention as well as efficiency, and reduce unit order costs.
Read more...
---
Defining the resilience of cybersecurity
Cyber Security Security Services & Risk Management
Cyber resilience is less buzzword and more critical business strategy as the cybercrime landscape grows in intent and intensity.
Read more...
---
Technology and the future of security installation in South Africa
Editor's Choice Integrated Solutions Security Services & Risk Management
What are the technologies and trends shaping installation, service and maintenance teams globally, and how will they shape South African businesses today and in the future?
Read more...
---
The technology wave implications for staff mismatches in control rooms
Leaderware Editor's Choice Security Services & Risk Management
An industry habit of looking at control rooms through a physical security lens has increasingly left clients and staff at a disadvantage in keeping up with control room technology and demands.
Read more...
---
Streamlining processes, integrating operations
Security Services & Risk Management Integrated Solutions Transport (Industry) Logistics (Industry)
With Trackforce Valiant, Airbus now has one single platform that connects its security guards, supervisors and management across its organisation.
Read more...
---
Smollan partners with FleetDomain
Logistics (Industry) Asset Management, EAS, RFID Security Services & Risk Management Transport (Industry)
Smollan has been using FleetDomain to manage its fleet of around 2000 vehicles in South Africa, enabling it to contain costs and manage its fleet much more effectively.
Read more...
---
Smarter parking services
Security Services & Risk Management Transport (Industry) Logistics (Industry)
Smart technologies are changing the face of parking services and helping property owners realise their commercial objectives.
Read more...
---
Adopting a cyber-secure mindset
Security Services & Risk Management Cyber Security
Adopting a cybersecure mindset is the key to mitigating the risk of falling victim to the growing cybercrime pandemic.
Read more...
---
SAFPS warns against advance-fee scam
News Security Services & Risk Management
The Southern African Fraud Prevention Service (SAFPS) has warned consumers of an advance-fee scam where the perpetrator is falsely presenting themself as a representative of the SAFPS.
Read more...
---
Fire prevention in your home or business?
Fidelity Services Group Fire & Safety Security Services & Risk Management
A recent fire at a nightclub in Boksburg has once again highlighted the importance of fire safety for both homes and businesses. When a fire breaks out, the consequences can be devastating.
Read more...
---