printer friendly version
Surveillance infrastructure has changed
April 2019 Editor's Choice, Integrated Solutions, IT infrastructure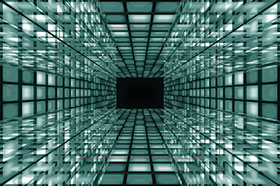 The keywords in 2018 for the surveillance industry were AI and machine learning. Marketing departments managed to face-lift the good old notion of neural network and analytics, resulting in a significant increase in demand for facial recognition technologies – in the retail sector, for example.
For hardware vendors servicing the surveillance industry, it turned out to be a challenging period as we have to re-educate the surveillance stake holders regarding the right IT capacity planning. In other words, the processing power required to use AI and deep learning is much higher than companies are used to, and the uniqueness of each site makes it difficult to offer off-the-shelf solutions for server and storage solutions.
The generalisation of complex video analytics is rapidly making the technological model of using general purpose computers or servers in the surveillance business obsolete.
Most of the big-name VMS vendors propose offloading the massive CPU requirement to a GPU (graphical processing unit). If this solution works, the list of compatible GPU products points to high-end graphics cards with a form-factor making it difficult to seamlessly integrate them into existing server/storage solutions.
2019 may result in an intermediate situation where glorified gaming PCs with massive GPU cards will take care of the video analytics while high-end storage/servers will be in charge of the standard video recording. For hardware vendors this is an ideal situation as it is difficult to offer long-term support on hardware produced and designed for the main-stream consumer market.
We will have to answer the demand with that kind of offer at least for 2019, for 2020 there is a remedy coming from the CPU manufacturers: Intel is planning to release a hybrid CPU-FPGA called Xeon-Arria and AMD has patented Zen-based processors with FPGAs on board.
FPGAs are field-programmable gate array chips, in other words, it will be possible for VMS vendors to implement their complex video analytics algorithms in the silicon, resulting in a massive performance boost. FPGA technology has been here for many years, but for some reason failed to become mainstream, unlike GPUs (the gaming market helped in that regards).
Hopefully, if Intel and/or AMD are on schedule, we will see fully integrated server/storage solutions with FPGA accelerated video analytics engines in the surveillance market by 2020.
For more information, contact Franck Martinaux, Capsule Technologies, [email protected], www.capsule-sa.co.za
Further reading:
Cyber resilience is more than cybersecurity
Technews Publishing Cyber Security Integrated Solutions IT infrastructure
Hi-Tech Security Solutions held a round-table discussion focusing on cyber resilience and found that while the resilience discipline includes cybersecurity, it also goes much further.
Read more...
---
A key to urban transport challenges
Axis Communications SA Transport (Industry) CCTV, Surveillance & Remote Monitoring Integrated Solutions Logistics (Industry)
There are many enabling technologies that can impact transportation in South Africa, but a good place to start is by considering the applications for smart physical technology with the ability to collect and respond to data.
Read more...
---
Hikvision aims for solutions
Technews Publishing Hikvision South Africa Editor's Choice CCTV, Surveillance & Remote Monitoring News Integrated Solutions Conferences & Events
Hikvision recently held a roadshow titled Industry X, where the company highlighted its latest products and solutions, supported by partners and distributors.
Read more...
---
Reliable, low-maintenance video appliances
Technews Publishing Editor's Choice CCTV, Surveillance & Remote Monitoring News IT infrastructure Products
Symetrix, part of the Agera Group, has added the AES range of video recording servers, storage appliances and workstations to its portfolio.
Read more...
---
Technology and the future of security installation in South Africa
Editor's Choice Integrated Solutions Security Services & Risk Management
What are the technologies and trends shaping installation, service and maintenance teams globally, and how will they shape South African businesses today and in the future?
Read more...
---
Upgraded security and AI monitoring at upmarket estate
Watcher Surveillance Solutions Editor's Choice CCTV, Surveillance & Remote Monitoring Integrated Solutions Residential Estate (Industry)
Estate upgrades and enhances its security through a partnership between surveillance specialist Watcher and the incumbent guarding company.
Read more...
---
The technology wave implications for staff mismatches in control rooms
Leaderware Editor's Choice Security Services & Risk Management
An industry habit of looking at control rooms through a physical security lens has increasingly left clients and staff at a disadvantage in keeping up with control room technology and demands.
Read more...
---
Streamlining processes, integrating operations
Security Services & Risk Management Integrated Solutions Transport (Industry) Logistics (Industry)
With Trackforce Valiant, Airbus now has one single platform that connects its security guards, supervisors and management across its organisation.
Read more...
---
Resilience is a collaborative effort
Technews Publishing Editor's Choice
Cyber resilience is not an 'IT thing'; Wayne Olsen says it is an enterprise-wide risk strategy that involves collaboration, lots of collaboration.
Read more...
---
The challenge of data safety and availability
Technews Publishing Editor's Choice Cyber Security
Veeam offers backup and recovery software that presents the user with one interface to manage backups to and from almost any platform.
Read more...
---