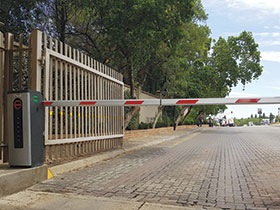 Kyalami Estate uses Boomgate barriers
April 2019, Access Control & Identity Management, Products
Kyalami Estates is one of the earliest examples of a development enclosed by a security wall with 24-hour controlled access, but it is more than that, combining all the benefits of urban convenience with the tranquillity and space of a rural environment thanks to extensive parklands and a natural wetland.
The client wanted state-of-the-art access control to go together with the modern day excellence of the estate. Boomgate Systems was tasked to provide a viable solution that will offer both elegance in design and operation. The operating requirements were as follows:
• High speed opening and closing speed of barrier (1,5 sec opening)
• Breakaway function to prevent barrier arms from being damaged when bumped
• Indication on the barrier to assist residents
• Automatic 'slow-down' on barrier operation to prevent wear-and-tear
• Easy to maintain for on-site technicians
• Ability to integrate with all forms of access control
• Automatic impact detection on barrier arm
• Interlocking to be available as standard
• Adjustment of barrier arm without having to buy a new arm
All these functions are included in Boomgate's barrier as standard. The system was then reviewed, confirmed and installed with the client's specifications as required. A quick break-down on how the site was designed:
• All entrances are enclosed by interlocking booms
• All exits enclosed with one barrier to control access out of the estate
Genius Rapid Barrier is more than just your normal access barrier: indicating robot on barrier door, indicating LED light on the barrier arm (optional), over-all high speed operation of the barrier as well as the stylish design, are just some of the amazing features available on offer from Boomgate Systems.
Barrier is available in both left and right hand parameters and lengths ranging from 2 m to 6 m.