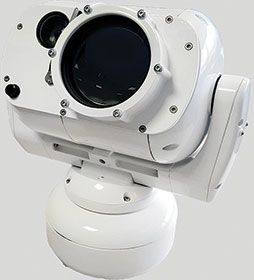 Rugged, continuous rotation PTZ
April 2019, CCTV, Surveillance & Remote Monitoring, Products
The Aeron is a highly modular, ready to go, compact surveillance solution using video and thermal cameras which is ideal for short to long range surveillance applications. The Aeron is a compact, rugged, continuous ­rotation PTZ camera that has been specifically designed for marine, harsh and challenging environments. With a range of features such as zoom thermal, cooled and uncooled thermal, HD and 4K video as well as IR and white light options, the Aeron is a versatile solution.
The Aeron platform can be configured and optimised for a broad range of applications and operational theatres with the ability to detect, identify, track and react to the surveillance requirements.
Features
• Supporting ranges up to 10,9 km for human detection and 20,1 km for vehicle detection.
• Long range thermal cameras with zoom HD/4K Low Light and 4K ULL (Ultra Low Light. 0.0006 lux) colour cameras.
• Thermal camera image contrast enhancements.
• Anti-fog, anti-haze, image stabilisation, autofocus and auto tracking capabilities.
• 360° continuous rotation.
• ONVIF Profile S compliant.
• IP67 rated.
For more information contact Management and Supply of Security Solutions (MASS), +27 12 142 0000, info@mass-solutions.co.za, www.mass-solutions.co.za