printer friendly version
Surveillance in the gambling industry
April 2019 Entertainment and Hospitality (Industry), CCTV, Surveillance & Remote Monitoring, Integrated Solutions
"Stealing is stealing, whether you use a computer command or a crowbar, and whether you take documents, data or dollars." – Carmen M. Ortiz, United States attorney for Massachusetts.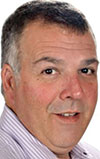 Winston Sumner.
This statement is true, especially in the gambling and entertainment industry where you deal with hard cash on a daily basis. Threats that are dealt with in the gambling industry include armed robberies, theft, collusion, sweet hearting, credits theft and fraud from employees, patrons or syndicates.
Recently, Goldrush Gaming Group (bingo industry), installed an online monitoring system for its Electronic Bingo Terminals (EBT). One of the modules is a player tracking program where patrons can use a day card or get a membership card to play the EBTs, where credits are loaded onto your card.
Shortly after installing the system and activating the player tracking program, we had employees illegally loading the day cards with credits at the cashier booths, giving it to patrons to cash out and then they would share the cash. This was only picked up after the fact from reports drawn due to the lack of technology to monitor it live on our surveillance system.
Integrating security technologies
To deal with this challenge, Goldrush then embarked on a new path to integrate various technologies. An interface was developed in conjunction with a systems integrator to link transactions to the online monitoring system in real time. With this interface unit we are now able to monitor all transactions live at the cashier booth with direct overlay and automatic interrogation. All information is displayed in real time in the surveillance monitoring office.
Once the interface units were installed, we also made changes to our internal control procedures (ICPs) to assist with monitoring the cashier booths. The gambling industry is regulated by Gambling Boards in various provinces, which layout the minimum requirements for licensees to operate. The onus is on the licensee to ensure that stricter measures are in place to prevent illegal acts from taking place in their operation. This is where the ICPs come into play.
Today, we cannot look at the gambling and entertainment industries in a one-dimensional context, but we need a holistic approach where multiple technologies are put to use. Convergence is the way to go.
You cannot only rely on surveillance officers monitoring the cameras. One must make use of technology, such as interfacing surveillance with bespoke systems, including artificial intelligence and facial recognition. Goldrush went a step further and installed interface units at our Point of Sale (PoS) systems in all bars, as well as at all our note counters.
Technology improves patron experience
Other interesting scenarios in the gambling industry include self-exclusions and exclusions. Self-exclusion is where a patron will request to be excluded from gambling areas, be it bingo, casinos or both. The same principle works for exclusions, where a patron is excluded from a bingo branch or casino for misbehaving.
Self-exclusions and exclusions are lodged and sent to the gambling board in the province where the exclusion took place.
The gambling board will forward these to all licensees in the province. The name and photo of the excluded patron is kept at a casino's Welcome Desk, where the personnel on duty are meant to identify all excluded persons by going through a file to detect excluded or self-excluded persons.
With technology growing at an exceptional rate, we are now able to consider facial recognition software and we will be installing strategically positioned surveillance cameras to ensure these regulations are adhered to. With the development and integration of this new technology, Goldrush will be able to load all photos onto the central server and then be able to detect excluded persons without having to page through a file and unnecessarily delaying our customers from entering the gambling area if they are not excluded.
There is no silver bullet to combating the criminal element, either internal or external in the gambling and entertainment markets. However, with the implementation of ICPs as the foundation of a security road map and then layering different elements on top of these procedures, including technology and people, I believe this will go a long way in achieving our risk and compliance goals.
For more information contact Winston Sumner, Goldrush Gaming Group, +27 11 073 2800, [email protected], www.goldrush.co.za
Further reading:
Sustainability, trust and predictability
Technews Publishing Bosch Building Technologies Conferences & Events CCTV, Surveillance & Remote Monitoring News Integrated Solutions
The future for Bosch Building Solutions is focused on predictive solutions based on sustainability and trust in an AIoT world of cloud services.
Read more...
---
Specialised surveillance and communications
Technews Publishing Editor's Choice News Integrated Solutions Residential Estate (Industry)
Hi-Tech Security Solutions spoke to Arcanum Africa's Peter Stolwerk and Aaron van Schaik to find out a bit more about the company and the unique products it is bringing to the local market.
Read more...
---
Hard times, increased crime
Technews Publishing Security Services & Risk Management Integrated Solutions IT infrastructure
Hi-Tech Security Solutions spoke to Mezuzah Security Services to find out what is happening in the real world, and how security companies are dealing with the added pressure inherent to the South African market.
Read more...
---
Duxbury awarded Axis SA Distributor of the Year
Duxbury Networking News CCTV, Surveillance & Remote Monitoring
Axis Communications held its Annual Partner Awards on 1 July 2022 to celebrate and acknowledge the efforts of Axis' partners by awarding them for key projects and achievements throughout the year.
Read more...
---
The house wins with Ajax
Elvey Security Technologies Perimeter Security, Alarms & Intruder Detection Entertainment and Hospitality (Industry)
One of the largest hotel-and-casino complexes in South Africa's North West province needed to increase security on its perimeter, but due to the sheer extent of the site, it was deemed extremely difficult ...
Read more...
---
Optimised people, processes and technology
Industrial (Industry) Integrated Solutions
When embarking on an industrial digitisation project, it's important to consider how people, processes and technology will work together and complement the other.
Read more...
---
All-mobile people management solution with facial recognition
Editor's Choice Integrated Solutions Security Services & Risk Management Products
The new mobile Incident Desk People Management platform with facial recognition combines identification data on suppliers, staff, sub-contractors and even people on watch lists, for less than the cost of traditional service management tools.
Read more...
---
Passion, drive and hard work
Technews Publishing Editor's Choice CCTV, Surveillance & Remote Monitoring Security Services & Risk Management
Colleen Glaeser is a leader in the security market, having made her mark in the male-dominated security industry through determination and hard work, along with a vision of making the world a safer place.
Read more...
---
Cybersecure surveillance cameras
HiTek Security Distributors News CCTV, Surveillance & Remote Monitoring Cyber Security
Provision-ISR builds customer trust and opens up new opportunities with Check Point Quantum IoT Protect Firmware built into Provision-ISR cameras.
Read more...
---
CathexisVision integrated with Suprema's BioStar2
Technews Publishing News Access Control & Identity Management Integrated Solutions
This integration uses BioStar2 access control events to trigger automated actions on the CathexisVision system, including alerts, recording a camera and commands such as locking and unlocking doors, and clearing an alarm.
Read more...
---