printer friendly version
Surveillance in the gambling industry
April 2019 Entertainment and Hospitality (Industry), CCTV, Surveillance & Remote Monitoring, Integrated Solutions
"Stealing is stealing, whether you use a computer command or a crowbar, and whether you take documents, data or dollars." – Carmen M. Ortiz, United States attorney for Massachusetts.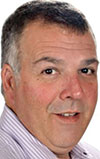 Winston Sumner.
This statement is true, especially in the gambling and entertainment industry where you deal with hard cash on a daily basis. Threats that are dealt with in the gambling industry include armed robberies, theft, collusion, sweet hearting, credits theft and fraud from employees, patrons or syndicates.
Recently, Goldrush Gaming Group (bingo industry), installed an online monitoring system for its Electronic Bingo Terminals (EBT). One of the modules is a player tracking program where patrons can use a day card or get a membership card to play the EBTs, where credits are loaded onto your card.
Shortly after installing the system and activating the player tracking program, we had employees illegally loading the day cards with credits at the cashier booths, giving it to patrons to cash out and then they would share the cash. This was only picked up after the fact from reports drawn due to the lack of technology to monitor it live on our surveillance system.
Integrating security technologies
To deal with this challenge, Goldrush then embarked on a new path to integrate various technologies. An interface was developed in conjunction with a systems integrator to link transactions to the online monitoring system in real time. With this interface unit we are now able to monitor all transactions live at the cashier booth with direct overlay and automatic interrogation. All information is displayed in real time in the surveillance monitoring office.
Once the interface units were installed, we also made changes to our internal control procedures (ICPs) to assist with monitoring the cashier booths. The gambling industry is regulated by Gambling Boards in various provinces, which layout the minimum requirements for licensees to operate. The onus is on the licensee to ensure that stricter measures are in place to prevent illegal acts from taking place in their operation. This is where the ICPs come into play.
Today, we cannot look at the gambling and entertainment industries in a one-dimensional context, but we need a holistic approach where multiple technologies are put to use. Convergence is the way to go.
You cannot only rely on surveillance officers monitoring the cameras. One must make use of technology, such as interfacing surveillance with bespoke systems, including artificial intelligence and facial recognition. Goldrush went a step further and installed interface units at our Point of Sale (PoS) systems in all bars, as well as at all our note counters.
Technology improves patron experience
Other interesting scenarios in the gambling industry include self-exclusions and exclusions. Self-exclusion is where a patron will request to be excluded from gambling areas, be it bingo, casinos or both. The same principle works for exclusions, where a patron is excluded from a bingo branch or casino for misbehaving.
Self-exclusions and exclusions are lodged and sent to the gambling board in the province where the exclusion took place.
The gambling board will forward these to all licensees in the province. The name and photo of the excluded patron is kept at a casino's Welcome Desk, where the personnel on duty are meant to identify all excluded persons by going through a file to detect excluded or self-excluded persons.
With technology growing at an exceptional rate, we are now able to consider facial recognition software and we will be installing strategically positioned surveillance cameras to ensure these regulations are adhered to. With the development and integration of this new technology, Goldrush will be able to load all photos onto the central server and then be able to detect excluded persons without having to page through a file and unnecessarily delaying our customers from entering the gambling area if they are not excluded.
There is no silver bullet to combating the criminal element, either internal or external in the gambling and entertainment markets. However, with the implementation of ICPs as the foundation of a security road map and then layering different elements on top of these procedures, including technology and people, I believe this will go a long way in achieving our risk and compliance goals.
For more information contact Winston Sumner, Goldrush Gaming Group, +27 11 073 2800, winston.sumner@goldrushgroup.co.za, www.goldrush.co.za
Further reading:
Platforms and community lead the future
May 2019, Milestone Systems , Editor's Choice, CCTV, Surveillance & Remote Monitoring, News, Integrated Solutions
Milestone Systems took a look into the future of open platforms and the power of community at MIPS EMEA in Copenhagen in March this year.
Read more...
---
The consequences of false alerts
May 2019, Leaderware , Editor's Choice, CCTV, Surveillance & Remote Monitoring, Integrated Solutions
Craig Donald discusses the impact of false alarm rates on the utility of intelligent security technology systems.
Read more...
---
Protecting people's money, and their data
May 2019, Cathexis Technologies, CA Southern Africa, IDEMIA , Editor's Choice, Integrated Solutions, Financial (Industry)
The temptations inherent to the banking sector, and financial institutions more generally, pit them in an eternal and increasingly high-tech battle to secure themselves against threats from within and without.
Read more...
---
Access authentication with a wave
May 2019, IDEMIA , Editor's Choice, Access Control & Identity Management, Integrated Solutions, Financial (Industry), Commercial (Industry)
Financial organisations are making the move to contactless fingerprint biometrics in order to meet the increasing burden of regulatory and compliance demands.
Read more...
---
Does your control room add value?
May 2019, Fidelity Security Group, G4S South Africa, Progroup , Editor's Choice, CCTV, Surveillance & Remote Monitoring, Integrated Solutions, IT infrastructure, Commercial (Industry)
Whether on- or offsite, control rooms are a critical aspect of security today and care must be taken in the design and rollout of these nerve centres.
Read more...
---
Augmenting surveillance video
May 2019, ISDS , News, Integrated Solutions
ISDS is moving from its previous business model to focusing on being a value-added distributor and supporting its channel partners.
Read more...
---
LunarX targets high-end security solutions
May 2019 , Editor's Choice, News, Integrated Solutions
LunarX Consulting and Projects, a new value-added distributor of high-end security solutions, was launched at an event at Serengeti Estate in March 2018.
Read more...
---
Delivering greater control room value
May 2019, Cathexis Technologies , Editor's Choice, CCTV, Surveillance & Remote Monitoring, Integrated Solutions
A truly integrated security system requires that all aspects of the security system work seamlessly together, while being managed by the heart of the system, which is the control room.
Read more...
---
Security workforce management platform
May 2019, Secutel Technologies , CCTV, Surveillance & Remote Monitoring, Integrated Solutions, Security Services & Risk Management
Secutel Technologies says the South African market is excited about body-cam technology and clearly sees the potential benefits.
Read more...
---
HD PIR camera with strobe light
May 2019, Hikvision South Africa , Perimeter Security, Alarms & Intruder Detection, CCTV, Surveillance & Remote Monitoring
Hikvision's Turbo HD passive infrared (PIR) camera uses advanced video surveillance technologies to capture infrared light given off by human bodies.
Read more...
---