printer friendly version
Cloud and mobile deployments are the weakest links
April 2019
Cyber Security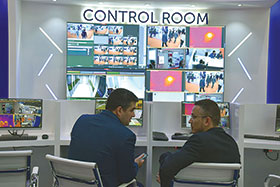 Check Point Software has published the third instalment of its 2019 Security Report. It highlights how threat actors are increasingly targeting the weakest, least protected points in an organisation's IT infrastructure – their public cloud and mobile deployments. 
The third instalment of the 2019 Security Report reveals the key cyberattack trends used by criminals to target enterprise cloud and mobile estates during 2018. It also reveals enterprise IT and security teams' key security concerns about these deployments. Highlights of the third instalment include:
• 18% of organisations globally had a cloud security incident in the past year: the most common incident types were data leaks / breaches, account hijacks, and malware infections.
• The top four public cloud security threats: IT professionals rated misconfiguration of cloud platforms, leading to data loss or breaches as the biggest threat, cited by 62%; followed by unauthorised access to cloud resources (55%); insecure interfaces and APIs (50%); hijacking of accounts or data traffic (47%).
• 30% of IT professionals still consider security is the responsibility of the cloud service provider: this worrying finding negates recommendations that cloud security should follow the mutual responsibility model, in which security is shared by both the cloud provider and the customer.
• 59% of IT professionals do not use mobile threat defences: a majority of organisations have not deployed mobile security solutions capable of detecting leading threats including mobile malware, fake or malicious apps, man-in-the-middle attacks and system vulnerabilities.
• Only 9% of IT professionals consider threats on mobile a significant security risk: yet malware can propagate from unprotected mobile devices to organisations' cloud- or on-premise networks, exploiting this weak link in enterprise security defences.
"The third instalment of our 2019 Security Report shows just how vulnerable organisations are to attacks targeting their cloud and mobile estates, because there is a lack of awareness of the threats they face and how to mitigate them. Nearly 20% of organisations have experienced a cloud incident in the past year, it's clear that
criminals are looking to exploit these security gaps," said Zohar Alon, head of cloud product line, Check Point Software Technologies. "By reviewing and highlighting these developments in the report, organisations can get a better understanding of the threats they face, and how they prevent them impacting on their business."
For full report go to: https://research.checkpoint.com/vol-3-2019-security-report/
Further reading:
Five ransomware predictions for 2021
Issue 9 2020 , Cyber Security
How to stay ahead of cyber criminals and protect your data
Read more...
---
Striking the balance between customer privacy and intimacy
Issue 9 2020 , Cyber Security
While secure IT infrastructure is a key component to keeping customer data secure, customers expect more than adherence to regulations and the latest technologies to help protect their data from falling into the wrong hands.
Read more...
---
A good future for tech in 2021 and beyond
Issue 9 2020 , Cyber Security
The pandemic drove technology adoption in amazing ways; networking, cloud, security, collaboration, and other digital technologies all played a huge role in keeping the world running.
Read more...
---
Cyber-industry collaboration through AI
Issue 9 2020 , Cyber Security
SophosAI advances the practices and language that will transform the cybersecurity industry with much-needed transparency and openness.
Read more...
---
Shifting security to the edge
Issue 9 2020 , Cyber Security
As applications move to the cloud and networks become increasingly complex, organisations require a comprehensive security solution designed to protect the WAN edge.
Read more...
---
Why security integration is important
Issue 9 2020 , Cyber Security
Adrienne Campbell says the integration of physical and network security is important and offers eight reasons why.
Read more...
---
Ensure cybersecurity at the edge
Issue 9 2020 , Cyber Security
Organisations must be aware of the increased need to protect the edge of the network and prioritise cybersecurity before an attack happens.
Read more...
---
Protecting ICS and SCADA systems
Issue 9 2020 , Cyber Security
Check Point Software´s new rugged gateway secures industrial control systems and critical infrastructures against the most advanced cyber-threats.
Read more...
---
Cyber defence in an era of digital dependency
Issue 9 2020 , Cyber Security
Businesses across the globe have typically taken an immature approach to cybersecurity, believing that a firewall is an adequate fortress to defend their intellectual property.
Read more...
---
Improved resilience and simplicity
Issue 9 2020 , Cyber Security
Cisco helps its customers and partners to reimagine the way they work, with security innovations across its portfolio designed to offer greater agility, simplicity and resilience.
Read more...
---