printer friendly version
Cloud and mobile deployments are the weakest links
April 2019
Cyber Security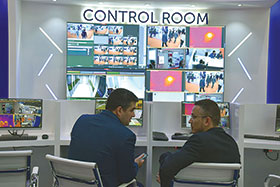 Check Point Software has published the third instalment of its 2019 Security Report. It highlights how threat actors are increasingly targeting the weakest, least protected points in an organisation's IT infrastructure – their public cloud and mobile deployments. 
The third instalment of the 2019 Security Report reveals the key cyberattack trends used by criminals to target enterprise cloud and mobile estates during 2018. It also reveals enterprise IT and security teams' key security concerns about these deployments. Highlights of the third instalment include:
• 18% of organisations globally had a cloud security incident in the past year: the most common incident types were data leaks / breaches, account hijacks, and malware infections.
• The top four public cloud security threats: IT professionals rated misconfiguration of cloud platforms, leading to data loss or breaches as the biggest threat, cited by 62%; followed by unauthorised access to cloud resources (55%); insecure interfaces and APIs (50%); hijacking of accounts or data traffic (47%).
• 30% of IT professionals still consider security is the responsibility of the cloud service provider: this worrying finding negates recommendations that cloud security should follow the mutual responsibility model, in which security is shared by both the cloud provider and the customer.
• 59% of IT professionals do not use mobile threat defences: a majority of organisations have not deployed mobile security solutions capable of detecting leading threats including mobile malware, fake or malicious apps, man-in-the-middle attacks and system vulnerabilities.
• Only 9% of IT professionals consider threats on mobile a significant security risk: yet malware can propagate from unprotected mobile devices to organisations' cloud- or on-premise networks, exploiting this weak link in enterprise security defences.
"The third instalment of our 2019 Security Report shows just how vulnerable organisations are to attacks targeting their cloud and mobile estates, because there is a lack of awareness of the threats they face and how to mitigate them. Nearly 20% of organisations have experienced a cloud incident in the past year, it's clear that
criminals are looking to exploit these security gaps," said Zohar Alon, head of cloud product line, Check Point Software Technologies. "By reviewing and highlighting these developments in the report, organisations can get a better understanding of the threats they face, and how they prevent them impacting on their business."
For full report go to: https://research.checkpoint.com/vol-3-2019-security-report/
Further reading:
Cyber resilience is more than cybersecurity
Technews Publishing Cyber Security Integrated Solutions IT infrastructure
Hi-Tech Security Solutions held a round-table discussion focusing on cyber resilience and found that while the resilience discipline includes cybersecurity, it also goes much further.
Read more...
---
Defining the resilience of cybersecurity
Cyber Security Security Services & Risk Management
Cyber resilience is less buzzword and more critical business strategy as the cybercrime landscape grows in intent and intensity.
Read more...
---
How to stay cybersafe on business trips
Cyber Security
No matter where you are in the world, tech-savvy criminals are looking for ways to exploit email addresses, social media profiles, passwords, financial data and stored files.
Read more...
---
The challenge of data safety and availability
Technews Publishing Editor's Choice Cyber Security
Veeam offers backup and recovery software that presents the user with one interface to manage backups to and from almost any platform.
Read more...
---
How safe are your backups?
Technews Publishing Cyber Security
Immutable backups prevent malware from compromising your data and ensure the right data is restored in an emergency when following a four-step backup process.
Read more...
---
Growing cyber resilience portfolio
Technews Publishing Cyber Security
Hi-Tech Security Solutions spoke to Richard Frost, who heads up Armata, to find out what the company offers in terms of cyber resilience.
Read more...
---
Adopting a cyber-secure mindset
Security Services & Risk Management Cyber Security
Adopting a cybersecure mindset is the key to mitigating the risk of falling victim to the growing cybercrime pandemic.
Read more...
---
Advanced technologies to curb corruption
News Cyber Security IT infrastructure
The use of advanced technology to curb fraud, corruption and cyber-related crimes received a massive boost as the Council for Scientific and Industrial Research (CSIR) and Special Investigation Unit (SIU) agreed to work together.
Read more...
---
Reversing the hidden risk of permission creep
Cyber Security
Employees can collect a range of access rights to business systems throughout their tenure. It's a phenomenon called 'permission creep': one of the biggest cybersecurity risks for organisations today.
Read more...
---
Mitigating the risk of zero-day attacks against Microsoft 365
J2 Software Cyber Security
Microsoft 365 servers contain extremely sensitive information and most organisations simply cannot do without it for an extended period of time.
Read more...
---