printer friendly version
SECaaS a game changer for SA
April 2019 Integrated Solutions, IT infrastructure
Security-a-a-Service (SECaaS) is not an entirely new concept; people have been talking about it since as far back as 2014. On paper, the benefits seem to be extensive, but what are they and do they translate for local businesses?
SECaaS can be defined as outsourcing your security measures to a third-party cloud service provider. This means that your security services are now delivered via a Web browser, and not locally through an internal IT department; saving on upfront hardware costs and ensuring that your software is continually kept up-to-date.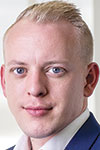 Sven Smit
SECaaS promises to comprehensively arm companies of all sizes with the tools they'll be needing to protect themselves from harmful cyberattacks (including ransom-, spy- and malware), which is predicted, by IDG, to cause up to $6 trillion worth of damage globally by 2021.
"And while cyber-based SECaaS may be a more obvious offering, this type of technology also allows businesses to outsource physical security requirements – including access control and video surveillance for example," states Sven Smit, portfolio director at Specialised Exhibitions Montgomery.
"With the growing accessibility of cloud computing, the 'X-as-a-Service' approach is gaining popularity for businesses of all sizes," he adds. "It has also become clear that SECaaS in particular is especially suitable for the small businesses that form the backbone of South Africa's entrepreneurial landscape."
A recent Memeburn article says the SECaas model is "quite possibly the best thing to happen to the SME since high-speed broadband. They can select the products they want, when they want." It says, in the past a selection was a permanent investment, today they can try it out, see if it fits, and move on. The flexibility of SECaaS means they can change the solution when it doesn't work for them.
SMEs aside though, research company Gartner expounds the virtues of SECaaS, stating that, while the overall adoption of cloud computing is growing, SECaaS in particular is set to boom. The organisation stated that, by 2020, 85% of large enterprises will use a cloud access security broker solution for their cloud services, up from less than 5% in 2015, and that the SECaaS market will exceed $8.5 billion, growing at a 22.2% compound annual growth rate from last year's $3.12 billion.
A Persistence Market Research study looks even further into the future, saying that SECaaS will arise as the de facto business model on many networks, as it doubles in size again to $16.5 billion by 2026.
The reasons for the uptake could be based on economic factors, says Smit. "SECaaS offers a portfolio of prevention, detection and resolution services and it does this in a budget-friendly manner.
"Businesses are empowered in purchasing only the 'cover' they need to address their specific requirements, and they can do so using OpEx as opposed to CapEx budgets. Then, specifically for those companies using products from numerous vendors, this approach offers access to expertise from ISPs who are trained across all product sets and are solely focused on keeping the business secure and security protocols current.
"This frees up internal IT staff to focus on helping achieve core business objectives rather than running from pillar to post in an attempt to address thousands of potential threats.
"Having said that, it seems widely understood, globally, that opting for a SECaaS solution is the way forward and when the benefits are weighed and measured, we have no doubt local businesses will be following suit," says Smit.
Interested in hearing more on the latest trends in both physical and cybersecurity? Visitors to Securex South Africa 2019, Africa's leading security and fire trade exhibition, will have access to a host of security experts and several seminar opportunities that should help shine a light on what's happening within this sector.
Securex South Africa 2019 will take place at Gallagher Convention Centre from 14 to 16 May 2019, and is co-located with A-OSH EXPO, Africa's leading occupational safety and health trade exhibition, as well as – for the very first time – Facilities Management Expo 2019, the show that brings together all aspects of facilities management.
Visitors are able to register for attendance at no cost by visiting www.securex.co.za, gaining access to all three shows.
For more information contact Specialised Exhibitions Montgomery, +27 11 835 1565, [email protected]
Credit(s)
Further reading:
Cyber resilience is more than cybersecurity
Technews Publishing Cyber Security Integrated Solutions IT infrastructure
Hi-Tech Security Solutions held a round-table discussion focusing on cyber resilience and found that while the resilience discipline includes cybersecurity, it also goes much further.
Read more...
---
A key to urban transport challenges
Axis Communications SA Transport (Industry) CCTV, Surveillance & Remote Monitoring Integrated Solutions Logistics (Industry)
There are many enabling technologies that can impact transportation in South Africa, but a good place to start is by considering the applications for smart physical technology with the ability to collect and respond to data.
Read more...
---
Hikvision aims for solutions
Technews Publishing Hikvision South Africa Editor's Choice CCTV, Surveillance & Remote Monitoring News Integrated Solutions Conferences & Events
Hikvision recently held a roadshow titled Industry X, where the company highlighted its latest products and solutions, supported by partners and distributors.
Read more...
---
Reliable, low-maintenance video appliances
Technews Publishing Editor's Choice CCTV, Surveillance & Remote Monitoring News IT infrastructure Products
Symetrix, part of the Agera Group, has added the AES range of video recording servers, storage appliances and workstations to its portfolio.
Read more...
---
Technology and the future of security installation in South Africa
Editor's Choice Integrated Solutions Security Services & Risk Management
What are the technologies and trends shaping installation, service and maintenance teams globally, and how will they shape South African businesses today and in the future?
Read more...
---
Upgraded security and AI monitoring at upmarket estate
Watcher Surveillance Solutions Editor's Choice CCTV, Surveillance & Remote Monitoring Integrated Solutions Residential Estate (Industry)
Estate upgrades and enhances its security through a partnership between surveillance specialist Watcher and the incumbent guarding company.
Read more...
---
Streamlining processes, integrating operations
Security Services & Risk Management Integrated Solutions Transport (Industry) Logistics (Industry)
With Trackforce Valiant, Airbus now has one single platform that connects its security guards, supervisors and management across its organisation.
Read more...
---
Cold chain integrity in real time
Technews Publishing Editor's Choice Asset Management, EAS, RFID IT infrastructure Transport (Industry) Logistics (Industry)
DeltaTrak offers real-time farm-to-fork IoT monitoring of the cold chain to ensure every step of the journey is recorded and verifiable via the cloud.
Read more...
---
Nomad launches early adopter programme
Editor's Choice News Integrated Solutions Smart Home Automation
Participants in Nomad's Early Adopter Programme will receive 10% of their volume order to facilitate testing before the commercial launch later this year.
Read more...
---
Improve data connectivity in fleet management
Flickswitch Transport (Industry) Integrated Solutions Products
While the market is still dominated by tracking systems, more advanced fleet management solutions are gaining traction on the market.
Read more...
---