printer friendly version
Voice to change biometrics in South Africa
October 2013
Access Control & Identity Management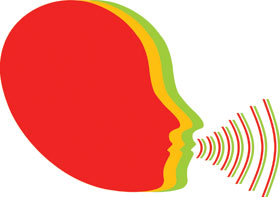 Between cyber criminals and other supposedly legitimate organisations that help themselves to our data, the issue of using biometrics to authenticate users before allowing them to execute transactions has quickly become more important than ever.
Readers of this handbook will note that the use of fingerprint biometrics (as well as hand and vein readers) is growing rapidly, while facial biometrics is also starting to find its home in the commercial world. The problem with biometrics at this point in time is that it requires a person to be present when the biometric is read (Although Facebook is using facial biometrics to supposedly identify people in photographs its members place on the site, one has to ask whether you would rely on this recognition to trust your bank account).
Our current batch of biometric solutions do nothing to help verify a person when they are not on site. When calling a bank or insurance fund's call centre, when calling your company's support line because you forgot your password, or when trying to transact online, your fingerprint is pretty useless – who has a bank-certified fingerprint reader at home?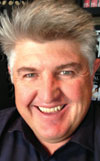 Paul Hutton, CEO of OneVault
Local voice biometrics expert OneVault is about to change all this. The company specialises in voice biometrics, but specifically remote authentication via phone or computer. Paul Hutton, CEO of OneVault demonstrated the capabilities of the technology to Hi-Tech Security Solutions.
After registering your voice print, which should be done in a manner that accurately authenticates who you are, the user simply calls a call centre and provides an identifier, an identity or member number for example. The number can be typed into the phone after which the user is asked to say the numbers one to nine to authenticate their identity. OneVault's system recognises the voice patterns and verifies the caller's identity or denies them access. Once verified, the user and organisation can transact safe in the knowledge that the user is who they claim to be.
Hutton demonstrated a live solution in place at one of the large IT service providers in the country. The company has implemented a system that allows users who have forgotten their password to be sent a new one – all without talking to a support person. The user verifies him/herself as described above, with SMS notifications sent to their cellphone alerting them to the fact that they have logged into the voice system. Once verified, a new password is sent via another SMS and the user can get on with their job without wasting time.
A similar system can be used for banking or for any other remote transaction. Additionally, it's also possible to allow users to verify their identities over their computer's microphone. Voice authentication can be extended to offer single sign-on capabilities in the enterprise, or anywhere traditional biometrics is used – with the exception of very noisy environments. Although Hutton says the company has done significant work to reduce background noise and any other noise that may occur over a phone connection.
As with other biometrics, the user's voice is not stored, but specific features of the voice are encrypted and stored securely. The technology developed by OneVault ensures that using a recording or mimicking someone's voice will not gain you access to their account. If the user has laryngitis or some severe illness that affects their voice, the system may reject them and refer them to another authentication mechanism.
If the system is unsure that the voice on the other end of the line is yours, it will ask you to repeat a series of random numbers (which an impostor would not be aware of) to further verify your identity via voice print.
OneVault is also pushing the envelope in the hosting arena by offering a hosted authentication service. In this service, OneVault will retain users' voice prints and offer the authentication service to businesses that need to verify customers' identities. The hosted consumer version of OneVault will be called SpeaKey. This hosted service will contain the personal information of customers, including the voice prints, identity number as well as FICA and RICA information – or anything the user needs to or is willing to trust to SpeaKey.
When a user wants to identify themselves at a bank, for example, SpeaKey will use OneVault's technology to verify the user and, with their permission, authorise and transfer FICA information to the bank.
Voice biometrics offers similar capabilities to that commonly offered by fingerprint solutions. The difference is that voice biometrics can authenticate users remotely and it can be done anywhere without any specialised equipment – apart from a phone or a microphone. And with the hosted service, sensitive personal information needs only be registered in one place, from which any number of companies can reliably authenticate their customers.
Bytes partners with OneVault
Bytes Systems Integration has partnered with authentication service provider OneVault and will integrate OneVault's hosted voice biometric solutions into its solution offerings.
As more transactions are conducted online, companies demand significantly enhanced, multi-level authentication solutions to mitigate risk and reduce fraud. Traditional methods can be time consuming, inconvenient and costly, but voice biometrics offers a secure, convenient and cost-effective solution for remote access and authentication.
"Bytes already has an established customer base for both authentication and identity management solutions and we believe that adding a voice biometric solution to our offering reinforces the breadth and depth of our offering to customers," says West McMullin, director, Bytes Converged Solutions. "Voice biometrics, as a technology, has evolved and grown significantly across the world over the past couple of years and we believe it has a strategic place in our clients' customer engagement channels. The partnership with OneVault makes sense and we are looking forward to creating new opportunities with this offering."
"OneVault is excited about the partnership with Bytes," says Paul Hutton, CEO, OneVault.
"We believe that voice biometrics is going to change the way companies think about, apply and implement authentication solutions. As Bytes SI is a leading systems integrator to many South African companies, OneVault's hosted voice biometric solution is a perfect fit and supports Bytes SI's objective of bringing innovative solutions to their clients."
For more information, contact Paul Hutton, OneVault, 083 600 4600, paul@onevault.co.za
Further reading:
The benefits of electronic visitor management
August 2019, Powell Tronics , Access Control & Identity Management, Residential Estate (Industry)
Access control is a critical aspect of estate security as it represents the controls put in place to restrict entry (and possibly exit) along the outer boundary of the location.
Read more...
---
Addressing risks by means of access control layout and design
August 2019 , Access Control & Identity Management, Security Services & Risk Management
In order to develop a suitable, practical and appropriate security system for any organisation, it is essential to first develop a master security and life safety plan strategy.
Read more...
---
Secure hands-free access
August 2019, Suprema , Access Control & Identity Management, Residential Estate (Industry)
Suprema's facial biometric terminals bring no-touch access into secure residential estates, high-rise apartments and luxury homes providing fast, easy and intuitive user authentication with the added benefit of hygiene.
Read more...
---
MorphoAccess Sigma Extreme
August 2019, IDEMIA , Products, Access Control & Identity Management
MorphoAccess Sigma Extreme from IDEMIA is a touchscreen device with multiple recognition device interfaces (NFC chip reader, PIN and BioPIN codes, contactless card readers).
Read more...
---
Outdoor access terminals
August 2019, Suprema , Access Control & Identity Management, Residential Estate (Industry), Products
Rugged, dust- and weather-proof access control solutions that provide exceptional durability in extreme conditions is a strong requirement for many residential estates.
Read more...
---
MorphoWave Compact
August 2019, IDEMIA , Products, Access Control & Identity Management
The MorphoWave Compact captures and matches four fingerprints on either the right or left hand in any direction. It is robust to environmental factors such as extreme light or dust.
Read more...
---
MorphoAccess Sigma Lite
August 2019, IDEMIA , Products, Access Control & Identity Management
IDEMIA's MorphoAccess Sigma Lite and Lite + are fingerprint access control terminals, offering time and attendance in and out function keys.
Read more...
---
Eliminating forced gate opening scenarios
August 2019, ET Nice , Home Security, Access Control & Identity Management
When activated by the gate forced open alarm feature, the transmitter transmits a wireless alarm signal up to 750 metres in any direction.
Read more...
---
IAM has business on high alert
August 2019 , Access Control & Identity Management
Identity and Access Management (IAM) is now a must in commerce and the need to protect digital assets is driving the development of solutions and widespread adoption
Read more...
---
Came acquires Turkish company Özak
August 2019, CAME BPT South Africa , News, Access Control & Identity Management
Came broadens its market horizons and signals growth and consolidation in the Middle East.
Read more...
---