printer friendly version
Simplified surge protection for PoE cameras
April 2019
Security Services & Risk Management
I often hear system integrators saying that surge protection (lightning protection) does not work. I sympathise with them, but I am afraid I have to entirely disagree. Over our 18-year history we have had many clients that had equipment damaged every lightning season, and after installing lightning protection, the customers have had very little to no damage from lightning. Many system integrators aren't in on the secret and don't understand the principles behind surge arresters, but today we are going to change that. I'm going to let you in on the secret!
I want to make you the ultimate surge protection professional by explaining how things work and then showing you an alternative that simplifies surge protection.
Firstly, in terms of surge arrestors, let's say that as with anything in life, 'Regrettably, you get what you pay for'. When you purchase based on price, one of three things happens:
1. The components are sub-standard, or
2. The surge arrestor may be missing circuitry that protects the equipment between the signal level and the 90 V level where the gas discharge tube kicks in, or
3. The most common reason is that the rating of the surge arrestor is too low for our severe highveld thunderstorms.
So, the surge arrester may not have worked because of its poor quality, or it was a lightweight that could not cope with its harsh African environment.
The second primary reason why surge arrestors don't work is because of an electrical earthing fault. Unbeknown to the system integrator, it's usually their installation team that introduces this earthing fault. Worse yet is that most system integrators are not even aware that they have introduced this earthing fault. However, in defence of the installation team, this is not their core competency.
Let's look at Figure 1 – it looks good and has all the components needed to have a functioning system. Moreover, this is how most installations are, but let us look at what happens during a lightning strike.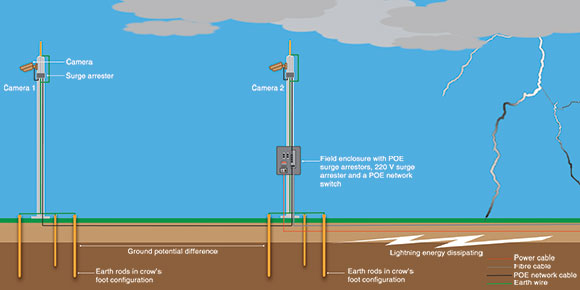 Figure 1: Earthing using conventional surge arrestors.
As lightning strikes nearby, the electrical energy is dissipated through the ground. The ground (soil) offers resistance to the electrical energy from the lightning strike. As the electrical energy gets to Camera 2 it will be significantly reduced, and as it reaches Camera 1 it would have decreased even further. Great news, right? Unfortunately not.
What you have now is a potential difference (a voltage) between Camera 1 and Camera 2. The difference in potential allows for a current to flow in your system which will damage your CCTV equipment. This damage will happen despite having the surge arrestors installed. This type of fault is known as a resistively coupled earthing fault.
Historically, the only way to keep your CCTV system safe is to connect the two crow's foot earthing points together with a cable that has a resistance of no more than 6 Ohms. This earthing cable creates an electrical short between the two earthing points and this will eliminate the potential difference between the two earthing points. This is the only way to correct a resistively coupled earthing fault. This earthing fault is an expensive problem to fix in both cable and labour.
Up until recently, there was no other way other than to connect the different earthing points with a relatively thick earth wire. However, our latest surge blocking technology has removed the need for electrical earthing points for PoE (Power over Ethernet) surge arrestors. The surge blockers work by disconnecting the field cable from the equipment as soon as a surge is detected. They respond within one microsecond of detecting the surge energy.
Surge blockers are there to protect your client's equipment and simplify your installation. If you are mounting your camera directly onto a metal pole, then isolate the camera from the pole.
Figure 2 shows what is needed to use surge blockers. See how all the earthing rods are no longer required? How simple is that?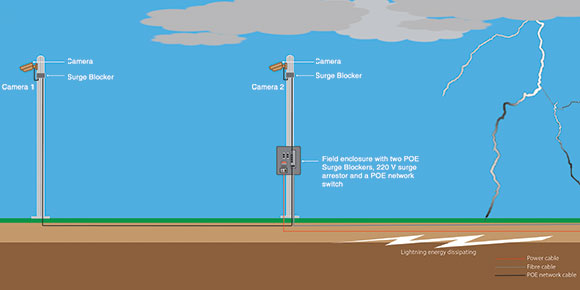 Figure 2: Earthing using BFR's surge blockers.
For more information contact Bruno Felicidade Jones, BFR Digital, +27 11 786 5575, info@bfrdigital.co.za, www.bfrdigital.co.za
Credit(s)
Further reading:
30 years of business continuity
May 2019, ContinuitySA, Technews Publishing , Editor's Choice, Security Services & Risk Management
ContinuitySA is celebrating its 30th anniversary this year and Hi-Tech Security Solutions spoke to CEO Michael Davies about the changes he has seen in the business continuity and disaster recovery markets.
Read more...
---
The benefits of background screening
May 2019, iFacts, Managed Integrity Evaluation , Editor's Choice, Security Services & Risk Management
Companies need to be more vigilant about the people they employ by making sure comprehensive background screening checks are conducted.
Read more...
---
Simplifying fire detection system installations
May 2019, Elvey Security Technologies , Editor's Choice, Fire & Safety, Security Services & Risk Management
A fire detection system needs to be selected with extreme care, as is selecting an installer that not only understands the various technologies employed in fire detection, but that also has the necessary accreditations and certifications.
Read more...
---
Security workforce management platform
May 2019, Secutel Technologies , CCTV, Surveillance & Remote Monitoring, Integrated Solutions, Security Services & Risk Management
Secutel Technologies says the South African market is excited about body-cam technology and clearly sees the potential benefits.
Read more...
---
Solar energy storage systems
May 2019, Specialised Battery Systems , Products, Security Services & Risk Management
Specialised Battery Systems has a range of Energy Storage Systems (ESS) available, both standard and custom designed to suit customer requirements.
Read more...
---
Lightning protection insurance for thatched roofs
May 2019, DEHN Africa , Security Services & Risk Management
DEHNinsure offers surge and lightning protection insurance for thatched roofed buildings using its high-voltage-resistant insulated (HVI) technology.
Read more...
---
MIE background screening findings
May 2019, Managed Integrity Evaluation , Security Services & Risk Management
Candidate and supplier screening prioritised amidst murky market risks in MIE Background Screening Index Report for 2018.
Read more...
---
Control room software selection
May 2019, Intelligent Monitoring , CCTV, Surveillance & Remote Monitoring, Security Services & Risk Management
Wolfgang Kirsch discusses what customers should look for when selecting a control room management platform.
Read more...
---
Insiders: who are they?
May 2019 , Security Services & Risk Management, Cyber Security
The 2018 Insider Threat Report by Cybersecurity Insiders reports that more than 51% of companies are concerned about unintentional insider attacks.
Read more...
---
Are background checks worth the cost?
May 2019, LexisNexis , Security Services & Risk Management
Often, the added cost and effort serve as an understandable deterrent to business owners who should consider skipping the background check process altogether.
Read more...
---