printer friendly version
Cathexis wraps up successful national roadshow
April 2019 Editor's Choice, CCTV, Surveillance & Remote Monitoring, News, Conferences & Events, Training & Education
Cathexis Technologies successfully concluded its national CathexisVision Roadshow. With events held in Durban, Port Elizabeth, Johannesburg and Cape Town, the objective was to take the Cathexis story to all current and prospective partners, customers, key decision-makers, installers, integrators, consultants and end-users across the country. This would provide delegates with the opportunity to test-drive the latest technology, while gaining insight into the future of security trends.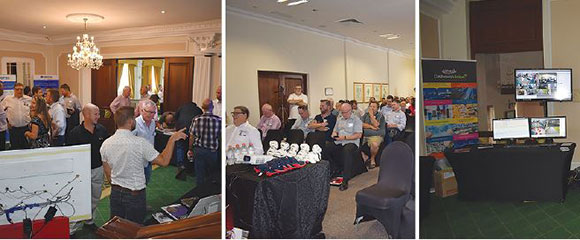 Local product with global recognition
"Since our establishment over two decades ago, Cathexis has established itself as world-leader in the video management software sector," said Gus Brecher, managing director of Cathexis Africa and business development director of Cathexis Technologies. "Our CathexisVision software solution is a 100% South African product offering, which has been sold and deployed in over 45 countries around the globe."
CathexisVision offers users the ability to make key-decisions based on intelligent information processing, and to automate actions in the control room or command centre environment. This provides enhanced effectiveness and efficiency, and a superior return on surveillance investment. CathexisVision VMS has transformed the market by demonstrating that it is far more than just another surveillance or security system, but a comprehensive offering with the capability to help organisations manage their entire operations.
Cathexis boasts several high-profile installations around the world across a wide range of vertical market sectors, including: airports, city surveillance, education facilities, financial institutions, government facilities, healthcare facilities, hospitality, logistics manufacturing, mining, oil and gas, property and retail.
Many of these installations include multiple sites over vast geographical locations, thousands of cameras and hundreds of channels. The Cathexis Technologies client base includes the likes of Sainsbury's, AngloGold Ashanti, Woolworths, Aspen Pharmaceuticals, Curro Schools, University of Istanbul, London Stock Exchange, Mall of Abu Dhabi, Ski Dubai, The Ritz (Middle East) and the City of Albany (New York).
In 2018 CathexisVision was declared a winner for the globally recognised Benchmark Innovation Awards in the Video Surveillance Software category. The Benchmark Innovation Awards are considered one of the most prestigious accolades in the global security sector. Innovation Award Nominees and Winners are subjected to a rigorous series of hardware and software testing, under a range of conditions. Benchmark ensures that all products are thoroughly tested to see if their performance lives up to the manufacturer's specifications and claims.
Launch of CathexisVision 2019
"Cathexis Technologies is also pleased to announce the launch of CathexisVision 2019, which boasts an extended range of new features," said Dene Alkema, national sales manager at Cathexis Technologies.
Apart from significant improvements to its current range of features, Cathexis has placed great emphasis on the importance of privacy and cybersecurity. The new release includes the ability to audit the integrity of the system, and additional layers of encryption for added cybersecurity protection. The system will have the capacity for full forensic investigation as well as improvements to the open platform and integration capabilities already in place.
Power of integration and technology partnerships
CathexisVision has always distinguished itself through its integration with third-party systems. It seamlessly integrates with various third-party systems from world-leading brands, including access control, alarm panels, fire panels, analytics and building management systems. Integrations are added annually, enhancing CathexisVision's user interface with video verification of events from multiple systems.
Joining CathexisVision on its roadshow were technology partners Seagate, Impro Technologies, JVA Electric Fence Systems and Optex. These technology partnerships and integrations are all about adding value to the end user.
CathexisVision VMS has transformed the market by demonstrating that its far more than just another surveillance or security system, but a comprehensive offering with the capability to help organisations manage their entire operations. The power of a video management system lies in its ability to provide users with an innovation that has practical and useable outcomes.
For more information contact Cathexis Africa, +27 31 240 0800, info@cathexisvideo.com, www.cathexisvideo.com
Credit(s)
Further reading:
The same security assessment for different reasons
Issue 7 2020, Alwinco , Editor's Choice
Like everything else in life, a security risk assessment also has two sides: one is the proactive approach, and the other is the approach taken 'after the fact'.
Read more...
---
Risk intelligence the key to a sustainable future
Issue 7 2020 , Editor's Choice
Only by building risk intelligent organisations will leaders be able to overcome six distinct global threats identified by the Institute of Risk Management South Africa (IRMSA).
Read more...
---
Profile D for access control peripherals
Issue 7 2020 , Editor's Choice
Profile D provides interoperability for devices such as locks, credential/biometric readers, PIN pads, LPR cameras, door phones, sensors and displays.
Read more...
---
Security investments and culture
Issue 7 2020 , Editor's Choice
Organisations must embed security into the culture of the company and approach security investments with this culture in mind.
Read more...
---
Elastic storage pricing
Issue 7 2020 , Editor's Choice
With elastic pricing, users can switch from one storage model to another without having to pay a premium or a penalty, and without having to physically move any data.
Read more...
---
Use technology as a differentiator
Issue 7 2020 , Editor's Choice
Juni Yan, director of Transport, Logistics and Automotive at BT, shares her insights on how logistics companies can leverage digital transformation to become a real market differentiator – no matter the state of the pandemic.
Read more...
---
Management of PPE allocation made simple
Issue 7 2020, Powell Tronics, Technews Publishing , Editor's Choice
Of all the roadblocks and challenges COVID-19 has introduced us to over the past few months, one of the tasks organisations have to manage is the issuing of PPE to staff.
Read more...
---
Robots in warehousing and freight, a security perspective
Issue 7 2020, FSK Electronics , Editor's Choice
The logistics industry needs support from technology to meet its ongoing demands and ongoing security concerns.
Read more...
---
The new training normal
Issue 7 2020, Leaderware , Editor's Choice
Insights from running my first CCTV Surveillance Skills and Body Language and Advanced courses at physical training venues since COVID-19 started.
Read more...
---
An exciting journey in security
Issue 7 2020, Technews Publishing, BTC Training Africa , Editor's Choice
Errol Peace describes his 40-plus year career in the security industry where he was and is a great proponent of training as an "exceptionally exciting journey".
Read more...
---