printer friendly version
Securex West Africa 2019 announces the first confirmed speakers
March 2019 Conferences & Events, Training & Education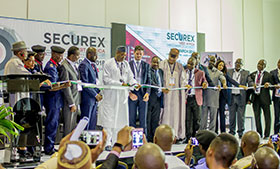 Taking place 16-17 April 2019, next month will be the ninth edition of Securex West Africa. Having established itself as the region's leading exhibition and conference for the commercial, perimeter, cyber and homeland security, fire and safety industry, this year's show is expected to attract more than 2500 visitors, 85 exhibiting brands along with key industry stakeholders from governmental organisations and prominent industry associations.
Among the show floor features due to take place at this year's exhibition is the conference. Running daily sessions lead by senior industry experts, organisers have confirmed that Bulwark Intelligence is now signed up as a strategic partner to the event.
A privately-owned company, Bulwark Intelligence Solutions is focused on delivering extensive, accurate and dependable security, defence and intelligence solutions to around the globe. It was founded and is run by US Military veterans with combined experience of over fifty-two years in the defence, security and intelligence industry. The company has clientele across defence and security, oil & gas, academia, foreign investors, banking & finance, non-profits, political and global leaders.
Organisers have revealed a sneak preview of prominent topics as well as key speakers for this year's Securex West Africa Conference. This year's conference theme will be National Security in a Boundaryless World: 21st Century Solutions to Nigeria's Insecurity.
As Nigeria's population continues to grow with an estimated population of 450 million by 2050, it is important that all stakeholders, including security, military, political, civil society and more, come together to discuss solutions that will curb current and future threats while ensuring stability in the country.
The exhibitions regional director, George Pearson said; "Every year we consult with leading members of the industry to put together a cohesive programme of conference sessions that will not only inform Securex visitors, but also educate. In the current industry climate, with this transition into a new digital era, companies across the board are facing brand new threats and it is our goal to provide valuable insights into how to protect themselves."
Just some of the key sessions announced include 'Implementing 21st Century Security Strategies and Solutions; the place of technology and social media', 'Security Sector Reforms and Policies in Nigeria, addressing a boundaryless operating environment' and 'Community Cohesion: security as an enabler of/for development; towards solutions for stability'.
Among the key industry experts set to take the stage this year will be the Honorable Aliyu Gebi, senior special advisor to the Minister of Interior, Mr Wale Olaoye, CEO Halogen Security, Dr Solomon Arase, former inspector general of Police and Capt. Aliyu Umar (Rtd), CEO Goldwater and Riversands Consults, to name just a few.
The full conference programme for Securex West Africa 2019 will be released very shortly and to ensure you receive it directly to your inbox, simply pre-register to attend for free.
Pre-registration is now open for those looking to attend Securex West Africa. By pre-registering online in advance, you will have free access to both full days and you'll also receive show updates direct to your inbox, exclusive competition announcements and much more.
Once more, Securex West Africa will open from 16-17 April 2019 at the Landmark Centre in Lagos, Nigeria. For more information, visit www.securexwestafrica.com
Further reading:
Securex Preview 2019
Securex Preview 2019, Technews Publishing , Conferences & Events
Securex is upon us once again and Hi-Tech Security Solutions is here with another brief preview of what the show has to offer.
Read more...
---
iLegal 2019: Augmented surveillance - realising the full potential of CCTV
May 2019, Technews Publishing , Editor's Choice, News, Conferences & Events, Training & Education
iLegal 2019 will look at what is becoming known as Augmented Surveillance – using technologies and people interactively to maximise results from operators and control rooms in order to make intelligent security and business decisions.
Read more...
---
Huawei's Platform + Ecosystem strategy for 2019
May 2019, Huawei Technologies South Africa , News, Integrated Solutions, IT infrastructure, Conferences & Events
The annual Huawei Eco Connect event took place at the Sandton Convention Centre in Johannesburg and saw more than a 1000 attendees and housed exhibition stands from an array of partners.
Read more...
---
The world's first surveillance camera day
May 2019 , News, CCTV, Surveillance & Remote Monitoring, Conferences & Events
As part of the National Surveillance Camera Strategy for England and Wales, the Surveillance Camera Commissioner is holding the world's first Surveillance Camera Day on 20 June.
Read more...
---
IFSEC and FIREX expand leadership team
May 2019 , Conferences & Events, News
As a result of considerable growth within Informa's Security and Fire portfolios, the IFSEC and FIREX senior leadership team has undergone expansion.
Read more...
---
Cathexis wraps up successful national roadshow
April 2019, Cathexis Technologies , Editor's Choice, CCTV, Surveillance & Remote Monitoring, News, Conferences & Events, Training & Education
Cathexis Technologies successfully concluded its national CathexisVision Roadshow. With events held in Durban, Port Elizabeth, Johannesburg and Cape Town.
Read more...
---
Taking the Kenyan security industry by storm
April 2019 , News, Conferences & Events, Training & Education
Taking place from 24–26 September 2019 in Nairobi, Kenya, Securexpo East Africa can enhance your company's presence in the most promising economic area of Africa.
Read more...
---
TAPA 2019 conference: A layered approach to cargo security
April 2019, TAPA (Transported Asset Protection Association), Technews Publishing , News, Conferences & Events, Logistics (Industry)
   26 July 2019 Emperors Palace, Gauteng TAPA members: no charge (maximum of three delegates per member company) Non-TAPA members: R1780 excl VAT. The South African chapter of the Transported Asset ...
Read more...
---
Security technology training at your own pace
April 2019 , Editor's Choice, Videos, Training & Education
Security technology has advanced significantly over the past few years and installers and integrators today need to have in-depth skills to fully understand the technology and extract maximum value from ...
Read more...
---
New cybersecurity pavilion for Securex 2019
March 2019, Securex South Africa , Editor's Choice, Cyber Security, News, Conferences & Events, Training & Education
Securex South Africa 2019 has announced that 4Sight Technologies, a subsidiary of an international holdings company focusing on investing in Industry 4.0 companies, has signed on as the official sponsor ...
Read more...
---