printer friendly version
Managing your farm manager
1 March 2019 Asset Management, EAS, RFID, Agriculture (Industry)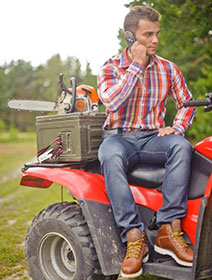 With thousands of hectares of land, and essential aspects to check, maintain and repair on an ongoing basis, the question of whether your farm manager is doing his job is worth examining. The impact of not carrying out duties properly, or at all, can have a devastating effect on cash-flow, crops and livestock, and may hamper the overall success of the farm.
Active Track provides the answer in the form of its personnel monitoring device, the Active Track. The Active Track is a hand-held GPS and GSM-enabled unit, with a built-in RFID reader. Active Track rents the device with RFID tags which can be placed at important check-in points, such as borehole pumps, generators, livestock camps, windmills and reservoirs.
The manager simply needs to scan the RFID tag placed at the relevant point to record his attendance at that particular place. The GSM and GPS functionality allows for the scanning event to be recorded by Active View, Active Track's cloud-based software, in real-time. The farm owner can access the objective scanning events, remotely, at any time, via Active View. The scanning events are available in various reporting formats which can be downloaded at leisure, as are the movements of the manager over any period of time.
If the owner needs to speak to the manager, the device offers a call-in function which allows the owner to contact the manager on the Active Track, and in turn enables the manager to send a call-me to a dedicated number, selected by the owner. This is beneficial if the manager needs to report an urgent incident or request immediate assistance with a farm matter.
Active Track has taken the needs and conditions of the agricultural industry into account and can advise that the device can operate with as little as five per cent network connectivity, offers a battery life of up to 72 hours, and is tamperproof and shockproof.
Credit(s)
Further reading:
Scanning for gold
Issue 8 2020, Saflec , Asset Management, EAS, RFID, Products
The metal detection market is such that customers looking for a specific point solution are becoming a rarity and the primary desire is for a solution.
Read more...
---
Ensuring the secure flow of information
Issue 9 2020 , Asset Management, EAS, RFID
The recent leak of two matric exam papers and arrest of a suspect has raised renewed concerns over security and data leaks within a corporate and public organisation environment.
Read more...
---
Information keeps the trucks rolling
Issue 9 2020 , Asset Management, EAS, RFID
Elite Truck Hire harnesses the power of information to optimise its business and prevent fraud with FleetDomain.
Read more...
---
Circular economy offers cost savings
Issue 7 2020 , Asset Management, EAS, RFID
Circular economy initiatives help businesses keep technology assets in use for longer, extracting the maximum value from those electronics while in use.
Read more...
---
IoT is transforming the mobility space
Issue 7 2020 , Asset Management, EAS, RFID
Technology is no longer a grudge purchase, but an indispensable part of modern business, especially in the mobility and transport sector.
Read more...
---
Adapting the supply chain to the new normal
Issue 8 2020 , Asset Management, EAS, RFID
The supply chain, particularly in the Fast-Moving Consumer Goods (FMCG) industry and especially in South Africa's main or informal market, needs to make use of mobile technologies.
Read more...
---
Reduce fleet challenges with video telematics
Issue 7 2020 , Asset Management, EAS, RFID
Using a video telematics system can take your fleet into a new domain of safety, efficiency, productivity and cost cutting.
Read more...
---
Argility showcases SkyData IoT Platform
Issue 6 2020 , Asset Management, EAS, RFID
SkyData, a device agnostic IoT cloud platform, is transforming asset and resource monitoring and management.
Read more...
---
More efficient guarding through the effective use of technology
Residential Estate Security Handbook 2020, Technews Publishing, OnGuard, Stallion Security, Active Track , Security Services & Risk Management
Technology in its many forms can be used to optimise the efficiency and performance of on-site guarding.
Read more...
---
IoT security seal
Issue 4 2020 , Asset Management, EAS, RFID
With the current lockdown and ports operating at reduced capacity, the need for automation has been taken to a new level.
Read more...
---