printer friendly version
Managing your farm manager
March 2019 Asset Management, EAS, RFID, Agriculture (Industry)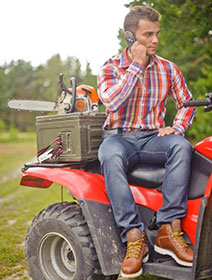 With thousands of hectares of land, and essential aspects to check, maintain and repair on an ongoing basis, the question of whether your farm manager is doing his job is worth examining. The impact of not carrying out duties properly, or at all, can have a devastating effect on cash-flow, crops and livestock, and may hamper the overall success of the farm.
Active Track provides the answer in the form of its personnel monitoring device, the Active Track. The Active Track is a hand-held GPS and GSM-enabled unit, with a built-in RFID reader. Active Track rents the device with RFID tags which can be placed at important check-in points, such as borehole pumps, generators, livestock camps, windmills and reservoirs.
The manager simply needs to scan the RFID tag placed at the relevant point to record his attendance at that particular place. The GSM and GPS functionality allows for the scanning event to be recorded by Active View, Active Track's cloud-based software, in real-time. The farm owner can access the objective scanning events, remotely, at any time, via Active View. The scanning events are available in various reporting formats which can be downloaded at leisure, as are the movements of the manager over any period of time.
If the owner needs to speak to the manager, the device offers a call-in function which allows the owner to contact the manager on the Active Track, and in turn enables the manager to send a call-me to a dedicated number, selected by the owner. This is beneficial if the manager needs to report an urgent incident or request immediate assistance with a farm matter.
Active Track has taken the needs and conditions of the agricultural industry into account and can advise that the device can operate with as little as five per cent network connectivity, offers a battery life of up to 72 hours, and is tamperproof and shockproof.
Credit(s)
Further reading:
SAP and Uber Freight join forces
September 2019 , Transport (Industry), Asset Management, EAS, RFID
SAP and Uber Freight announced a partnership to modernise the freight industry through intelligent process automation and better access to a network of connected and reliable drivers.
Read more...
---
Securing people, vehicles and cargo
September 2019 , Transport (Industry), Asset Management, EAS, RFID
The transport industry is under siege, not only with fuel price and legislation increases, but also with widespread unrest, looting and violence against drivers.
Read more...
---
Clear visibility into supply chain complexity
September 2019 , Transport (Industry), Asset Management, EAS, RFID
The Internet of Things is refining the capabilities of the supply chain to reduce theft, increase visibility and transform legacy complexity.
Read more...
---
Autonomous attendance
September 2019 , Products, Asset Management, EAS, RFID
The SACO RF attendance solution was developed with the focus on driving down costs without compromising functionality and ease of use.
Read more...
---
Improving safety at healthcare facilities
August 2019, Active Track , Editor's Choice, CCTV, Surveillance & Remote Monitoring, Healthcare (Industry)
Active Eye transforms 2 MP IP cameras into virtual employees or controllers who are permanently on duty managing your healthcare facility.
Read more...
---
TAPA EMEA appoints Thorsten Neumann as president and CEO
July 2019, TAPA (Transported Asset Protection Association) , News, Asset Management, EAS, RFID
The Transported Asset Protection Association (TAPA) has appointed Thorsten Neumann as its first full-time president & CEO.
Read more...
---
Changing of the guard, AI style
June 2019, Active Track, Technews Publishing , Integrated Solutions, Security Services & Risk Management
Active Track is launching a raft of new AI-based products and services with which it intends to turn the security world as we know it on its head.
Read more...
---
Partnership to reduce farm violence and agricultural crime
June 2019, Fidelity ADT Security , News, Security Services & Risk Management, Agriculture (Industry)
Agri SA has partnered with Fidelity ADT, a subsidiary of the Fidelity Services Group, to offer a range of services and products to its members and the rural community.
Read more...
---
Active cargo tracking units growth
June 2019 , Asset Management, EAS, RFID, Logistics (Industry)
The number of active tracking devices deployed for cargo loading units including trailers, intermodal containers, rail freight wagons, air cargo containers, cargo boxes and pallets reached 6.1 million world-wide in 2018.
Read more...
---
Active Track
Securex Preview 2019, Active Track , Products
Active Track is showcasing current and new guard monitoring and visitor management systems, as well as a virtual Active Track and an intelligent messaging system. Come and experience the new applications ...
Read more...
---