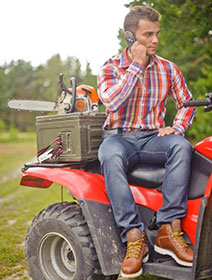 Managing your farm manager
March 2019, Asset Management, EAS, RFID
With thousands of hectares of land, and essential aspects to check, maintain and repair on an ongoing basis, the question of whether your farm manager is doing his job is worth examining. The impact of not carrying out duties properly, or at all, can have a devastating effect on cash-flow, crops and livestock, and may hamper the overall success of the farm.
Active Track provides the answer in the form of its personnel monitoring device, the Active Track. The Active Track is a hand-held GPS and GSM-enabled unit, with a built-in RFID reader. Active Track rents the device with RFID tags which can be placed at important check-in points, such as borehole pumps, generators, livestock camps, windmills and reservoirs.
The manager simply needs to scan the RFID tag placed at the relevant point to record his attendance at that particular place. The GSM and GPS functionality allows for the scanning event to be recorded by Active View, Active Track's cloud-based software, in real-time. The farm owner can access the objective scanning events, remotely, at any time, via Active View. The scanning events are available in various reporting formats which can be downloaded at leisure, as are the movements of the manager over any period of time.
If the owner needs to speak to the manager, the device offers a call-in function which allows the owner to contact the manager on the Active Track, and in turn enables the manager to send a call-me to a dedicated number, selected by the owner. This is beneficial if the manager needs to report an urgent incident or request immediate assistance with a farm matter.
Active Track has taken the needs and conditions of the agricultural industry into account and can advise that the device can operate with as little as five per cent network connectivity, offers a battery life of up to 72 hours, and is tamperproof and shockproof.