printer friendly version
Video observation in the hotel industry
March 2019 Entertainment and Hospitality (Industry), CCTV, Surveillance & Remote Monitoring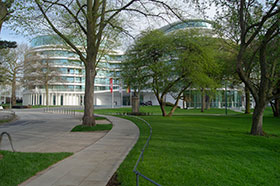 The completion of The Fontenay has enriched Hamburg with a timelessly modern, luxury class hotel. Standing directly on the shores of the Outer Alster lake, this 'modern classic' succeeds in creating a remarkable blend of urban nature and cosmopolitan lifestyle. The hotel sets new standards not only in respect of its architecture and interior, but also in terms of guest protection and building security. For the latter aspect, the hotel relies on an innovative solution from Dallmeier.
The foundation stone was laid for the hotel The Fontenay in the spectacular Hamburg Alsterpark in August 2014. The ceremony took place on the property of its former owner, the man after whom the hotel is named: ship broker John Fontenay. After a construction period of about three-and-a-half years, the new five-star superior luxury hotel with 130 rooms and suites finally opened in March 2018.
The striking architecture of the hotel was designed by the star Hamburg architect Jan Störmer. The basic layout of the hotel consists of three merged circles, so that no wall in the spectacular building runs parallel to another. It therefore goes without saying that a hotel of such distinctive form must also have a custom-designed security solution. Naturally, the planning partner also has a critical part to play in implementing precisely this requirement.
The choice was ultimately made for Dallmeier, and Dallmeier subsidiary Dekom Video Security & Network was tasked with management of the project – since its main offices are in Hamburg it is ideally positioned to ensure the requisite technical expertise and quality.
Security follows form
The first planning meetings were held as early as 2015, at which the customer laid out its strict specifications: Accordingly, the highest degree of security must be afforded without giving the guests occasion to feel importuned or under observation, and without detracting from the architecture. For example, visitors should be able to enjoy unrestricted views of the imposing, 27-metre high circular atrium and its seven metre long light sculpture. Another important consideration was that the video security system should be sustainable into the future. The Fontenay also insisted most particularly that the solution should conform to data protection requirements.
Wolfgang Haack, managing director of Dekom, explains: "The entirely justified wish on the part of the customer to ensure security for all areas with video security technology often conflicts with the demands of data protection. Our objective was to reconcile these concerns."
Ultra-HD cameras
Based on the specifications, it quickly became clear that security must be assured for the expanses of the hotel using the smallest possible number of cameras. This meant that only ultra-HD cameras could be considered so that the entire video security system could be kept discreet and unobtrusive. For system planning purposes, this approach in turn entailed the use of appropriate network components and in particular of powerful servers for recording. The Dallmeier systems are capable of storing these enormous quantities of data and backing them up redundantly – also for prolonged periods of time.
Dekom project manager Kai Gebhardt recounts: "Given the large quantities of sensitive data, it became clear very early that in this project data protection and data security must be considered very carefully. The combined data protection and data security module from Dallmeier guarantees secure operation and helps the customer to comply with all requirements of the GDPR."
In order to provide rapid orientation for the hotel staff in the new video security system as well, a team from Dekom was deployed to the site and instructed the hotel security personnel thoroughly in the system and the management software. These individuals were also very impressed by the ease of use of the overall system.
For more information contact Dallmeier Southern Africa, +27 11 510 0505, [email protected], www.dallmeier.com
Further reading:
Sustainability, trust and predictability
Technews Publishing Bosch Building Technologies Conferences & Events CCTV, Surveillance & Remote Monitoring News Integrated Solutions
The future for Bosch Building Solutions is focused on predictive solutions based on sustainability and trust in an AIoT world of cloud services.
Read more...
---
Duxbury awarded Axis SA Distributor of the Year
Duxbury Networking News CCTV, Surveillance & Remote Monitoring
Axis Communications held its Annual Partner Awards on 1 July 2022 to celebrate and acknowledge the efforts of Axis' partners by awarding them for key projects and achievements throughout the year.
Read more...
---
The house wins with Ajax
Elvey Security Technologies Perimeter Security, Alarms & Intruder Detection Entertainment and Hospitality (Industry)
One of the largest hotel-and-casino complexes in South Africa's North West province needed to increase security on its perimeter, but due to the sheer extent of the site, it was deemed extremely difficult ...
Read more...
---
Passion, drive and hard work
Technews Publishing Editor's Choice CCTV, Surveillance & Remote Monitoring Security Services & Risk Management
Colleen Glaeser is a leader in the security market, having made her mark in the male-dominated security industry through determination and hard work, along with a vision of making the world a safer place.
Read more...
---
Cybersecure surveillance cameras
HiTek Security Distributors News CCTV, Surveillance & Remote Monitoring Cyber Security
Provision-ISR builds customer trust and opens up new opportunities with Check Point Quantum IoT Protect Firmware built into Provision-ISR cameras.
Read more...
---
Cathexis releases Carbon, a new user-friendly GUI
Cathexis Technologies News CCTV, Surveillance & Remote Monitoring
Cathexis has launched its latest user interface, Carbon 3.1, with an enhanced feature set, offering improved performance.
Read more...
---
Maintaining security and CCTV functions in difficult economic times
Leaderware Editor's Choice CCTV, Surveillance & Remote Monitoring
To avoid being seen as "just another overhead", Dr Craig Donald says security needs to demonstrate its relevance and importance to organisational survival.
Read more...
---
Next-level manufacturing with smart cameras
Industrial (Industry) CCTV, Surveillance & Remote Monitoring Logistics (Industry)
New technology offered by smart cameras provides an entirely new way of monitoring and controlling safety measures and optimising process flow within the manufacturing and logistics operations.
Read more...
---
Video technology can improve crowd management
CCTV, Surveillance & Remote Monitoring Entertainment and Hospitality (Industry) Products
Stadium operators can use video technology to implement effective crowd management in different areas, avoiding fines, reputational damage and injury or loss of life.
Read more...
---
Security BIS named AxxonSoft's Distributor of the Year 2021
News CCTV, Surveillance & Remote Monitoring
With its focus on AxxonSoft solutions and technical support, Security BIS secured the title of AxxonSoft Distributor of the Year again for 2021.
Read more...
---