printer friendly version
Global biometrics trends adoption
1 March 2019 Access Control & Identity Management, Government and Parastatal (Industry)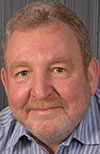 Pine Pienaar
Globally, digital transformation and consumer acceptance of biometrics as a measure to increase security protocols are both having a significant impact on driving the rapid adoption of biometrics. However, it must be recognised that the opportunities are far greater than just for security.
In fact, as widespread adoption of digital technologies such as cloud computing, machine learning (ML) and Internet of Things (IoT) continues to grow in mainstream markets, we are seeing faster innovation in the biometrics space too. And, while uses and uptake for mobile and multimodal identity management solutions will still grow significantly in the coming years, parallel to this, we are also seeing exciting developments in solutions that meet new uses/applications – offering consumers increased convenience and enhanced experiences across more mainstream markets.
As we closely follow developments across global markets, I've identified three uses/applications where I believe biometric-based solutions will increasingly be deployed:
#1: Biometrics to introduce paperless airport transfers
There have been a number of developments and pilot programmes rolled out in airports across the world; aimed at capturing, storing and making use of an individual's biometrics as a form of authenticating a traveller's identity. The move to biometrics can be underpinned by two key drivers; increased security at/through airports and improving the customer/traveller experience.
From a security point-of-view, it is well recognised that there is a global phenomenon with fake documents, including passports, and linked to identity theft. However, the introduction of multimodal biometric solutions - which generally involve an Automated Biometric Identification System (ABIS) as the basis and offers far more accurate identity verifications. And when these systems are securely integrated with appropriate databases, they are also able to deliver reliable results instantly.
Biometrics-based security protocols also create opportunities to streamline and speed up check-ins, customs and border control, and transfers at airports. This can reduce customer/traveller stress points and frustrations – of having to stand in queues and produce multiple documents every time they travel - and thereby significantly improve their overall experience.
While it is uncertain if biometrics will ever replace the need to apply for and/or renew one's passport – advances in biometrics make a strong business case for frictionless authentication and paperless airport transfers. However, the aviation and travel industries aren't alone in cottoning onto 'frictionless authentication'.
#2: Frictionless authentication for payments
Driven by a heightened sense of competition, from traditional and non-traditional players, the banking industry in many markets around the world is arguably among the earlier adopters of new technology, as there is a strong direct correlation between offering innovation solutions and enhanced customer experience and retention.
Added to this, given the propensity of risk in financial services, this industry has a greater need to be able to offer customers strong security protocols – and are compelled by regulation to ensure their customers' data and their money is protected.
It's not surprising then that banks are starting to incorporate biometrics-based solutions into their business (from fingerprint capturing for identification authentication and as a security metric to protect a customer's accounts) to fingerprint and facial recognition as a frictionless extra layer of security to authenticate and approve payments, etc. To demonstrate this massive market potential, research suggests that there will be over 2.6 billion biometric payment users by 2023.
#3: Identity management takes on behavioural biometrics with digital signature verification
Behavioural biometrics go hand-in-hand with digital and frictionless identity management. The only difference is that it's the process or application of authenticating an individual based on their unique behavioural traits, rather than their physical characteristics.
The earliest noted behavioural trait is the signature and even digital signatures have a history of development that dates back to the late 1970s. It should be noted that a digital signature still makes use of physical biometrics, and most commonly fingerprints, whereby unique bar codes are created from the fingerprint pattern or image.
Due to widespread digital adoption and as more businesses and consumers alike, look to automate and streamline as many processes and/or tasks, it's not surprising that digital signatures as a form of biometrics is currently receiving a lot more attention.
Adoption is largely dependent on a case-by-case growing need for effective authentication, security and control linked to specific actions. For example, using a digital signature as an extra line of security to authenticate a user's identity during a digital transaction. However, the acceptance and adoption rate of digital signatures will strongly be influenced by cyber laws and industry specific regulation of individual markets.
These are only a few of the uses/applications for biometrics that are starting to emerge and receive a lot of attention, though there are many more currently being explored and across varying markets and industries, from travel to healthcare, for example. What is interesting to note though is that all of these uses and applications are still dependent on the one basic principle of biometrics – to accurately identity an individual – and then to address a need or action.
For more information contact Afiswitch, +27 12 679 2900, enquiries@afiswitch.com, www.afiswitch.com.
Further reading:
Turnstar ramps up countermeasures
Turnstar Systems Editor's Choice Access Control & Identity Management News Products
Turnstar has developed and patented an early warning and deterrent system which will alert security, and anyone nearby, of any attempt to place ramps over the raised spikes.
Read more...
---
Suprema integrates biometric access control with Genetec
Suprema News CCTV, Surveillance & Remote Monitoring Access Control & Identity Management
Suprema has announced the successful integration of its biometric access control products with Genetec Security Center, a unified security platform that connects security systems, sensors and data in a single intuitive interface.
Read more...
---
IDEMIA South Africa achieves level 1 B-BBEE status
IDEMIA News Access Control & Identity Management
As part of the action plan to improve its status to Level 1, IDEMIA now works with over 40 black-owned local suppliers, representing over 30% of IDEMIA's local suppliers.
Read more...
---
Suprema no. 1 in the global biometric market excluding China
Suprema News Access Control & Identity Management
According to the latest report by Omdia, a global market research firm, Suprema ranks first in global market share, excluding China, in the field of biometric readers.
Read more...
---
Dahua and Yeastar PBX-intercom integration
Dahua Technology South Africa News Access Control & Identity Management
Dahua Technology and Yeastar announced their new ECO partnership on PBX-intercom integration to provide a comprehensive and unified communication solution for small- and medium-sized enterprises.
Read more...
---
Traka launches experience centres
News Access Control & Identity Management
Traka launches inaugural Experience Centres in Australia and South Africa; aims to drive continuous collaboration and innovation.
Read more...
---
New platform for keyless access
Access Control & Identity Management
The new ABLOY CUMULUS platform for keyless access combines locking hardware with secure access and management applications in a single ecosystem with a risk-free, integrated cloud service.
Read more...
---
Premium forensic analytics
Milestone Systems News CCTV, Surveillance & Remote Monitoring Government and Parastatal (Industry)
With the introduction of XProtect Rapid REVIEW, powered by BriefCam, Milestone's customers will be able to accelerate investigations and find what they are looking for with speed and accuracy.
Read more...
---
The importance of staying up to date
Access Control & Identity Management Government and Parastatal (Industry)
Africa's cyber threat landscape is constantly evolving, with government's facing a range of digital threats from espionage, critical infrastructure sabotage, organised crime and combat innovation.
Read more...
---
Dynamic Drop Arm Barrier
Turnstar Systems Access Control & Identity Management
Suited to medium-volume access and medium-level security applications such as office reception areas, health clubs, universities and libraries, the Dynamic Drop Arm Barrier also allows special needs access.
Read more...
---