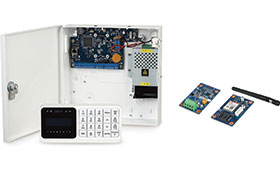 Dahua's wired alarm products
March 2019, Perimeter Security, Alarms & Intruder Detection, Products
Dahua Technology has released its Fortress Series wired alarm products, which include the ARC3008C control panel, the ARA58-G-EN GSM/GPRS module for ARC3008, the ARK30C LCD keypad, and supporting software such as DMSS APP and Alarm Config software for PCs. Offering comprehensive functionalities, the series can be applied in villas, houses, and small-to-medium-sized facilities.
The ARC3008C is an alarm panel that offers users various functionalities to ensure round-the-clock monitoring and security, including over eight independent timers for automatic control, more than 11 zone types, and eight on-board zones. Furthermore, the ARC3008C is connected to monitor stations through ARA58-P, a PTSN telephone communicator which ensures comprehensive security.
Dahua also introduced its ARA58-G-EN module which functions as an accessory to the ARC3008C that enables system management and event alerts through SMS or voice messaging. Furthermore, the modules offer cellular backup for around-the-clock monitoring and security even in the case of network failure. The Fortress Series also integrates its DMSS mobile phone application to deliver push notifications to customers, thus further bolstering their ability to remotely monitor and manage safety alerts and settings.
Offering features such as menu-driven programming for easy use and configuration, keypad shortcuts in case of emergency and real-time zone alarm display, the Fortress series' ARK30C keypad offers a user-friendly interface to ensure that even the most advanced functionalities are simple to operate.
For more information, contact Dahua Technology South Africa, +27 72 628 6810, sales.za@dahuatech.com, www.dahuasecurity.com