Managed IT security solution
March 2019, Cyber Security, IT infrastructure, Products
The LanDynamix fully managed IT security stack ensures that all the main attack vectors typically used by hackers to breach a network are protected and proactively monitored. These vectors are as follows:
Network Edge: The LanDynamix Managed Firewall is the part of the solution that sits between a company's network and the Internet. It plays a vital role in ensuring that attackers from the outside are not able to force their way into a network. It also prevents users from going to websites that may contain malware. Depending on how a network is set up, it can play a vital role in guaranteeing that different branches are able to be connected in a secure way and that important corporate information is segregated from personal user and guest devices. Lastly, it also helps protect a company from internal attacks and data leak prevention by giving the company the ability to block tools like, Dropbox, OneDrive and Gmail.
Endpoint: LanDynamix Managed Anti-Virus and Managed Patching solutions are two of the most important products of the stack as they protect the endpoints of a network. Gone are the days where this is a manual task which led to human error and did not provide the level of visibility needed to ensure that everything is secure. By combining proactive monitoring, automated AV deployments, preventative maintenance windows and well thought out automated managed patching cycles, LanDynamix can ensure that devices are protected at all
times.
Mail: LanDynamix Mail Security combines advanced spam detection with sandboxing. Advanced spam detection results in a cleaner inbox. Users can also manage their own permitted and denied senders list. Sandboxing essentially opens mail and any attachments on virtual machines which run varied operating systems even before being scanned for spam. If the virtual machines detect a mail or attachment that is malicious it automatically blocks it from going through to the user.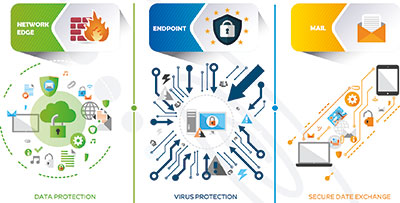 For more information, go to www.landynamix.co.za