High-tech solutions for protecting cash
March 2019, Security Services & Risk Management
It cannot be ignored that cash-in-transit (CIT) crimes are well planned and executed by skilled individuals, and modern technology can provide the ultimate weapon in the fight against heists and robberies.
Cash-in-transit vehicles, ATM devices and overnight safes nowadays are fitted with security systems that are becoming increasingly advanced. Vault protection systems, one-time-codes, time-delay smart locks and cross pavement carriers with dye stain technology act as deterrents against attacks and theft, and decrease the risk of damage to assets.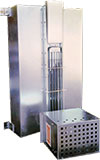 The PUDU system is designed to protect cash and assets in a vault.
One company supplying these advanced solutions to the South African market is AllCash Technologies, which has a range of products available.
These include a foam defence system called the PUDU (Polyurethane Dispensing Unit), which was developed by the CSIR (Council for Scientific and Industrial Research). The PUDU system is designed to protect cash and assets in a vault. The foam system is activated inside a van's vault the moment a cash-in-transit vehicle is rammed, shot at or bombed. The foam cement system makes the cash vans' vaults impenetrable.
Protective ink dye systems effectively stain 100% of the notes and up to 40% of the surface area, which renders the notes useless for circulation. Ink dye technology can be found in various forms and devices, including cross pavement carriers (CPC), overnight safes as well as cassettes inside an ATM.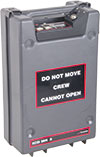 The CTC allows for safe movement of bank notes across the pavement between cash-in-transit vehicles and a retailer or ATM.
The CPC technology offered by AllCash has a remarkably fast trigger release that is activated in three stages – an alarm, plumes of vividly red external smoke, and most importantly banknote staining. The carrier contains the latest bag destruction and ink staining technology.

The Safe Defender uses ink dye to protect cash in bank vaults.
The Safe Defender is a cash protection device that uses ink dye to protect overnight holdings of cash within bank vaults. It self-arms at predetermined times and will automatically activate if the vault is breached or tampered with.

The In-Cassette Staining Device protects funds inside an ATM cassette against physical attack.
Finally, ATM cassettes can be protected by active technology which uses ink dye stain to protect the cash in the cassettes against grinding, torching, ramming and other forms of attack on ATM safes.
For more information contact AllCash Technologies, +27 11 049 9555, info@allcash.co.za, www.allcash.co.za