Maximise retail surveillance
March 2019, Products, CCTV, Surveillance & Remote Monitoring
When it comes to the retail sector and improving the consumers shopping experience, there is one factor which stands out more than any others in this modern day: Customer experience is more important than ever as retailers are striving to differentiate themselves in a challenging and crowded market. Consequently, experience per square foot will be the new retail metric to measure success.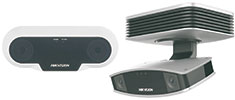 The question is, therefore, how can stores optimise operations and improve the customer experience at this critical time?
Hikvision addresses this by bringing technology to the heart of improving customer experience with a range of retail-specific products. These products use technologies such as artificial intelligence (AI) and deep learning, as together these technologies create a video surveillance offering that can give retailers valuable insight into real-time operating conditions, to boost customer service and in-store competitive advantage.
Hikvision Intelligent Video technologies can be applied to retail in a multitude of ways. This includes:
• People counting, to track customer flow and numbers.
• VIP recognition, so retailers can tailor service to key individuals.
• Heat mapping, to reveal the popularity of specific goods in the store.
• Queue detection, to monitor the queuing situation in real time.
• Point-of-Sale (POS) integration, to retrieve precisely when a dispute occurs.