printer friendly version
Cash in with true identity
March 2019 Access Control & Identity Management, Products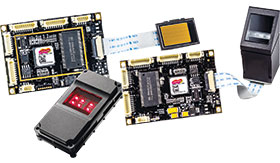 Even as credit card and online transactions continue to grow, cash is still king in Africa, thereby facilitating good growth in the cash handling sector.
However, cash is inherently risky, costly and easily exposed to fraud, theft and unintentional loss, thus necessitating the need for stronger security such as opting for the integration of biometrics into cash handling solutions such as cash vaults, safes, cash drawers, ATMs and cash-in-transit vehicles, instead of relying solely on pins, keys and passwords, which present their own risks.
Adding biometrics comes down to minimising your risk and how well you do that comes down to choosing the best biometric reader because, as we well know, not all biometric readers are created equally and choosing the most effective reader for your specific solution is key to its success.
Suprema offers a wide range of high-performance fingerprint modules, with each series satisfying specific criteria. Across the range, Suprema offers different sensor models such as optical, waterproof optical, PIV certification, live finger detection, capacitive and steel coated capacitive – all boasting the Suprema algorithm. Thousands of Suprema fingerprint modules are deployed across Africa to secure cash movement, by leading firms involved with cash in transit, case deposit boxes, banking, cash issuance systems and point-of-sale.
What's more, an evaluation kit (EVK) is available for each module, which includes Suprema's SFM SDK. The EVK allows developers to explore core functionality and it provides software tools and technical documents for developing and testing application systems. The SFM SDK is a collection of APIs for the interface with SFM modules.
In addition to simple wrapper functions for Packet Protocol, it also provides high level APIs such as template DB management, image manipulation, etc. By using the SDK, developers could write Win32 applications quickly without knowing the minute details of Packet Protocol.
• SFM Slim is an ultra-slim FAP20 standalone embedded module with FBI PIV compliance and Suprema's Conformance Decision Engine (CDE) technology that captures an optimal fingerprint image for all the finger types. SFM Slim provides a high level of security through 256-bit AES fingerprint data encryption.
• SFM6000 is the perfect solution for large-scale, fast authentication with capacity for 25 000 templates. This series supports multiple interfaces including RS-232 and USB 2.0.
• SFM5500 is a high-end standalone fingerprint module equipped with versatile external interfaces and offering comprehensive functionalities. It can be used as a complete standalone fingerprint access reader by itself.
• SFM5000 is a UniFinger module equipped with Suprema's fingerprint authentication algorithm. It is optimised for performance while minimising power consumption.
• SFM4000 is specially designed for lock and safe manufacturers looking for an inexpensive, reliable biometric solution with extra-low power consumption and compact size.
• SFM3000 is a cost effective fingerprint identification module equipped with the essentials for fingerprint identification and template storage. SFM3000 is suitable for most of the applications where it processes fingerprint recognition and a host controller is used to handle other operations.
Credit(s)
Further reading:
Managing staff effectively
September 2019, dormakaba South Africa, iPulse Systems , Integrated Solutions, Access Control & Identity Management
Workforce management solutions allow organisations to track the relationship between productivity and the cost of employment, incorporating issues such as health and safety, T&A, rostering and more.
Read more...
---
Hennie Lategan joins Centurion as head of exports
September 2019, Centurion Systems , News, Access Control & Identity Management
Centurion Systems has announced the appointment of Hennie Lategan as the head of the company's exports department.
Read more...
---
LanDynamix helps secure Michael Mount campus
September 2019 , IT infrastructure, Products
LanDynamix has implemented Fortigate, Fortinet's firewall appliance, at Michael Mount Waldorf School in Bryanston, Johannesburg.
Read more...
---
New AlproMAX7 secures maximum rating
September 2019 , Access Control & Identity Management, Products
Alpro has launched a new range of ultra-secure mechanical mortice deadlocks, the AlproMAX7 which comply with BS EN 12209.
Read more...
---
ViRDI UBio Tab 5
September 2019 , Access Control & Identity Management, Products
ViRDI Distribution SA (ViRDI Africa) has announced the release of its long-awaited UBio Tablet to the South African market.
Read more...
---
Accurate guard tracking and management
September 2019, Secutel Technologies , Security Services & Risk Management, Products
There are many challenges when it comes to effectively managing and tracking a guarding workforce in real time.
Read more...
---
Network insight benefits business
September 2019, Duxbury Networking , IT infrastructure, Products
The Insight app provides ease of access to your network from any location, and simplified device discovery and setup, warnings, notifications, and status checks.
Read more...
---
Visitor access control at Ruimsig Country Club
September 2019, Elvey Security Technologies , Access Control & Identity Management, Products
Cost-effective access control solution that would control the ingress and egress of people, without hindering the traffic throughput of members.
Read more...
---
Estate-focused visitor management solution
September 2019, Vox Telecom , Access Control & Identity Management, Residential Estate (Industry)
Vox has expanded its cloud-based visitor management solution to cater specifically for the needs of small multi-dwelling unit estates and large residential estates.
Read more...
---
Biometrics control airport railroad
September 2019, Suprema , Access Control & Identity Management
63 km railroad to Incheon Airport is centrally controlled and secured by Suprema biometric hardware and software.
Read more...
---